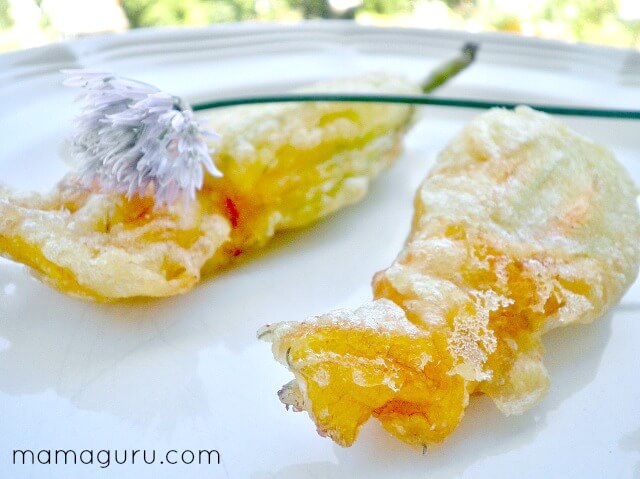 Fried Squash Blossoms Stuffed with Herbed Goat Cheese. Otherwise known as Fried Flowers. Otherwise known as Heaven on a Fork.
If you've never eaten a fried squash blossoms, you're missing out on one of the great culinary experiences in life. Luscious, creamy goat cheese bursting with fresh herb is surrounded by a delicately fried squash blossom that faintly tastes like zucchini. It's utterly divine, and pairs beautifully with a mixed green salad and a glass of chilled white wine for a perfect summer lunch.
With squash blossoms still on the vine in many regions, now is the time to try it.  You can find squash (or zucchini) blossoms in your garden or a friend's.  Mine came from Uncle Jim's garden. They can also be found at farmer's markets, specialty grocery stores or at u-pick farms. Because it's not the most popular item, sometimes you need to ask for them. Many gardeners throw out extra blossoms to give more nutrients to the existing fruit, so their trash might be your treasure.  (Yes, squash is technically a fruit.) Any squash variety with a nice large blossom will do.
Although this recipe looks and tastes very impressive, it is simple and nearly foolproof to pull off.  Do not be intimidated.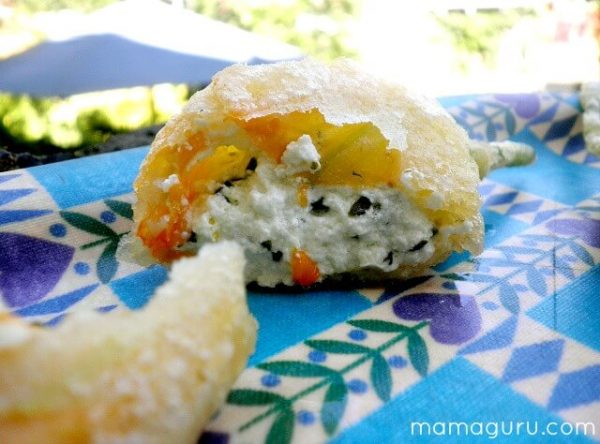 Carefully check your blossoms to make sure there aren't any bees hiding inside. Gently submerge blossoms in water to clean any dirt or ants. Slightly shake and allow it to dry a bit on a clean cooling rack. Cut out the stamen and trim the tips of leaves. Handle with great care as they are very delicate.

Prepare herbed goat cheese by mixing the cheese, zest and herbs together. You can season with a bit of sea salt and black pepper if you like.

Using a spoon, gently stuff each blossom with about a tablespoon of the herbed goat cheese.  Give the top of your blossoms a slight twist to close.

Heat about an inch of olive oil in a medium-sized pan. I use the smallest pan I can that will fit the blossoms (in batches) to use the least amount of oil possible. The oil is hot enough when its surface shimmers and it bubbles around the handle of a wooden spoon.

Make the batter by whisking the flour and seltzer together in a shallow bowl.

When oil is ready, gently drag each blossom through the batter back and forth to coat. Try to keep the petals together as best you can. Immediately drop it into your pan.  Leave the blossoms alone until they are golden, then gently turn them to make sure they cook on all sides. Once blossoms are golden, place them on a cooling rack and immediately sprinkle with sea salt. You can do these in batches. It's a quick fry, about 4-5 minutes.

Serve immediately to someone you love who will appreciate them. Demand kisses.
Recipe by Rebecca Cofiño for Mamaguru.