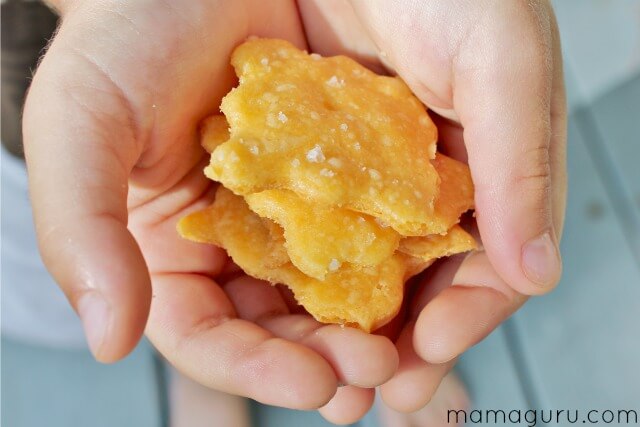 Homemade Cheez-Its take everything that's good about Cheez-Its, and leave out everything that's bad. They are rich, crisp and bursting with cheesy goodness. Sea salt enhances their flavor, rather than the processed version which over salts the crackers to drown out the stale chemical after taste. The difference between homemade crackers and crackers from the processed food plant is outrageous. And here's the kicker: they're easy to make!
I never through of making crackers until I started my Making Groceries journey. It just seemed like something that couldn't be done. Of course, if you can't cook it, you shouldn't eat it. I was shocked by how easy it is to make crackers and how adorable they turn out. My kids gobbled them up!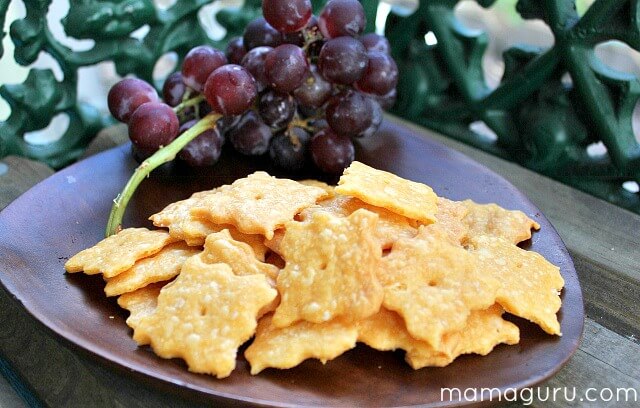 Homemade Cheez-Its: The Bottom Line
There is no financial gain in making your own cheesy crackers. Cheese costs about $2.50 for eight ounces. Sometimes I can buy it for $1.99. Cheez-Its cost about $3.19, but the box is much bigger. I think the best you can do is break even, but generally the homemade version will be a bit more expensive. They also won't stay fresh as long as the chemically preserved name brand.
As far as taste is concerned, these are dynamite! They taste cheesy and addictive, but without that unnerving chemical aftertaste. Making your own lets you know it's a high fat snack, but it's also not so bad. If you wanted to make it even better, it would be easy to use organic ingredients and make these even healthier and probably tastier.
I don't buy Cheez-Its anymore, because I gave up processed food when my children were born. About a year ago, I tried them and found them overly salty. I have a fairly salty pallet, so whenever I think it's too salty, I know it's way too much. The homemade version was salty, but not overly so. It's nice to have the ability to control that. The dough was very easy to work with, so my effort was minimal. It took about 10 minutes, plus baking time. I will definitely make these again, as my whole family loved them.  They were fresh, chemical-free and with portion control built in.  They aren't a bargain, but they are delicious and easy to make. That's good enough for me.
I'm happy that this recipe has been included in the Tues Talk Linkup! Thanks, ladies!!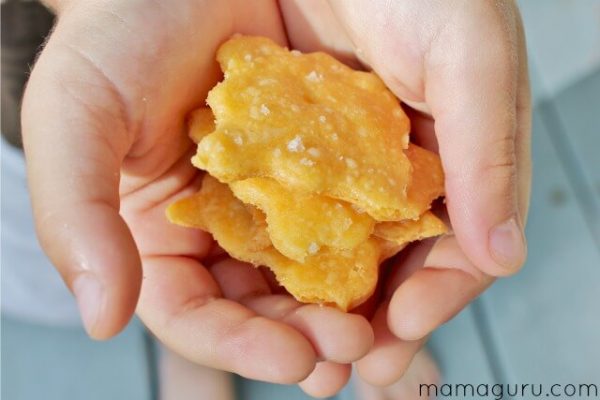 | | |
| --- | --- |
| | |
Shred cheese and butter with the grater attachment of a food processor. Exchange the grater for the blade and add salt. Process for 20 seconds. Add flour and process 10 seconds. Stream in ice water slowly until dough forms a ball.

Divide the dough in two and form two flat discs. Wrap tightly in plastic wrap and chill for 30 minutes.

Preheat oven to 350°. Roll out one disc on a piece of parchment paper using plastic wrap on top to prevent sticking until it is about a 12 x 8 rectangle and a 1/8 inch thickness. Use a pastry wheel to cut out one inch squares. Place a center dot in each with the back end of a skewer. Sprinkle coarse sea salt with a light hand. Place parchment with cut crackers onto a baking sheet. There is no need to separate crackers so save yourself some trouble. Repeat with the other disc. If the oven isn't ready, place the prepared crackers in the refrigerator to keep cold until you're ready to bake.

Bake for about 18 minutes, until crackers smell wonderful and they just barely start to brown. You may want to check on them starting at about 16 minutes, because they have the potential to burn quickly at the end. Carefully transfer the parchment to a cooling rack.

Allow crackers cool, then gently break them apart. Enjoy immediately or store them in an air-tight container for up to a week.
Recipe by Rebecca Cofiño for Mamaguru.