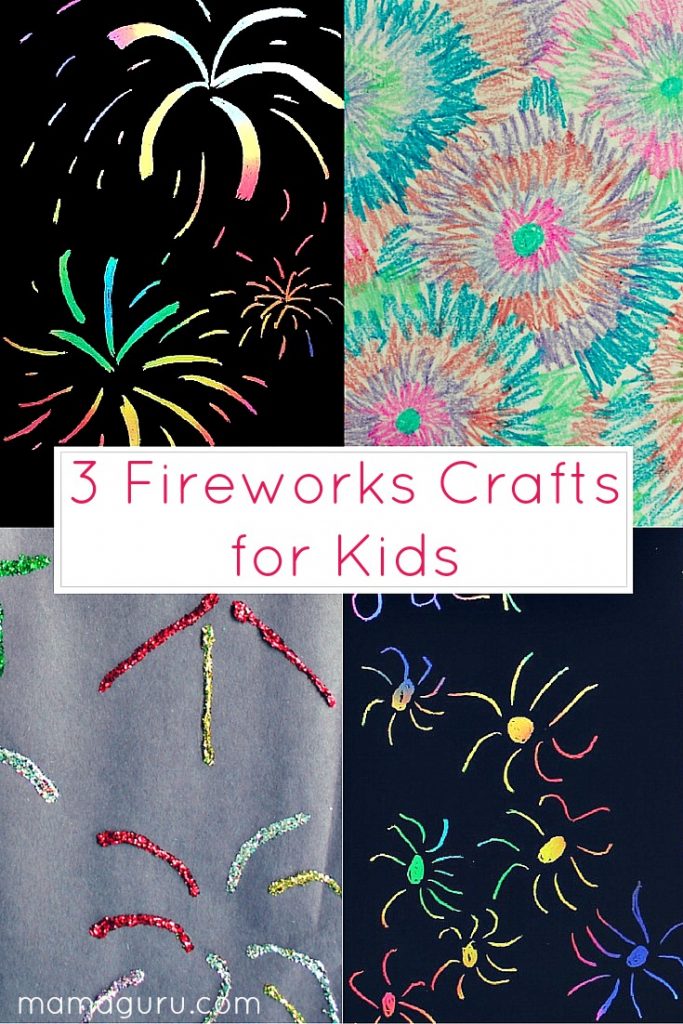 Kids love the 4th of July! Who doesn't? Of course fireworks are the best part. Get ready to celebrate with 3 firework crafts! These are super easy art projects to do with little kids to get them in the mood for Independence Day.
You'll be saying Oooh! Ahhh! Bam! and Boom! before the first fireworks go off.
Scratch Board Fireworks Craft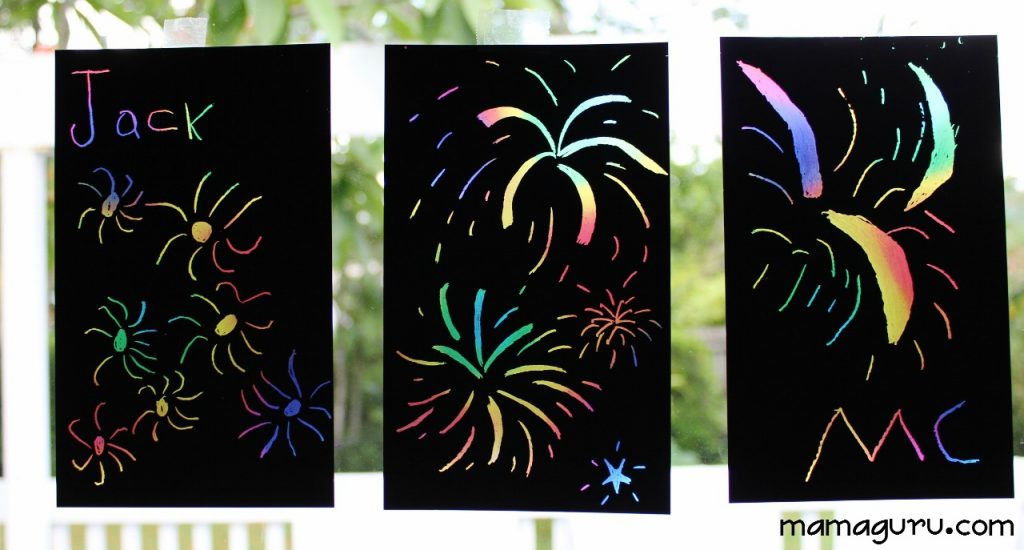 Scratch boards are easy to work with and so much fun.  There is an air of magic surrounding them, just like real fireworks.
You can find these kits just about anywhere (Target, dollar store…) Each kit comes with a few scratch boards and a scratching tool. The scratch board is a piece of rainbow colored film (there are many varieties) with a black coating over it. All you do is scratch away your design and beautiful colors will appear against the stark black background.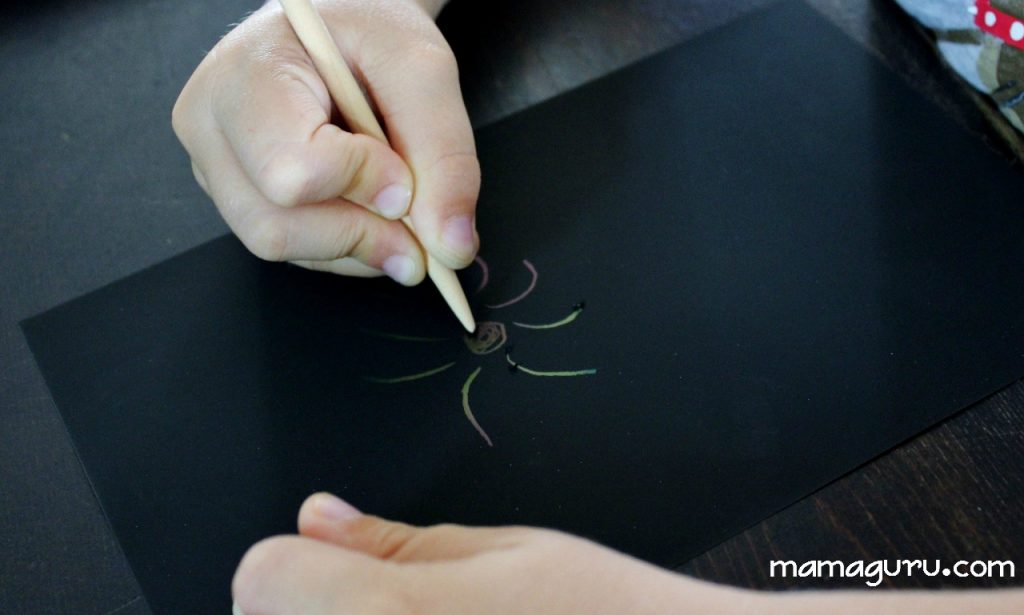 Perfectionists Beware: There is no erasing in this craft. What you scratch is what you get. If your child is particular, give him a pep talk about going with the flow and suggest he sketch his design on scrap paper before working on his final project.
Hang these in a window and the sun will turn the colors into vibrant hues. Kids love seeing their names and initials light up the night sky.
Glitter Fireworks Craft
This is a preschool classic. Draw fireworks on a piece of black construction paper. Trace your lines with glue and then sprinkle glitter.  Shake off the excess glitter over a tray. To control the color, glue and glitter only one color at a time. I save the mess of rainbow glitter at the bottom of my tray for later crafts.
Crayon Fireworks Craft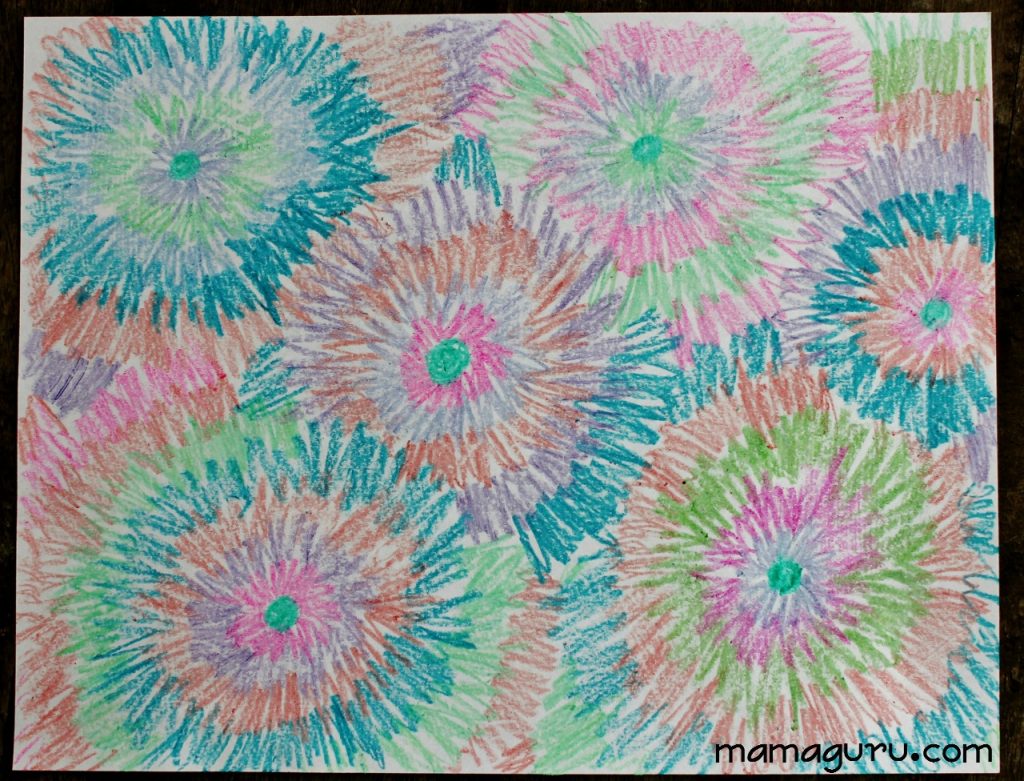 I learned this in elementary school, and I have to admit my drawings then were much nicer than this example I quickly colored. Simply put a few dots randomly on a piece of paper, then draw lines bursting out of them in a variety of colors. Eventually the colors will run into one another and go off the page. I remember loving filling every single spec of paper with color as a child.
Have fun!