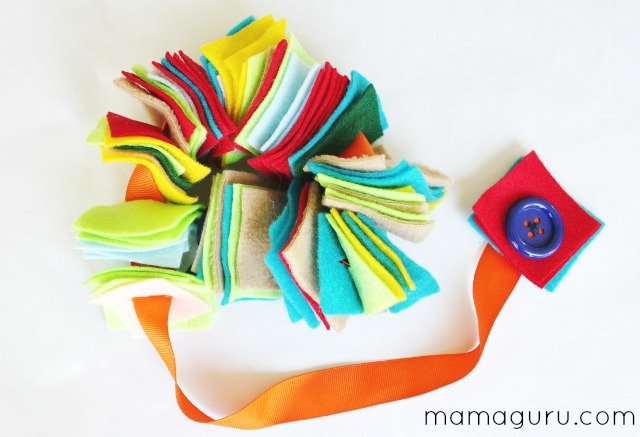 Learning to button is an important skill for young children and the Montessori Button Snake is a perfect way for them to get the practice they need. Besides buttoning being a practical life skill, while children practice buttoning they also strengthen the all-important pincer grasp needed for writing and they hone fine motor skills. This Montessori DIY is both inexpensive and easy to make. Best of all, although this is an educational activity with real learning benefits, is fun and feels like play, so kids love it. The more practice a child can get learning how to button, the better!
Button Snake Materials
a ribbon
2 large buttons
about 8 pieces of colorful felt
How to Make a Montessori Button Snake
1.  Sew a button on either end of a piece of ribbon.
2.  Cut felt into little squares. Measure your button and make a slit in the center of each felt square which will mimic a button hole. Make enough squares to eventually fill the ribbon. Put the squares in a bowl.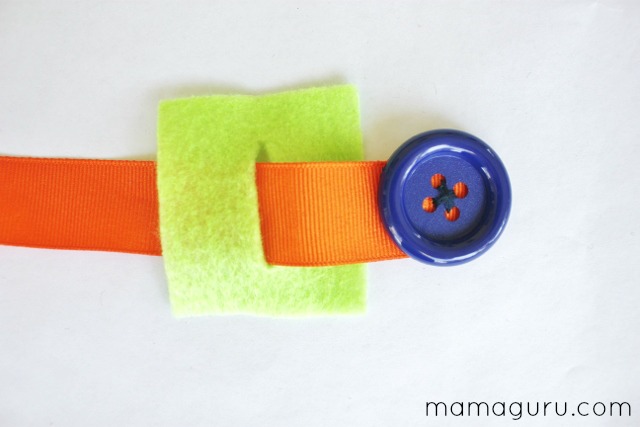 How to Teach the Montessori Button Snake
1.  Introduce your child to the snake. Show him how to button a square on the snake. Break it down into steps. Put the button half way through the hole. Use your other hand to pull it out. Once the square is on, push it to the bottom of the ribbon.
2.  Allow your child to try. Encourage him to choose a color he likes. Talk him through the steps at first, but then back off and let him figure it out.
3.   Some children will do the whole snake in one sitting, and others will complete this task over a period of days. If you are doing this at home and don't need to share, let your child set the pace. Little fingers can tire easily.
4.  Once the snake is assembled, he needs to be unbuttoned and returned to his spot on the shelf. This is a part of the task the child needs to complete.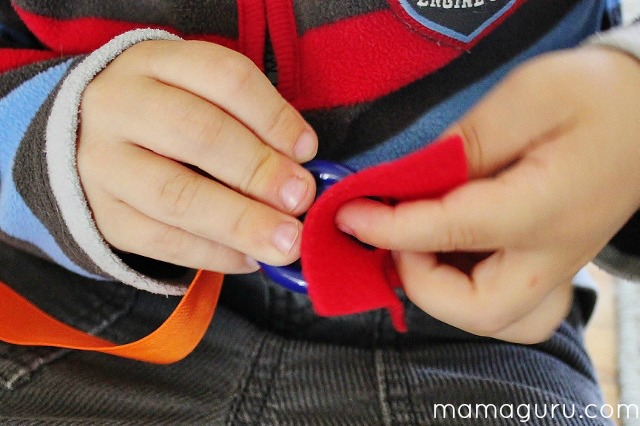 Why the Button Snake is Great
Skill building takes practice. Buttoning clothes and frames are limited to only a few buttons at a time. The button snake provides lots of practice in a single time frame. Buttons on clothes can be small and tricky at times. The button snake is very gently and easy to use.
Accomplishing a large task creates a sense of pride in a child and makes them eager to learn more.