Another repost from last year's Halloween recipes.
Here's the perfect recipe to serve your little goblins before they head out trick-or-treating.  Spiderweb Soup is a combination of Butternut Squash Soup and Black Bean Soup.  These recipes are very simple.  You probably have all the ingredients in your pantry already, and it only takes a half an hour to whip up the whole thing.  The sweetness of the squash paired with the spice from the black beans is delicious.  Serve with crusty garlic bread to keep the vampires at bay.  Serves 4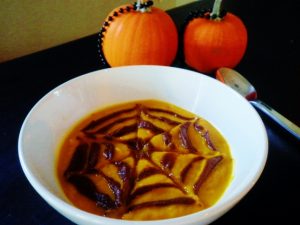 Butternut Squash Soup
1/2 large yellow onion, diced
2 ribs of celery, diced
1 carrot, diced
1 apple, peeled, cored, and diced
1 bay leaf
1 clove garlic, minced
1 package of frozen squash, defrosted
2 c vegetable stock
1 t pumpkin pie spice
a few shavings of fresh nutmeg
juice of half a lemon
1.  Heat about 2 T olive oil over a medium flame in a soup pot.  Add onion and a pinch of sea salt.  Saute for about 2 minutes.  Add celery, carrot, apple, bay leaf, garlic and another pinch of sea salt and cook for 2 minutes.
2.  Add squash, pumpkin pie spice, nutmeg and stock.  Stir.  Season once again with sea salt and black pepper.  Bring to a boil.  Reduce heat and simmer with lid almost closed for about 15 minutes, until veggies are soft.
3.  Discard bay leaf.  Add soup to blender and puree in batches.  Either cool soup or be careful to allow steam to escape in blender.  Set aside.
Black Bean Soup
4 cloves of garlic, minced
1/4 t red pepper flakes
2 cans black beans, drained and rinsed
1 1/2- 2 c vegetable stock
2 t cumin powder
juice and zest of 1 lime
2 T canned green chillis
2 drops of hot sauce
1.  Heat about 2 T olive oil in a soup pan over a medium flame.  Add red pepper flakes and garlic.  As soon as you smell garlic (30 sec.) add beans and stock.  Add remaining ingredients.  Season with sea salt and pepper.  Add a bit more olive oil if you'd like.  Allow soup to simmer for 5- 10 minutes.
2.  After you have pureed the squash soup, use the blender to puree the bean soup in batches.  There is no need to wash the blender if you go from orange to black.
Spiderweb Soup
1.  Ladle Butternut Squash Soup into bowl.
2.  Using a an everyday spoon, carefully draw 3 -4 circles of Black Bean Soup and dot it in the middle. 
3.  Using a chopstick, draw lines from the center of the soup outward to the edges to achieve spiderweb effect.  Serve warm with garlic bread.  Happy Halloween!
Note:   These soups are quite thick, because it makes the spiderweb easier to achieve and I want to fill up my kiddos.  If you prefer a thinner broth, just add 1-2 more cups of stock.
Print