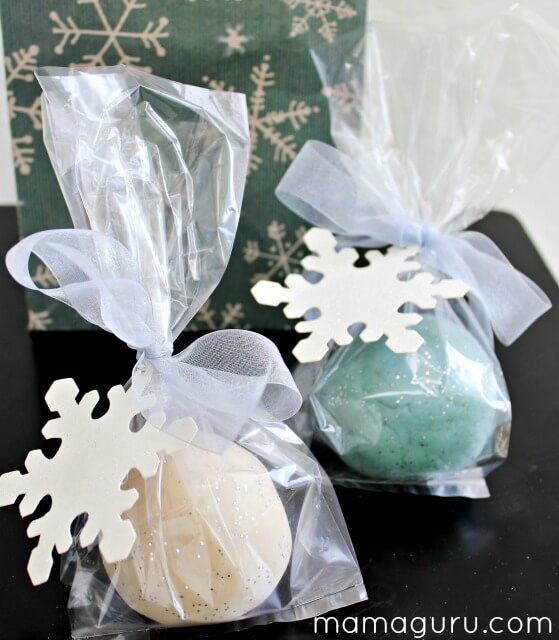 Playdough snowballs put a winter spin on a making your own homemade playdough. Making playdough is easy, inexpensive and lots of fun for kids. By making your own playdough, you can choose the colors: a wintry white and a chilly light blue amped up with sparkling glitter make perfect snowballs. You can even hide a funny surprise inside (yellow snow) that will prompt fits of giggles from little boys. These snowballs make the perfect small gift for kids at Christmas time. You can make a batch for an entire class for just a few dollars, which is so much better than giving kids a bag full of candy, AGAIN, or some cheap plastic crap from China.
Besides being fun for play, playdough is an important learning material. Children strengthen their finger muscles by shaping the dough. At its heart, playdough is really a sculpture material, so children explore their creativity and build their understanding of structural, spatial and engineering knowledge. As they manipulate the dough, they learn about how colors mix. The endless hours kids spend playing with playdough teach them so much.
Of course, playdough snowballs are lots of fun, but don't limit yourself to making this for the holidays. This recipe is a classic and can become any color you want. Make it for other holidays: red and pink hearts would be adorable for Valentine's Day or make some team colors for the big game. Homemade playdough makes excellent party favors or small gifts all year round!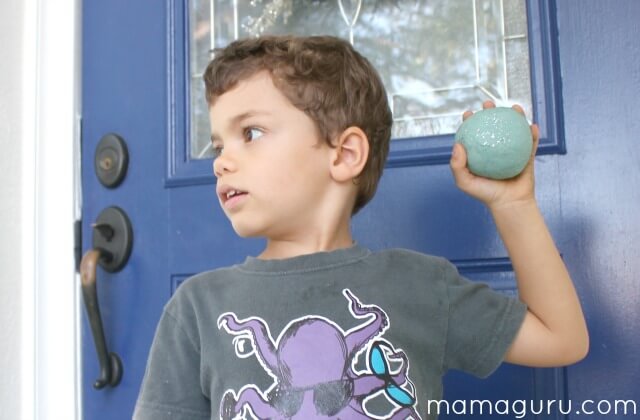 You probably already have all the ingredients you need in your pantry.  This cute fun, gift will actually be played with, rather than tossed out like garbage.
Homemade Playdough Recipe
2 c warm water
1 c salt
2 c flour
2 T oil
1 t cream of tarter (optional, but it improves elasticity)
glitter
food coloring
a few drops of peppermint essential oil (entirely optional, but a nice touch for Christmas)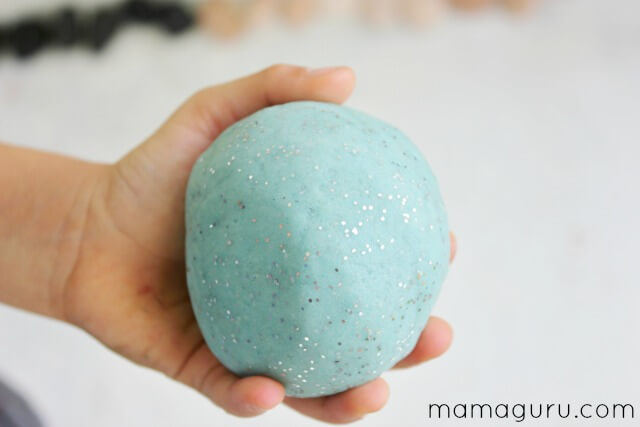 1.  Place a few drops of food coloring into the water.  As you add the flour, the color will get darker. I chose blue because this recipe will not be the pure white color of snow. You could also choose red or green, but bear in mind that the red might end up a pink due to the white flour you will add.  If you want to do multiple colors in one batch, don't add the color now. Wait until the end, then add a few drops and knead it through.  I like to just do one color, so I can save that step at the end.
2.  Add the (colored) water, salt, flour, oil and cream of tarter to a sauce pan. Cook over a medium flame, stirring constantly, until the dough boils and comes together as a ball. This takes less than ten minutes. If it is still very sticky, cook it more.
3.  Remove playdough from the heat. Once it is cool enough to handle, add a few drops of essential oil and the glitter.  This is also the time you can divide and knead the color into the dough. Work the oil and glitter through the dough with your hands. Package it in an airtight container for best results. (I chose to package it in cute bags as the last minute.) Label it as a Playdough Snowball. You can write a gift tag or use clip art on from your computer if you want.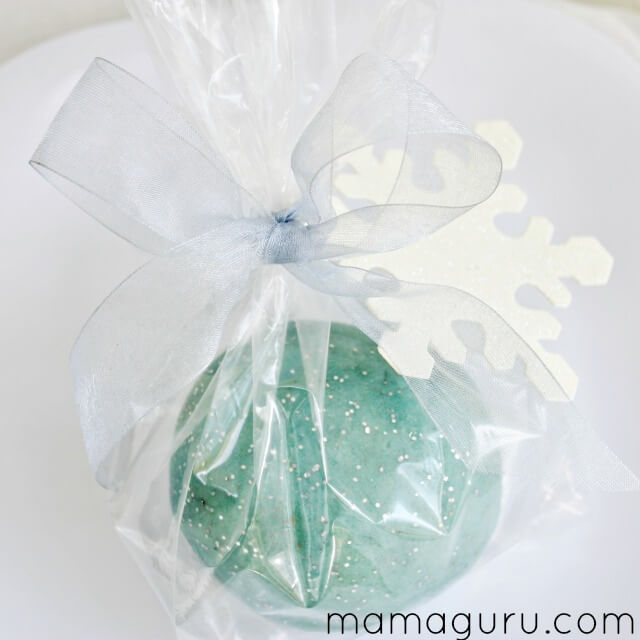 Playdough Snowball Surprise
Here's a variation that is probably best reserved for aunts who want to encourage potty humor from their nieces and nephews. It's not the best idea for a class of kids, but it sure is fun.
1.  Make a recipe of playdough as detailed above, but don't add any color. Once done, take a small amount of playdough and color it a deep yellow.
2.  Place the yellow ball in the middle and surround it by the white dough. Package it and label it Snowball Surprise. Instruct the child to squish the snowball with his hands for his surprise.
3.  Make jokes about pee and yellow snow.
4.  Apologize to parents, but don't really mean it.