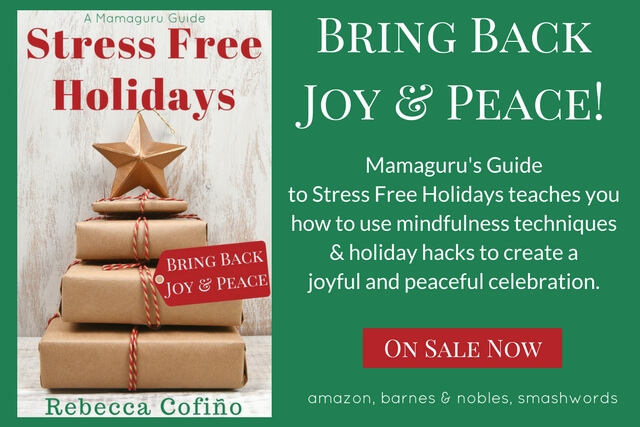 The holidays don't need to be stressful events that max out your credit cards, monopolize your time, and put you in a pressure cooker of family tension. Stress Free Holidays: Bring Back Joy & Peace is a Mamaguru Guide to help you recapture the joy and peace of the holiday season. I'm so excited to share this with you, dear readers! This book explains how to incorporate mindfulness into holiday celebrations, as well as offering a host of practical tips and holiday hacks to make the season run smoothly.
A few years ago, I noticed a shift in my experience of the holidays. I went from feeling flooded with magic to being overwhelmed and exhausted. I faked a smile because I really wanted to create magical memories for my children, but I knew in my heart that something was wrong. It was just too much work and not enough fun.
I put my nose to the grindstone and figured out how to streamline and organize everything related to the holidays. I amassed holiday tips galore! That helped, but it wasn't enough. Something was still missing. You know what it was? Mindfulness! Our consumerist culture amps up to a frenzy during the holidays and in the midst of that chaos, I had lost touch with meaning. I was grateful, but my gratitude was more circumstantial and surface-level. What I needed was to stay connected to my true self and the Divine. I needed to live in the moment, rather rushing through them all in a flurry of busyness.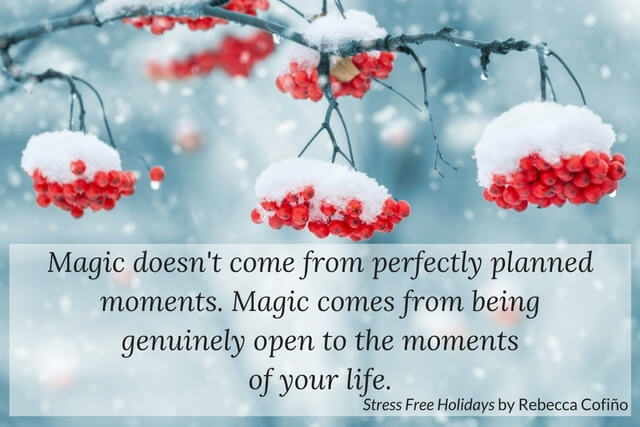 That became the heart of my book. Stress Free Holidays: Bring Back Joy & Peace offers both the organization and holiday tips that reduce stress, but it also offers help nurturing your spirit and creating meaning. This book goes further than simply reducing stress; it fans the flames of happiness and joy!
Included in this book are The Great Holiday To Do List, a doable diet plan to avoid seasonal weight gain, and even a primer on meditation. It addresses budgets, health, perfectionism, family life, stress, organization, and infusing meaning into the holidays. It's promise is simple, but vital: to bring joy back into the holidays by cultivating a bit of inner peace.
Stress Free Holidays
♥ Create Meaning
♥ Balanced Budget
♥ Sanity Diet & Fitness Plan
♥ Cultivate Gratitude
♥ Keep Organized
♥ Holiday Hacks
♥ Calm Family Tension
♥ Prioritize Self Care
The links in this post are affiliate, meaning I get a commission off of selling my book. It seems silly to mention, but I must in order to comply with the FCC.
To get the greatest benefit, I urge you to buy the book now, at the beginning of the holiday season. Please share this with your friends, because the more people we can get to celebrate stress free holidays, the more joy and peace we will all have for this blessed season.
You can find Stress Free Holidays: Bring Back Joy & Peace on amazon, Barnes & Nobles and Smashwords.