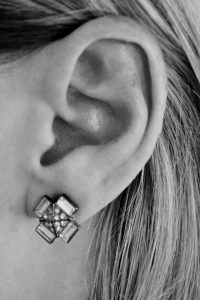 I am a resolved individual. 
I approach my life with care, gusto and rolled up sleeves: I am here to work.
Not in the dreaded job sense, rather work in the sense of active engagement.  The blush, rush and flush from a great work-out.  The bliss, peace, kiss from a meditative work-in.  A better way of phrasing it may be:
I am here to be here.
Rather than dodging the new year's promise of a fresh start, I jump in whole-heartidly, whole-bodily, whole spiritedly.  From the time I could pick up a pen, I have written pages of resolutions, keeping most.  Last year I shared my process and my secret list.
This year is no different, and yet it is.
As 2011 closes, one word keeps popping in mind.  It's a challenge, an opportunity, an invitation, a risk, a scolding, a message, a promise, a totem.
…listen…
It will be my one and only change, my constant challenge, my sacred command.
…listen…
I have been professionally interviewed three times: once for a documentary, once for a print interview and once on the radio.  Each of these experiences left me witha strong sense of reverence.  Having someone take the time to listen to me and to explore my ideas validated me as a human being.  It was the deepest sign of respect I have ever received.
When someone bows to you, you must bow in kind.
I love National Public Radio.  In fact, I am an addict.  Listening to all sorts of people share their ideas has enlightened me to how much every single person has to teach each other.  Every person has a story to tell.  True, not all stories are great.  Not all lives are great.
But, the again, aren't they?
One year is drawing to a close.  A leftover Christmas carol poses a question, and repeats its echo:
Do you hear what I hear?
Perhaps you have your own resolutions or staunchly oppose the practice.  Nevertheless, this is an invitation from me to you to learn the art of listening together.
Each month in 2012 mamaguru.com will explore a different aspect of listening.  From our inner voices to those of others, from silence to music, let's take the time to hone one of our most important senses together.  I will share my exploration and ideas and I truly hope you will share yours through your comments and messages.  After all, I need to listen too.
Do you hear what I hear?
…listen…