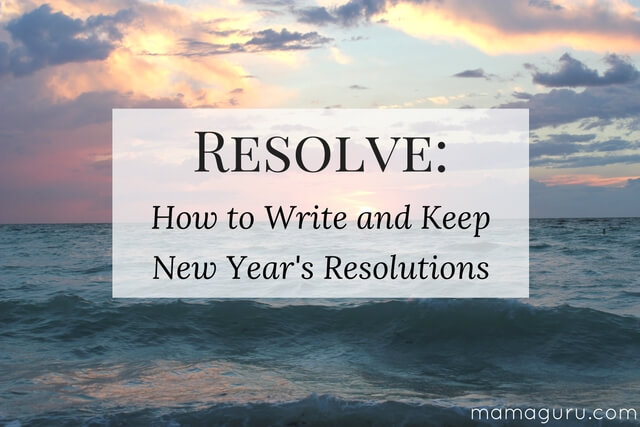 If you've never kept a New Year's Resolution, it's not because you lack willpower or resolutions don't work. It's because you don't know how to write New Year's Resolutions you'll actually keep. There's an art to writing effective resolutions that will get you excited for a fresh start and keep you inspired all year long as you tackle them. Here are 6 great tips to teach you how to write and keep New Year's Resolutions, plus examples of New Year's Resolutions I've actually kept, and a printable worksheet to help you write your own. First things first:
No snark permitted!
Please read this article about New Year's Resolutions with an open mind. This is the time of year when people make jokes about not keeping resolutions, but that's just taking the easy way out. I have written resolutions every year of my life since I learned how to write, and I have kept nearly every one of them. Many people misunderstand the purpose and the process of writing resolutions, so they wind up feeling like a failure for trying, or they preemptively scoff them. For me, resolutions have been an impetus for change, a source of strength and a guidepost to keep my life on track. Here are a few tips I've learned over the years.
How to Write New Year's Resolutions You'll Keep and Love
1.  Understand what a resolution really is.

Start with the word, resolve, and break it apart.  Re + solve. Re means again, so resolve means: to solve something again. Many people mistakenly think of resolutions as rigid solutions that result in a black-or-white, pass-or-fail finality. In truth, they are much more fluid. A resolution is simply another attempt to solve a problem. It's approaching something in a new light or from a different angle. If your new solution doesn't work, all you have to do is re-solve it again. It's not failure; it's the need for another attempt, another solution.
A resolution is simply another attempt to solve a problem.
Click To Tweet
2.  Banish the idea of shoulds when writing your resolutions.
You should lose weight. You should stop smoking. You should amass that emergency fund and a retirement savings.  
All of those things are true, but they don't all belong on a New Year's Resolutions List. It's intimidating and exquisitely challenging to tackle such a formidable list. Your innate sense of rebellion is bound to kick-in when faced with a list full of shoulds.
Instead, only write down what you in your heart feel you are ready and willing to change right now. Block out other people's voices and block out the shoulds. People lose weight, quit smoking, and pull their finances together when they really want to. It can absolutely be for New Years, but before you write a resolution, make sure it stems from a deep motivation already present in your spirit.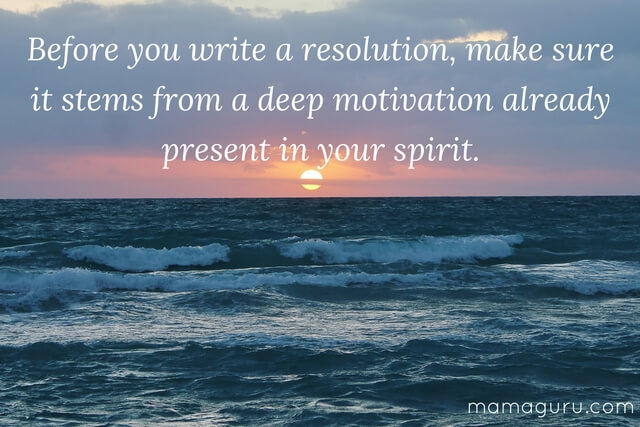 3.  So, if you're not writing the shoulds, what do you write?

The purpose of resolutions is to help you to live a deliberate life. Think about the kind of person you'd like to be and the life you would like to live.  Craft resolutions that will help put you on that path. So often, years fly by and our lives are spent jumping from task-to-task. A moment of truth will suddenly grab our attention, and we'll look around and wonder what happened to our dreams. Resolutions are the steps you take towards being the person you want to be and living the life of your dreams. Think of skills you'd like to acquire, experiences you long to have, qualities you'd like to cultivate. Think of all the little things and the big things you wish you did or did better. That's where you will find resolutions you'll love and keep.
Resolutions are the steps you take towards being the person you want to be and living the life of your dreams.
Click To Tweet
4.  Be playful.
Self-improvement isn't all fun and games. Although it is wonderful to kick a bad habit, make sure you round out your list with some lighter tasks. Think of things that will enrich your life or things that just sound fun. Include seemingly trivial items on your list.
For instance, one of the most trivial items my list this year includes: 7. Learn how to put on false eyelashes. It's a silly thing to accomplish. I hardly even go out these days, but I've always wanted to get the hang of it. Several times I've attempted, but it always resulted in messing up my make-up right before a night on the town. The act of resolving to learn this little skill somehow gives me the focus and permission to devote an hour to learning it. In the scheme of life, I know how unimportant this is, but I also know it will be great to be able to confidently put them on anytime I want to for the rest of my life. I love that it's an easily attainable goal, so after a single afternoon, I can check it off my list and declare it done. Every time a resolution is kept, no matter how silly it may be, your confidence gets bolstered and the more significant resolutions seem more attainable.
5.  There is more than one new year.
The reason New Year's Resolutions seem so powerful is the blank slate aspect of a fresh new year, but there is more than one start to the new year.  Your birthday is another fresh start. Chinese New Year is just around the corner. Some religions have their own new year during various holidays.  Each one of these affords you a blank slate. In truth, a blank slate appears anytime you want it to: a new day, a new week, a new month, a fresh breath with a resolution from this moment on. Life is yours for the changing, or as I like to see it, the subtle shaping. Every time you decide to live deliberately, you begin living a better life.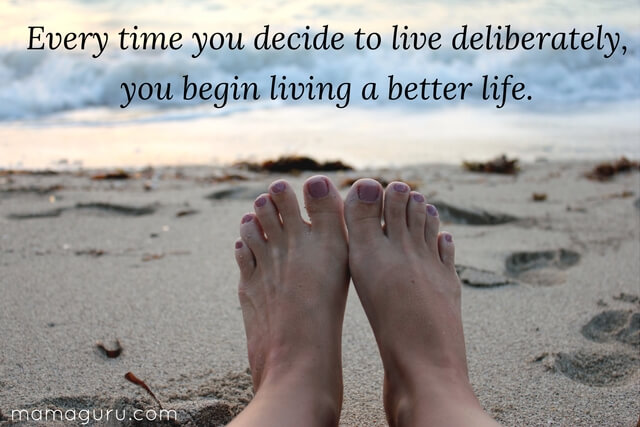 6. Give yourself a running start.
It's hard to start being amazing when you're hung over and your house is a wreck. That's why I always give myself a 12 hour lead time before my resolutions begin, so I can be organized, clean, and refreshed at the start. For me that means early to bed on New Year's Eve. I like to have Christmas tucked away and my house back in order. If I plan on watching what I eat, I start eating clean a few days before my official start date, because we tend to crave what we just ate and I don't want cookies on my brain.
Start whenever and however you want. It's your life: live it on purpose. Got plans to go out and party on New Year's Eve? You may want to delay your resolutions until Chinese New Year (Jan. 28, 2017) or another date. If you have kids, sometimes it's best to begin the day they go back to school, because it's hard to focus on goals when your family is still in vacation mode.
Only write down what you truly want to do. I usually write between 30-100, but that's just me. It's exciting to think about what a wonderful year ahead of me.
New Year's Resolutions I've Actually Kept
1.  Don't eat chemicals. (circa 2010)
This one helped me kick my Diet Coke habit and avoid processed food. It seems so reasonable, it was hard to justify breaking it.
2.  Master cooking risotto. (circa 2002)
This helped me learn how to learn how to cook. I took one technique and gave myself the time and space to practice it. It didn't take long for me to get it down, and I'm now famous for my risottos.
3.  Eat a truffle. (circa 2002)
I always wanted to try one, so writing it down focused me. I had accomplished this by February. Yum!
4.  Be a better daughter. ( circa 2002)
Keeping this in my mind for a year helped me be more considerate and compassionate towards the most important woman in my life.
5.  Read a book a month. (circa 2003)
It's easy to forget to read when going through a life transition.
6.  Get a great body (circa 2001, 2006, 2010)
I don't worry about not getting  perfect or immediate results when it come to body and fitness resolutions. If I happen to fall short of my goal, I just resolve to do it again. You can only evaluate failure once you are finished. As long as you keep working towards a goal, you're a work in progress. I have never failed at anything in my entire life. I don't have that mentality. When I am done or when I am dead, I am subject to evaluation. Until then, I am actively striving to do my best, be my best, and live my life the best way I know how. A stumble is just a stumble.
7.  Have a baby! (circa 2008)
Just because you know something is going to happen doesn't mean you can't put it on your list. What a thrill it was to check this one off my list.
8.  Write a novel. (circa 2004)
Just because you know you can't do something doesn't mean you should leave it off of your list. It's your life; make it what you want it to be. I did write that novel. It took 10 months.
9.  Learn how to spell, "recommend". (circa 2009)

This word kept coming up on spell check and I kept wondering if it was 2 c's or 2 m's. It's a small thing, but why make the same mistake for the rest of my life?
New Year's Resolution Worksheet
Feeling inspired? I hope so!
I've written a free New Year's Resolution Worksheet to help you brainstorm and write resolutions that you will actually keep! This will get your creative juices flowing and help you connect with the feeling that 2017 will be the best year yet! Just click the button that says, Get my New Year's Resolutions Worksheet, below.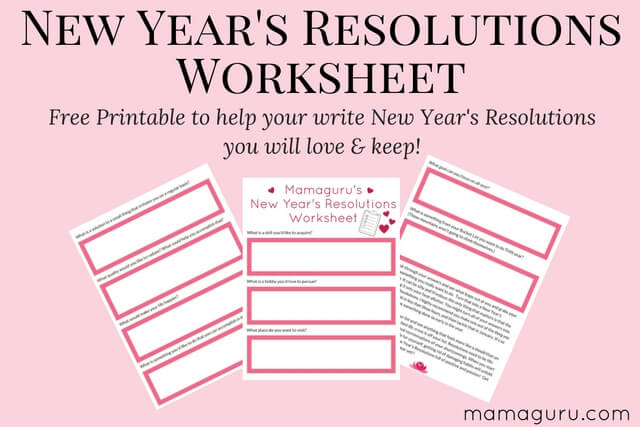 Click this button for your worksheet!