By the time dessert comes around for Christmas dinner most of us are chocolated out.  Here's a light, refreshing dessert bursting with Christmas colors, but taking very little time to make.  It's (dare I say it?) divine!  Serves 8.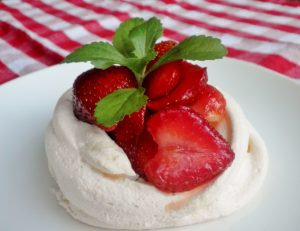 3 egg whites at room temperature
1/4 t cream of tartar
1 T sugar
1 t vanilla
1 pint of strawberries, hulled and sliced
1-3 T sugar
1 T orange zest
2 T fresh orange juice OR 2 T Grand Marnier*
pinch of sea salt
fresh mint, stevia or basil for garnish
* Note: This tastes best with Grand Marnier, but if children or other people who don't drink will be eating it, you must serve them the orange juice version, because the alcohol is not cooked away.  I usually divide the strawberries, so everyone is happy.
For the Meringue Clouds:
1.  Preheat oven to 225º.  Combine the egg whites, vanilla and cream of tartar together.  Beat with a hand-held electric mixer a medium speed for about 5 minutes, until soft peaks form.  (Soft peaks are when a peak is created when you dab a spoon in the mixture, but the top curls over.)
2.  Add sugar and beat on high for about 3 more minutes, until stiff peaks form.  (Stiff peaks stand straight up when dabbed with a spoon.)
3.  Line a baking sheet with parchment paper.  You can trace circles as guidelines on the back of the paper if you like, or just free hand it like me.  Either dollop clouds of meringue with a spoon or pipe them with a pastry bag onto the baking pan. 
4.  Bake for 2 1/2 hours, without opening the oven door even once.  Turn off the oven and let them sit for another 2 hours without opening the oven.  Yes, this takes a long time, but you aren't actually doing anything.  Remove from the oven and cool on racks.    Meringue can be made up to 3 days in advance if completely cooled and kept in an airtight container.
For the Macerated Strawberries:
1.  Combine the strawberries, zest, salt and either juice or liqueur and one T of sugar together.  Taste for sweetness and add more sugar if needed.  Set aside for at least 30 minutes to let flavors meld.
For the Completed Dessert:
1.  Just before serving, place a meringue cloud on a plate.  Top with a spoonful or two of strawberries and garnish with herb.  Must be eaten straight away.  Enjoy and Merry Christmas!
Print