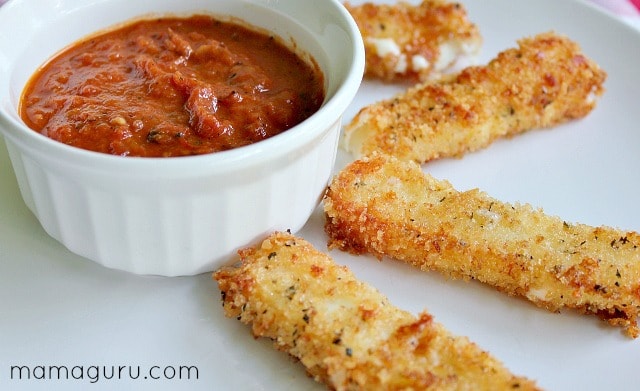 Make your own homemade Fried Mozzarella Sticks with Marinara with this copy cat recipe! It's a very simple recipe for this fried, gooey treat that everybody loves. The breading is golden and crisp and the warm cheese is nice and melty. Dip them into your favorite marinara sauce and you'll be in fried food heaven.
I know, I know, doesn't this sound like the appetizer you used to share with your high school boyfriend during your first forays in restaurant dining?  Well, not only has this classic chain restaurant appetizer broken into the grocery store, but the whole chain has become a frozen food brand.  Welcome to TGIFridays.
Don't let their name fool you. Not only do they want you to eat them on Fridays, but everyday of the week. Now, for your convenience and through the power of processed food, you can eat their food without setting foot into their restaurant. Oh, and don't be limited by the old school label of appetizers, today they are called anytizers. As in eat them anytime, anywhere.
I'm sorry, why is it a mystery that America is obese?
The best way to limit your consumption is to make your own. It's a mess you'll only bother with occasionally. After a few failed attempts, I discovered the secret of frying cheese: freeze the cheese first.
Copy Cat Recipe for Fried Mozzarella Sticks
Breading Station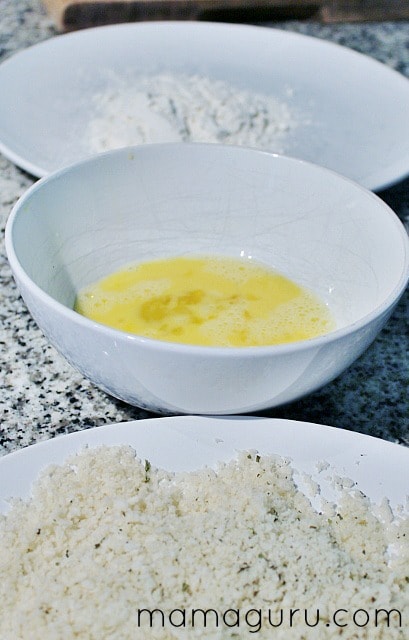 Freeze them well!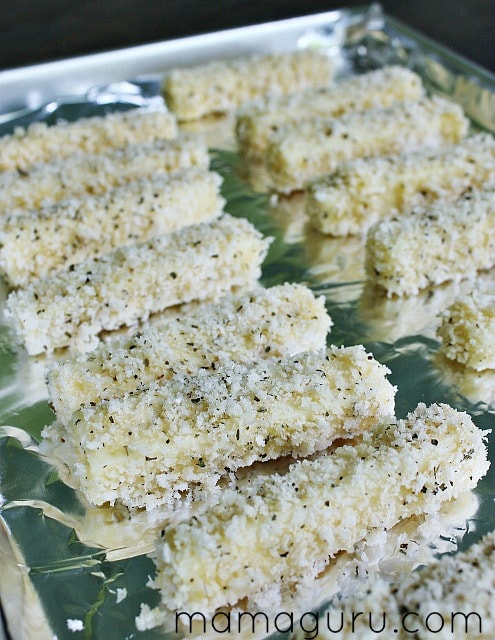 Fried goodness!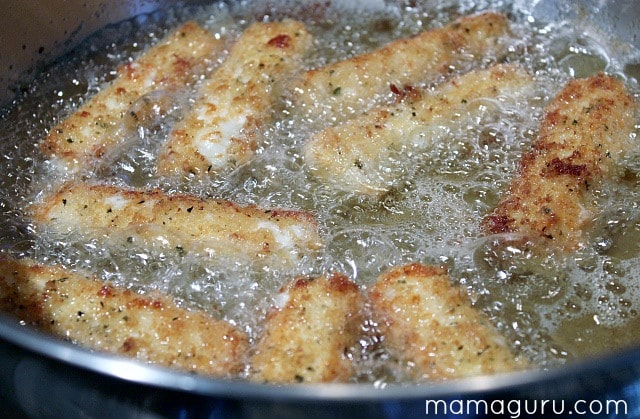 Making Groceries: Fried Mozzarella Sticks
Ingredients
16 oz block of mozzarella cheese, chopped into 16 sticks
3 c panko bread crumbs
1 T dried oregano leaves
1 T dried basil leaves
2 eggs
⅓ c flour
enough canola or grapeseed oil to cover the bottom of your pan by several inches
marinara sauce for dipping
Instructions
Make a breading station for your cheese sticks. First is a plate with flour. Second is a bowl with the two lightly beaten eggs, plus a splash of water. The third station is a mix of panko and herbs. Have a baking sheet ready to place the breaded sticks on when complete.
Take each cheese stick and coat in with flour. Dust off any excess, then bathe it in the egg mixture. Finally, roll, press and coat it all over with the breadcrumbs.
Freeze cheese for at least 4 hours, preferably overnight. The cheese must be cold enough to resist melting in the hot oil, so patience really does pay.
Heat several inches of oil over a medium high flame. Place the handle of a wooden spoon to test temperature. Once bubbles form around it, the oil is hot enough. Place the sticks in the oil without overcrowding. I do two batches. Keep a careful watch, turning them when one side browns.  It takes about 3 minutes total. Once golden brown, place them on a cooling rack over a baking sheet so excess oil can drip away. You can lightly dust them with sea salt while hot if you like.
Serve right away with marinara for a dipping sauce.  Enjoy.
Make your own
marinara
as a dipping sauce.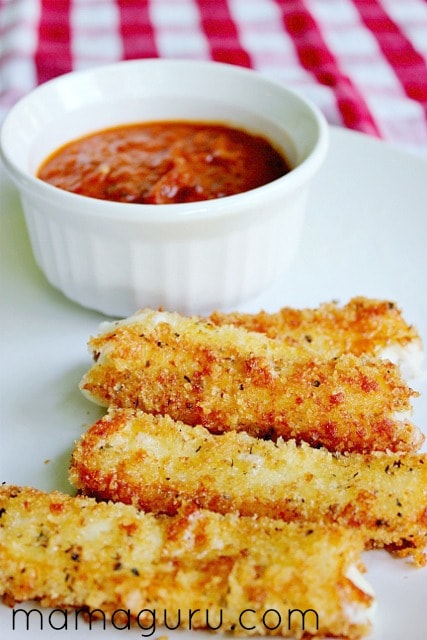 The Bottom Line
The bottom line is that if you eat too many of these your bottom will be fat.  On a rare occasion, go ahead and indulge.  At least there aren't any chemicals in the homemade version destroying your body.  These are best eaten with a large group of people , because although the first two sticks are wonderful, after that they start to feel heavy and redundant.  Better to leave the table happy, than gut-bustingly full.  This treat does not store well, so gobble them up or toss the left-overs.
Cheese tends to be expensive, but frequently block cheeses go on sale, so that can cut your expenses.  It cost me $6.43 to make these from scratch.  That's for 16 ounces, roughly 40¢ an ounce.  The processed version is $3.99 a box, but for only 7 sticks, about 50¢ an ounce.  Overall, it is cheaper to buy the processed kind, but it is a lesser value.
Taste-wise I think these are very similar.  My marinara rocks, so it blew the manufactured kind out of the water.  Fried cheese is such a strong flavor, it's hard to make it taste fresher.  I think the real value is in knowing how easy it is to make, but also having to endure the delayed gratification and greasy clean-up.  Making your own allows you to enjoy the treat, but it certainly doesn't encourage you to make it often, which is a good thing.
When I was growing up, my mom used to write little notes and draw pictures for my school lunches.  She never missed the opportunity to write TGIF for my Friday lunch.  I always thought it was funny, because I loved school and didn't crave the weekend break the way other people did.
Our society is currently deconstructing our language into letters and symbols.  As a writer this saddens me.  As a mother, it worries me.  When our language is reduced of its complexity, will our culture follow suit?   I frequently rebel against the trend and make the effort to spell my words, capitalize my proper nouns and properly punctuate my text messages.  But I'll make a sentimental exception for TGIF with the hopes that those letters don't associate with a food manufacturer, but mean what my mother meant when packing my childhood lunches:
Thank God It's Friday.
In other words, for the next two days, you're mine.  All mine.
TGIF, y'all.