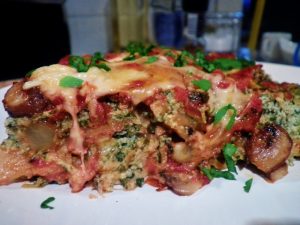 Lasagna is a perfect holiday food.  Everybody loves it!  It can be made in advance and it feeds a crowd.  Round out the meal with a salad and herbed garlic bread and you'll have a feast the whole family can enjoy.  This is a classic vegetarian recipe with red and green layers which are perfect for Christmas.
I perfected this recipe while anticipating the birth of my second child.  I knew it would be hard to cook with a newborn, so I filled my freezer with wholesome meals that would last.  At the time I was very confused about which noodles to use and whether or not to cook them.  Through trial and error I discovered that regular lasagna noodles (not the ones labeled no cook) are the best choice when layered uncooked in the lasagna.  There is plenty of liquid and time for the noodles to soften and cook while baking.  This saves the messiest step in making lasagna.  I found that he pre-cooked noodles made the lasagna rather soupy.  Enjoy!
3 cups sliced mushrooms (I prefer crimini.)
2 cloves of garlic, peeled and smashed with the flat edge of a knife
4 cloves of garlic, minced
2 onions, diced
1 package frozen spinach, thawed
zest of 1/2 a lemon
juice of a lemon
about a 1/4 t freshly grated nutmeg
1 14 oz container ricotta cheese
1/4 t red pepper flakes
1 large can of diced tomato
2 T tomato paste
1/4 c red wine
2 bay leaves
2 T dried basil
1 T herbs de provence
1 t dried oregano
16 ounces mozzarella, grated
1/4 -1/2 c grated parmesan cheese
about 9-16 lasanga noodles, depending on the size of your pan (I use whole wheat.)
chopped fresh parsley or basil for garnish
This recipe is made in 3 parts, then assembled and baked.  You can freeze it after it is assembled.
For the Garlic Mushrooms:
1.  Pour several tablespoons of olive oil in a large skillet over a medium-high flame.  Add the smashed garlic cloves to perfume the oil without burning.  Once hot, add the mushrooms.  Spread them out in an even layer and then leave them alone. 
2.  When they begin to brown a few minutes later, turn them over.  Cook them one more minute.  Season with sea salt and pepper.  Remove garlic cloves.  Set mushrooms aside and wait for assembly.  I often use this pan for the marinara sauce to save washing a dish.
For the Marinara:
1.  Heat a few tablespoons of olive oil in a large pot over a medium flame.  Add half the onions, red pepper flakes and a generous pinch of sea salt.  Cook for about 3 minutes, stirring often.  Add half of the minced garlic and cook for another minute. 
2.  Add tomato paste and stir it in with gusto.  Add diced tomatoes, wine, bay leaves and dried herbs.  Turn the heat to low and allow sauce to simmer.  Taste and season with sea salt and black pepper.  Set aside for assembly.  Be sure to remove the bay leaves before the layering begins.
For the Spinach Mixture:
1.  Heat a few tablespoons of olive oil in a skillet.  Add half of the onions and a generous pinch of sea salt and pepper.  Cook for about 3-4 minutes, until softened.  Add 1/2 the minced garlic and cook for another minute.
2.  Put the thawed spinach in a clean kitchen towel and squeeze out excess water over the sink.  Add spinach to onions and garlic.  Stir, untangling the spinach.  Quickly add the nutmeg, lemon zest and juice.  Check seasonings and add more salt and pepper if you need it.  Turn off the heat.
3.  In a food processor combine the ricotta cheese and spinach mixture.  Pulse several times to break down the spinach and combine.  If you are using your food processor to grate the mozzarella, do that first, so you won't have to wash it.
For the Lasagna:
1.  Heat oven to 400°.  Combine mozzarella and parmesan cheese together.  Place about 1/2 c marinara on the bottom of an oblong pan.  Layer uncooked lasagna noodles on top.  My pan fits 3 with a broken one covering the end.
2.  Layer 1/3 spinach mixture.  Top with 1/3 of the mushrooms.  Top with 1/3 of the cheese.  Top with 1/3 of the marinara.  Repeat layering 3 times, but switch around the last layer so that the cheese tops the marinara.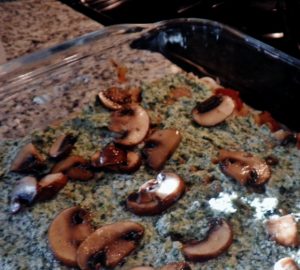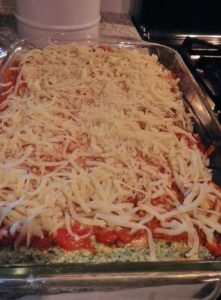 3.  Cover very loosely with foil and bake 25 minutes.  Remove the foil and bake another 25 minutes, until cheese is golden and bubbly.  Remove from oven.  Just before serving top with fresh parley or basil.  Enjoy!