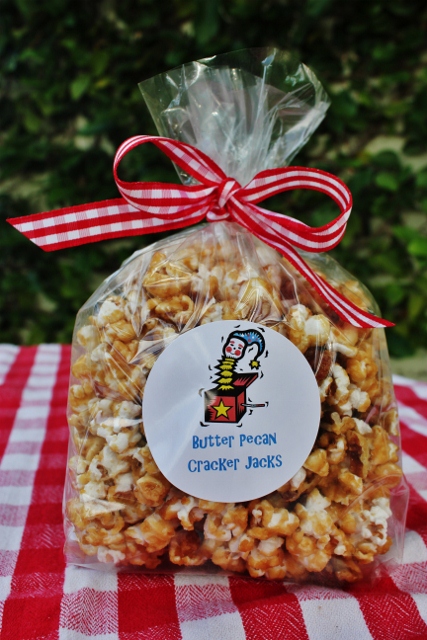 Eating whole foods doesn't mean you can't eat snack foods. It just means you need to make them yourself.
This week I am sharing a delicious recipe for homemade Cracker Jacks. I improved the original Cracker Jack recipe, making it a bit more sophisticated by swapping pecans for peanuts. Caramel popcorn fans will love this recipe! Adding a toy is not optional, although this could be a fun way to hide a small grown-up gift.  This makes a great present or party favor, and so much tastier than those popcorn barrels that have been sitting in a warehouse for God knows how long?
Making Groceries is usually about saving money and eating more healthfully, but it's also about adding to our skill set.  Every time we learn a new recipe, we become a bit more self-reliant.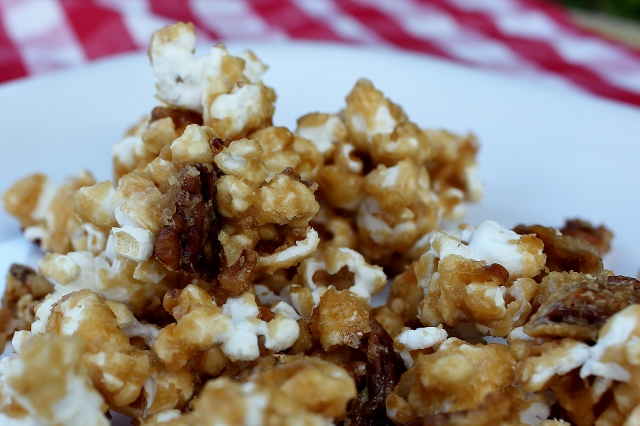 Butter Pecan Cracker Jacks
Author:
Rebecca Cofiño for Mamaguru.com
Ingredients
⅓ c popcorn (popped to 8 cups of perfect kernels)
¾ c dark brown sugar
⅓ c butter
3 T corn syrup
¼ t baking powder
1 t vanilla extract
½ t sea salt (fleur de sel is best)
1 c chopped pecans
1 small toy or sticker
Instructions
Pop corn and pick it over for perfection. Line a baking sheet with foil and butter it. Place popcorn and nuts on the sheet in a 300 oven.
Add brown sugar, butter and corn syrup to a saucepan and heat it over a medium flame. Stir constantly until it reaches 255 on a candy thermometer. Remove from heat. Add vanilla and baking powder. Pour over hot popcorn and nuts. Stir well to coat every piece.
Bake for 10 minutes. Stir and return to the oven for another 10 minutes. Remove it from the oven and put the foil on a cooling rack. Allow popcorn to cool completely before packaging it.
Break pieces apart and put them in a clear bag or box. Hide a toy. You can make a cute label with clip art. Enjoy thoroughly.
 The Bottom Line
These are addictive!  The pecans really bring out a buttery flavor and the the sea salt is a beautiful contrast to the sweet caramel.  The freshness is unmistakable.  Even though this is a candy snack food, that fresh flavor is wonderful.
As far as price is concerned, these are not cheap.  The pecans add about $4 to the recipe, but buying a whole bag costs about $8.  You can always freeze nuts you aren't using right away to prevent them from going rancid.  Of course, peanuts cost only half as much as the pecans, so you can bring the cost down considerably.  This recipe contains 9 servings, but let's face it, most people will eat more than a handful.  I was able to make 2 big cello bags and have some leftover snitches from this recipe.  That makes each bag cost about $3.  The processed version costs less than a dollar.
I love retro food with a gourmet twist.  The nostalgia of the original is great, but this recipe is definitely an improvement in taste and freshness.  They make excellent gifts and are easy to make.
But, of course, the best part is finding the surprise inside!