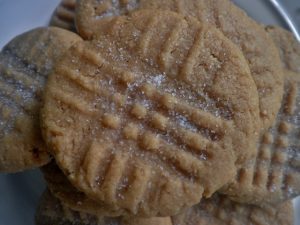 We're getting quite specific and trendy here with this week's edition of Making Groceries.  Any regular reader knows, I have nothing against wheat.  I adore it; I bake with it; I eat it; I love it.
I always will.
This week's inspiration was not specifically for people with Celiac Disease, although I hope this recipe finds its way into those hands.  I was actually trying to create a very simple cookie.  I read that ground nuts can be considered a flour of sorts, so I figured peanut butter made of only nuts should work just dandy.  I also needed a new peanut butter cookie recipe, because my Mimi's recipe (written for my dad with ingredients like oleo) needed a few tweaks.
Voila: today's fabulously simple and perfectly delicious recipe.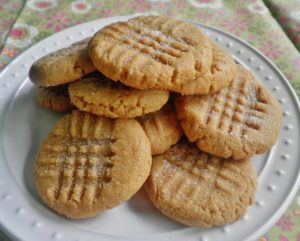 Gluten-Free Peanut Butter Cookies
1 c peanut butter (please make your own)
1/2 c white sugar
1/2 c brown sugar
1/2 t vanilla extract
1 egg
1.  Preheat oven to 350°.  Mix all ingredients together until thoroughly combined. 
2.  Scoop 1-inch balls.  Place them on a parchment-line baking sheet.  Press down genly with your palm to flatten into a disc.  Use a fork to press into the dough, giving the cookie it's classic cross-hatch design.  Cookies will not rise, so make sure they look cute.  Sprinkle with a bit extra sugar.
3.  Bake for 15 minutes.  Edges should be slightly browned and firm.  Allow cookie to rest for one minute on baking sheet, then place them on a cooling rack.  Makes 16 cookies.  Enjoy!
The Bottom Line
Buzz words cost big bucks.  The price of any grocery item advertised as gluten -freeis jacked up.  If you need to avoid wheat products, you'll probably save money and save your body from over-processed foods by simply embracing foods which are naturally gluten-free rather than those fashioned to be so.  You know, like rice.  I urge you to look to global cultures, particularly Asian cuisines for delicious, whole and natural foods.
As far as cost is concerned, these cookies ran me $1.89 to make.  I don't have a direct comparison, but most gluten-free cookies cost $5.59 for a small package.  That is an insanely expensive price for a single grocery store item.  The effort to make these cookies is so minimal, it's hardly worth making it a project with kids.  Plop, crack, stir and they're done.
That being said, these cookies are yummy.  They are simple and honest and feel quite old-fashioned despite their current trendiess.  Paring down food to it's simplest form is a modern act of integrity.  We should not eat what we do not need.  These yummy cookies aren't missing a thing.
It's crazy that we live in a world where cookies need to be classified as honest, but here we are.  Please enjoy something so simple it tastes of earth and my grandmother's old recipe in one bite.
Print