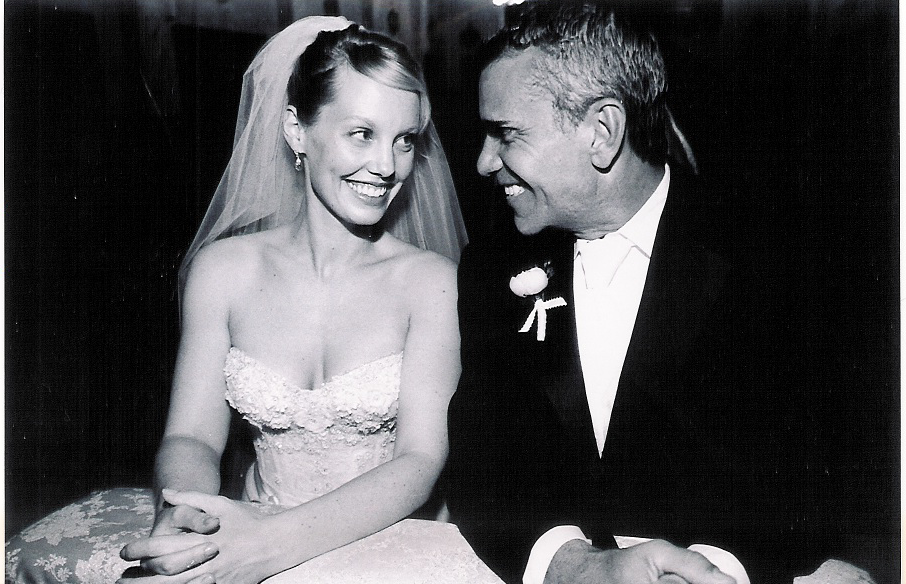 Because  Synergy Yoga asked me to sample a class they wanted me to teach, I attended a Beach Yoga class.
Because my feet were sandy after class, I rinsed them at the outdoor shower bordering the beach.
Because the shower had low water pressure, everyone in the class waited to take turns.
Because we were waiting, I struck up a conversation with Jen and Kathy, who had also attended the class.
Because I don't like driving short distances, I walked to the yoga class.
Because parking in South Beach is awful, it took Kathy and Jen a long time to park on their way to brunch.
Because their parking took so long, I bumped into them 15 minutes after we met at the showers as I walked home.
Because I thought Jen was funny, I accepted her offer to join them for brunch.
Because I found out Jen was just visiting from Atlanta for the weekend, I decided to become friends with Kathy, who lived in Miami.
Because Kathy was lonely after a bitter divorce, her real estate agent, Sonny, invited her to a house party his friend, Joe, was hosting.
Because I was new in town and wanted to make friends, I accepted Kathy's tag-along invite.
Because I was inspired by the Beach Yoga class, I decided to practice falling into back bends.
Because I miscalculated my aim, I bonked my forehead on the edge of a wooden futon frame the former resident of my apartment left behind.
Because I sensed Kathy would freak out if I canceled at the last minute, I went to the party with a big bump smack in the middle of my forehead.
Because it was a Blue Moon and Joe owned a fancy telescope he wanted to show off, he decided to throw a party for his circle of friends.
Because Joe took a Kung Fu class a decade earlier, he met Andres, who also took the class.
Because Joe has a fantastic party house, Andres attended Joe's Blue Moon Party.
Because Kathy and I were the only party-goers who were not in Joe's set of friends, we stood out.
Because I had a bump on my forehead, I really stood out.
Because I went to a party where I knew no one with a bump on my head, Andres incorrectly assumed I was a super-confident, cool chick.
Because Andres was A.) drunk and B.) immature, he flirted with me elementary school-style using playground pointing tactics.
Because I got fed up with his teasing, I tried to walk away.
Because I was leaving, he grabbed me and kissed me.
Because there was a spark (and an apology), I gave him my phone number.
Because I was always busy when he called, Andres tempted me with an invitation to the Florida Keys.
Because I had never been to the Keys and was dying to go, we went on our first date.
Because he brought me flowers and fruit for the drive down, I was smitten.
Because I was new in town, I was afraid to get caught up in a relationship.
Because we still liked each other, we decided to be "just friends."
Because "just friends" means "nothing," we didn't speak for a few weeks.
Because Hurricane Francis was headed to Miami, I was under mandatory evacuation.
Because Andres was the only person I knew who didn't live in South Beach, I called him.
Because Andres is kind-hearted, he offered me shelter from the storm.
Because Andres' best friend, Diego, was in the process of buying one home and selling another, he needed help putting up a lot of  hurricane shutters.
Because Andres climbed a ladder to put up Diego's shutters, I got a nice view of his beautifully cut arms.
Because Andres was helpful, muscular, and funny, I wanted him.
Because Hurricane Francis hoovered over Miami for 3 days, Andres and I were locked up together.
Because we had all that time and nothing to do, we got to know each other better.
…FAST FORWARD A FEW BECAUSES, AND…
Because Andres loves me, he proposed.
Because I love him, I accepted.
Because we both wanted a family, we made Max.
Because Max is so wonderful, we made Jack.
THE MORAL OF THIS LOVE STORY IS:  DO YOGA!
P.S.  Here's an update on the supporting cast of this love story:
First of all, I never taught that Beach Yoga class for Synergy Yoga, but I did teach an Ashtanga class for them at the Nirvana Spa.
I never saw Jen again after brunch. In fact, I can't even remember her real name although I remember liking her.
Kathy and I hung out one more time after the party, but we never clicked as friends.
I saw Sonny briefly one more time, but we never spoke. Sadly, he passed away a year later.
Joe and Andres keep in light contact. His wife got pregnant soon after the Blue Moon, but they still throw fab parties occasionally.
Diego was the best man at our wedding and is Jack's godfather.
By the way, Blue Moons occur about every 2 1/2 years. They take place when there are two full moons within one calendar month. There wasn't another Blue Moon until right after our honeymoon.