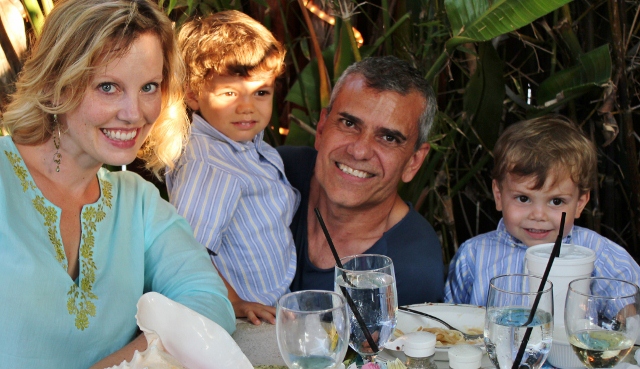 I have a new mantra.
This happens to me from time to time: a phrase leaps off a page, off someone's lips or suddenly springs to life in my mind.  The words capture my spirit, and in an instant I know they will be the driving force in my life until one day that mantra is replaced by another.  Whenever I am uncertain, I utter my mantra and use it to guide my choices.
For the last four years, my mantra has been an Arab proverb, Throw your heart in front of your body, and run to catch it.  Those words emboldened me to take risks and live passionately.  They are the words behind the creation of mamaguru.com.  They are the words that made every mistake forgivable, except failure to try.  In so many ways my mantra returned me to the brashness of youth, when following dreams seemed important and possible, rather than foolish and naive.
But like so many other mantras, it has run its course, dropped me off at this particular point in my life.  A new adventure, a new way of being, is on the horizon.
My life is changing.  A big Under Construction sign should hang above my head.  My children are blossoming into their first moments of independence.  Opportunities to try on many different hats are coming at me right and left.  I am quickly becoming a full-time mom with five part-time jobs.   New people.  New places.  New challenges.  Even my neighborhood has changed, with longtime neighbors leaving and new ones taking their place.  The landscape of my once familiar life has completely transformed.
It's enough to make my head swirl with thrill and trepidation.
With so much going on, it's easy to get frazzled, especially because there is so much dawdling downtime involved in life with young children.  I often find myself at the playground or supervising play at home just sitting there, available and present, but essentially doing nothing.  One of my favorite quotes about parenting came from Dave Barry, "Taking care of a child is almost laughably easy, but doing anything else while taking care of a child is virtually impossible."  So, I sit with a million things to do, and my mind spins circles.
Every night I bestow one last kiss on my sleeping children before I say good-bye to the day.  A few nights ago, as my lips touched Jack's cheek, he jostled awake for just a second.  He opened his eyes wide, connected and instantly shut them again.  In that brief moment, all the energy and thoughts swirling in my head stopped.  I received my new mantra:
Follow the Love.
Of course, life doesn't completely change in an instant.  This mantra will manifest itself in my life in unimaginable ways, but already I feel it taking root within me.  A sense of calm has flooded over the chaos.  Every choice is easier, because all I have to do is see if it brings me closer to, or further from love.
My heart is no mystery.
I love my family.  I love life and creation, God and possibility.  I love to inspire and be inspired.
No more chasing after my far-flung heart.
It is time to step closer, to follow on the heels of love, and never let it out of my sight.
Namaste,
Rebecca