Much attention and energy is spent on nourishing a child's body and mind, but it's important not to neglect their little hearts as well.  One of the tasks of parenthood is explaining the world and God to our children, a daunting task to say the least.  Once their vocabularies discover the word, why, it becomes even more challenging.  Explaining complex spiritual ideas can make even the most devout parent quiver with confusion.  Books are a wonderful resource to begin introducing the concept of God to children on a level they understand.  Here is a selection of excellent titles appropriate for young children to start the discussion.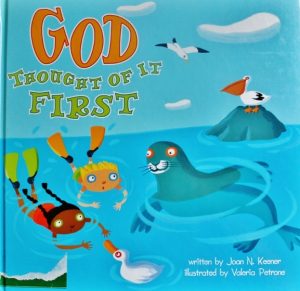 God Thought of it First by Joan N. Keener
This gem celebrates human inventions, while pointing out how human ideas mimic God's creations.  For example: a helicopter is great because it can hover, but God thought of it first when he created the hummingbird.  This is such a happy book and it's so nice to see both God's creations and humankind's creations connected and celebrated.  Children will love the artwork and the wide variety of pictures in the book.  It could spark discussions for older children to find more similarities between the natural and human-made worlds or to invent something on their own based on one of God's creations.  It is appropriate for all faiths, although on the last page there is a one sentence quote from Isaiah.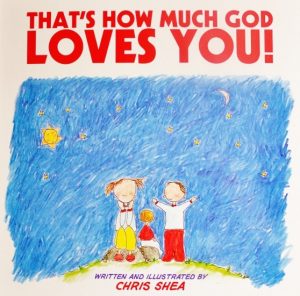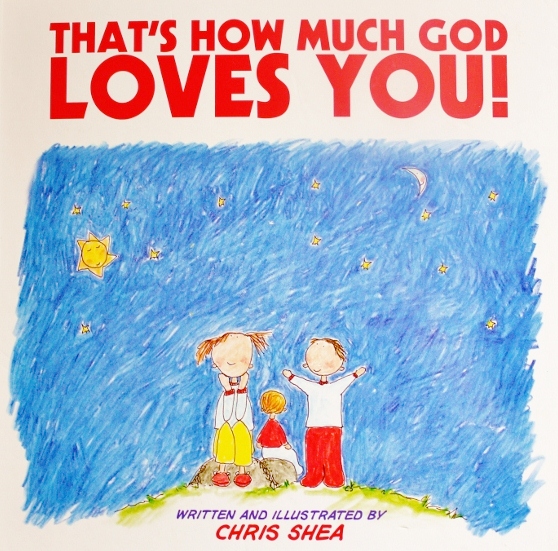 That's How Much God Loves You by Chris Shea
An adorable book which compares God's love to pancakes, puppies and hugs from parents.  This is charming board book teaches babies and toddlers how incredibly well-loved they are by God.  It's a good way of making the abstractness of God very tangible to a child.  All faiths can enjoy this book.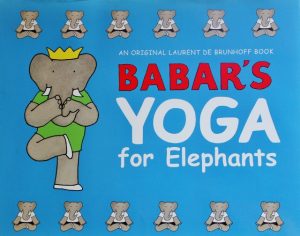 Babar's Yoga for Elephants by Laurent de Brunoff
I love elephants!  I love yoga!  I love Babar!  I actually bought this years before I had children.  This book not only teaches children about the postures in yoga, but also it subtly introduces the philosophy and spirituality behind them.  The wonderful illustrations show elephants meditating in the midst of Times Square traffic, imitating the postures of animals, and relaxing in the desert.  What I love most about this book is introducing children to the idea of breathing deeply to feel peaceful.  Oh, and the pull-out poster is lovely!  Appropriate for all faiths.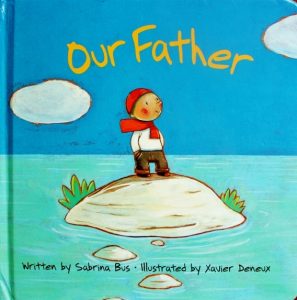 This is a great introduction to teaching The Lord's Prayer for Christian parents.  This board book divides the prayer into individual ideas.  Each phrase is depicted with an illustration and text which is relatable to children.  For example, forgive us our sins shows a little boy feeling sorry for breaking his friend's truck.  My kids understand how upsetting it is for a toy to break, so it's easy to start the discussion about forgiving and apologizing.  The pictures are very cute and I think this makes this a rather adult prayer extremely accessible to children.
Prayers with Bears Series: 23rd Psalm by Alan & Linda Perry
There are more books in this series which I just discovered when I searched for this link to share.  This sweet book shows Shepard Bear in pastoral scenes and shares 4 line rhyming prayers which children love to go along side the psalm.  This lovely book was handed down to me after it was well-loved by my godson and his mother.  They used it as an opener to talk about how to pray.  Rooted in the Psalms, this book is quite open and appropriate for many faiths. 
I must thank my family and credit them with the discovery of most of these titles, because many were gifts.  That's the thing about reading.  When you find a wonderful book, you must share it with others.  I hope you enjoy these as much as we do.