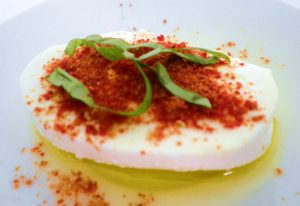 This lovely appetizer is a fresh take on the Italian classic.
buffalo mozzarella
olive oil
a few leaves of fresh basil
tomato powder
1.  Heat a few tablespoon of olive oil in a small sauce pan over a low flame.  Add a few basil leaves.  Heat a minute or two until the basil just releases it's fragrance.
2.  Puddle the basil oil on a plate or a Chinese spoon.  Place a slice of mozzarella on top.  Sprinkle generously with the tomato powder.  Garnish with a fresh basil leaf if you choose.  Enjoy!