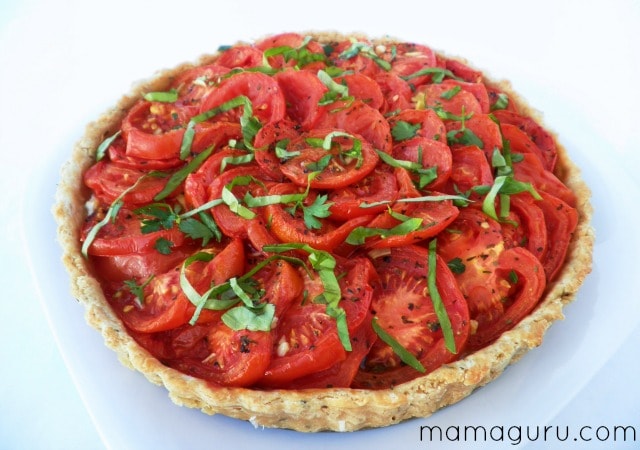 Nothing celebrates the tomato more than an Oven-Roasted Tomato Tart. Roasting tomatoes concentrates their flavor, so this vegetarian tart is simply bursting with juicy tomato goodness. Although this is spectacular in the summer when tomatoes are at their peek of freshness, you can also make this with off-season tomatoes, because roasting them changes their texture and makes them so much more flavorful. This is excellent for lunch, dinner or even at brunch. Pair it with a crisp white wine and a bright green salad.
Besides being delicious, this recipe is also healthy! The crust uses whole wheat flour and Greek yogurt. The goat cheese packs a big flavor punch, but the star is really the tomato. Fresh basil is a must for the garnish!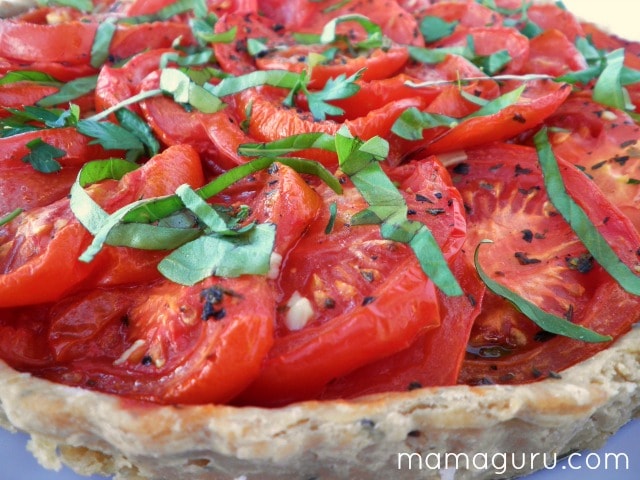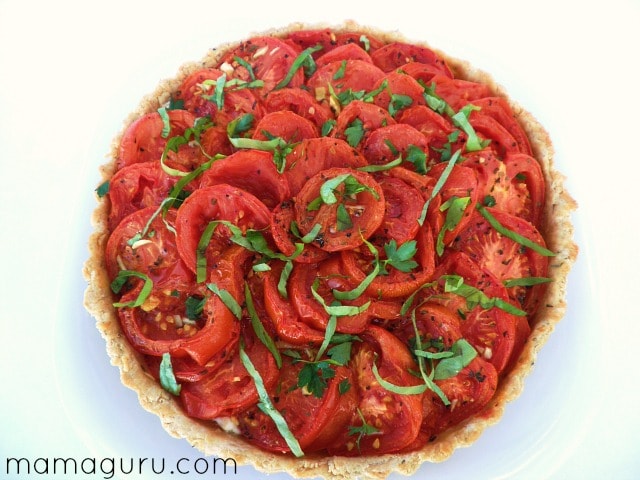 Oven-Roasted Tomato Tart Recipe
Ingredients
Tart Shell
1 c unbleached all purpose flour
1 c white whole wheat flour (I use King Arthur.)
1 t sea salt
1 t herbs de Provence
4 T unsalted butter, cold and cut into small chucks
4 T Greek yogurt
4 T ice-water (give or take)
Roasted Tomato Filling
8-10 medium sized tomatoes (roma or vine-ripened)
dried basil
olive oil
4 oz goat cheese
¼ c grated Parmesan cheese
fresh basil
Instructions
Tart Shell
Combine flours, salt and herbs in a food processor. Add butter and process for 5-10 seconds. Add yogurt and process for about 5 more seconds. At this point the dough should resemble coarse meal.
Add ice-water 1 tablespoon at a time and process until dough just comes together when squeezed. All this can also be done by hand with a fork or pastry cutter. Try to process dough as little as possible and keep it as cold as possible for best results.
Shape into a round disk and wrap in plastic wrap. Chill for at least an hour.
Quickly roll out dough until it will fit into your tart pan. When you place dough in pan, gently press it into the sides and bottom corner. Trim off excess for a tidy edge. Cover with foil and fill with rice or beans. Bake in a preheated 375 oven for 15 minutes. Remove foil and beans and bake for another 20 minutes. Shell should be lightly golden brown.
Roasted Tomato Filling
Preheat oven to 375. Slice tomatoes to about ¼ inch thickness and lay them out on a cookie sheet covered with foil. Drizzle with olive oil and season with salt, pepper and dried basil.
Bake for 45 minutes. You can bake the tomatoes and the tart shell at the same time.
Once shell and tomatoes are cooked and cool enough to touch you can assemble tart. You can also do those steps ahead wrapping everything tightly in plastic wrap for up to 1 day. Crumble goat cheese and sprinkle Parmesan cheese in shell. Carefully arrange tomatoes starting from the outside circle inward with slight overlaps. Choose a nice tomato for your center. Drizzle with olive oil.
Bake tart for 5-10 minutes in 375 oven. You are melting the cheese and allowing the flavors to meld together.
Allow tart to rest for 5-10 minutes before removing it from the shell.
Garnish with fresh basil. Enjoy fresh out of the oven or at room temperature.