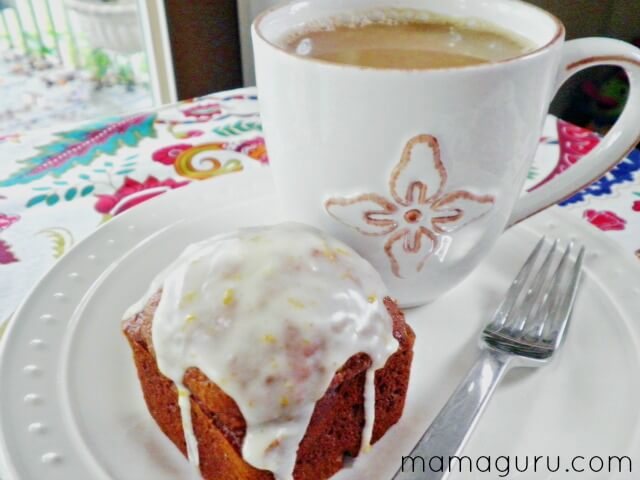 I know, pumpkin spice recipes are a dime a dozen these days, so what can I say to make you give Pumpkin Spice Mini Cakes with Orange Maple Glaze a try? Would it make a difference if I told you that this pumpkin spice recipe literally made me thousands of dollars? This was the secret recipe I used to make for the farmer's market. No matter how much I baked, I always sold out of it.
There are two things that make Pumpkin Spice Mini Cakes with Orange Maple Glaze exceptional. The blend of the spices is first and foremost. I tweaked it until I got it just right. The spices are bold, but balanced. The second secret is the addition of orange juice and zest. It's a little know fact that pumpkin and orange are best friends. They complement one another beautifully.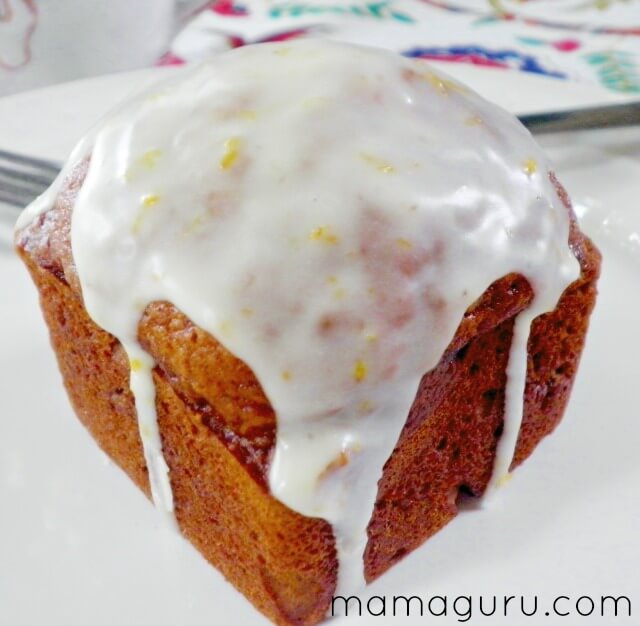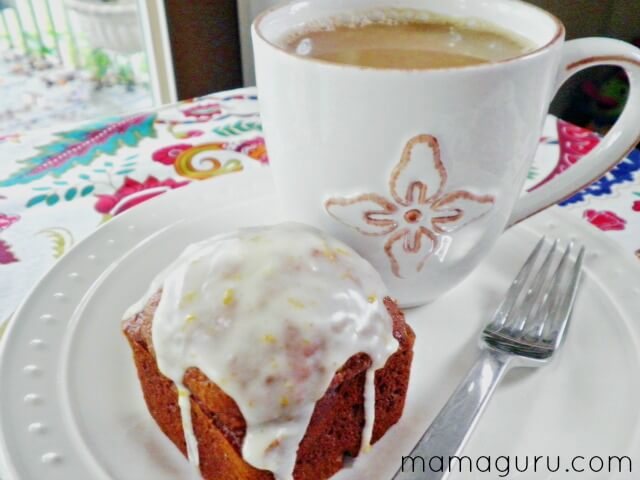 THESE ARE SO GOOD! 
Sorry, I don't mean to boast, but I'm very proud of this recipe. You see, I used to have an addiction to Starbucks' pumpkin scones and every fall I'd eat more of them than I'd like to admit. It was a complete waste of money and calories, plus I hated eating all of their added chemicals. Finally I came up with the ultimate pumpkin spice dessert! Not only is it yummy, but it's also healthy-ish with a serving of fruit and vegetable. Make some Pumpkin Spice Mini Cakes with Orange Maple Glaze today and share them with someone you love. (Or file it away for Thanksgiving!)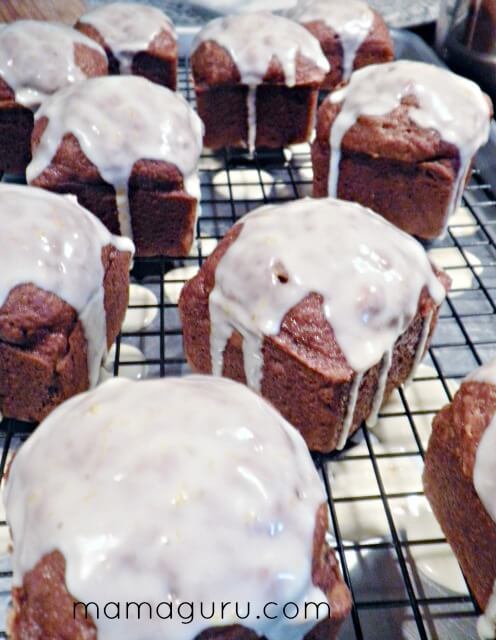 Pumpkin Spice Mini Cakes with Orange-Maple Glaze
Author:
Rebecca Cofiño for Mamaguru
The perfect fall dessert to go with a cup of coffee!
Ingredients
Pumpkin Spice Mini Cakes
½ stick of butter
1 cup brown sugar
1 tablespoon molasses
2 eggs
1 cup pumpkin puree (canned or homemade)
½ cup orange juice
½ cup unsweetened applesauce
1⅔ cups flour
1 teaspoon baking soda
½ teaspoon baking powder
½ teaspoon salt
1 tablespoon orange zest
1 tablespoon pumpkin pie spice
1 teaspoon cinnamon
¼ teaspoon cloves
¼ teaspoon freshly grated nutmeg
½ cup raisins
Orange Maple Glaze
zest and juice of ½ an orange
1 tablespoon pure maple syrup
1½ cups powdered sugar
Instructions
Pumpkin Spice Mini Cakes
Preheat oven to 350°. Either butter muffin tin or line with papers. I used a square pan for fun, but you could use a cupcake tin.
Cream butter and brown sugar in a mixer for a few minutes, until light and airy. Add molasses and eggs one at a time. Beat for about 1 minute. Add pumpkin, orange juice and applesauce. Beat until just combined.
In a separate bowl, sift all dry ingredients together. Lightly sprinkle a spoonful of the flour mixture over the raisins and gently toss, so raisins are coated, but not clumped with flour. This step prevents raisins from sinking to the bottom half of the cakes.
Add half of the flour mixture to the pumpkin mixture and beat on a low speed until just combined. Repeat with the remaining flour. Add raisins. Stir them in with a spoon.
Fill prepared muffin tin with batter. Bake at for 20-25 minutes, until you smell them and a toothpick comes out clean. (My oven is exactly 23 minutes.) Allow cakes to rest in the pan for a few minutes before transferring to a cooling rack.
Orange Maple Glaze
Stir juice, zest and maple syrup together in a bowl.
Sift powdered sugar over juice mixture. Stir to combine.
Place completely cooled cakes on a cooling rack over a baking sheet. Drizzle glaze over cakes, letting the excess run down the sides.
If desired, you can scoop up the glaze from the baking sheet and repeat the process to give it an extra coating. Enjoy!