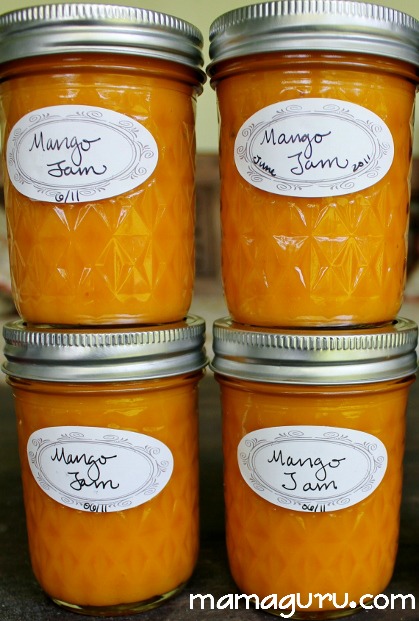 Nature is so, ugh, inconvenient at times.
It is mango season.  My favorite fruit.  After waiting and waiting for my tree to let loose its bounty, it's here, toppling all over my backyard.  In the past few weeks I have made mango cake, mango sorbet, mango smoothies, black bean and mango quesadillas, mango shrimp pasta salad, mango salsa, and finally, mango jam.
In other words, I have mangoes out my eyeballs.
I'd love to take a break.  Cherries are on sale, as are blueberries and raspberries.  I also want to make something new for you, for Making Groceries, but I have to process so many mangoes that I don't have time for much else.  So, although I am not going to turn this into the making jam column, I will share another jam recipe with you.
This mango jam is so delicious!  If you live in the tropics, you should definitely make it.  If you live elsewhere, go ahead a feel envy, but then go to your farmer's market and get some berries or stone fruit.  You have the best stuff this time of year.  In another week, the searing summer sun will kill off any lingering fruits and veggies in Florida, while you will just begin your harvest.
This recipe makes 8 6-oz jars.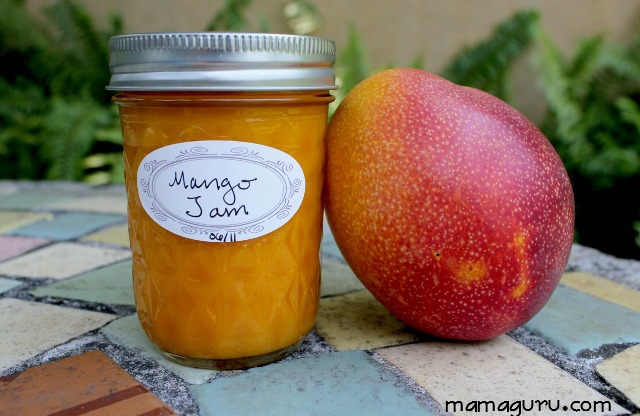 6 c mango puree (about 8-10 mangoes)
1 c filtered water
juice of 1/2 lemon
3 T Low Sugar Fruit Pectin
1 c sugar
1.  Prepare your jars and lids by sterilizing them in hot water.
2.  Add pureed fruit, water and lemon juice to a large pot and heat over a medium high flame.  Gradually stir in the fruit pectin.  Stir vigilantly as you bring it to a full, rolling boil.
3.  Add sugar and return to a rolling boil for 1 minute.  Stir constantly.
4.  Turn off flame.  Ladle jam into hot jars leaving 1/4 inch space at the top.  Wipe rims and secure with lids and rings.  Place jars into a canner and make sure they are covered by an inch or two of water.  Place lid on canner and bring to a boil.  Boil for 10 minutes.
5.  Carefully remove jars and allow them to cool on a towel or rack.  Give each jar a few inches of space and don't fiddle with the lids for 24 hours.  Then carefully check that they are sealed.  Label and date jars.  Enjoy for up to a year.
The Bottom Line
To make this jam, I already had everything on hand.  It cost pennies for the sugar, bit of lemon juice and pectin.   The mangoes were free.  This is an excellent recipe if you have a lot of mangoes on hand, but the key is to use your own seasonal fruit.  A cornerstone of the slow food movement is using the food you have.  It is inexpensive and the freshest available.  It is, however, inconvenient.  You are subject to the winds of nature, which means you have to drop everything at harvest time.  You know, like people have always done.
Making jam is pretty easy.  Every time I can, I realize that again.  It took me about an hour to make 8 jars of jam, not counting cutting the mangoes.  Mangoes are a labor intensive fruit because they must be peeled and have an odd, mysterious and slippery pith in the middle.  If we don't blow through all this jam right away, it'll be lovely to taste them next winter when every bite will echo sunshine.
Next week Making Groceries will explore something entirely different.  For now, I have a heap of ripe mangoes calling for my attention.  Gotta go.