The name says it all: Taste Heaven while you contemplate the waiting room to Hell!  You simply must try it.  I remember driving across the country and stumbling on a tiny town in New Mexico called Truth or Consequences.  How prophetic! I thought.  I was at a point in life that I didn't know where I was going, geographically or otherwise.  I found a teepee and lived there for a few weeks figuring out life.  The town's name was just that irresistible.  Back to food.  This is a classic, Italian, poor man's supper that is so very, very yummy.  If you have some marinara sauce, eggs and bread, you can serve dinner in about 10 minutes.  Bonus: the name has built-in dinner conversation.  Enjoy!  Serves 4.
1/2 large onion or 1 small onion, finely diced
2 large cloves of garlic, minced
1/2 t red pepper flakes
(Optional carrot and celery, finely diced.  I do this sometimes if the kids need to eat more veggies.)
1 T tomato paste 
28 oz can of crushed tomatoes
1/4 red wine
2 T dried basil
1 t dried oregano
1 bay leaf
6 eggs, or however many you want
freshly chopped parsley for garnish
1.  In a large pan with a lid, heat a few tablespoons of olive oil over medium high heat.  Add the red pepper flakes.  Sometimes I add more if I want it spicy.  Once hot, add the onion and a pinch of sea salt.  Saute for a few minutes, until softened.  Add the garlic and saute for another minute.
2.  If you are sneaking in a few veggies, add them with a pinch of salt and cook for a few more minutes, until softened.
3.  Add tomato paste and stir until it dissolves.  Add tomatoes, wine and spices.  Season generously with sea salt and black pepper.  Allow it to cook for about 10 minutes so the flavors can develop.  Adjust spices to your pallet.  Remove the bay leaf. 
4.  At this point you can either continue with the recipe if you like a chunky sauce, or puree it and return it to the pan for a smooth sauce.  Crack eggs into a individual cups for more control.  Keeping the sauce cooking over a medium flame, create a small dent with the back of a spoon for each egg.  Carefully pour each egg into it's home and season each with salt and pepper.  It is OK if they run a bit.  That happens.
5.  Cover and cook your eggs until they set up, about 10 minutes.  If your pan doesn't have a lid, that's fine, but it may take longer.  As soon as the whites are cooked, they need to be served, so the yolks remain runny. 
6.  Place the eggs on top of crusty garlic bread.  Sprinkle with parsley and eat immediately.  Enjoy!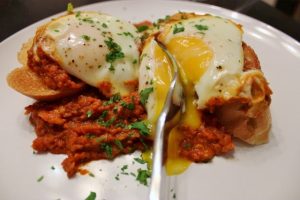 The rich yolk and the spicy, acidic sauce are a perfect marriage.  Any food that needs to be sopped up with good bread is a meal worth eating.