Last night the boys and I got a sneak peak at the new dinosaur exhibit at the Miami Children's Museum.  It opens today and will run until the beginning of January.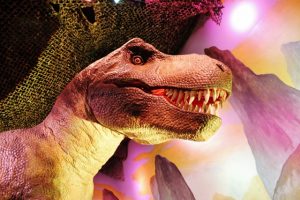 Apparently, this is a second run exhibit.  We missed the first a few years ago; I'm not even sure my kiddos were born at that time.  I was disappointed when I heard about it, so I'm very glad they brought it back.  Every child should have the chance to see a dinosaur exhibit of some kind when they are in the 4-8 age bracket.  After last year's dinosaur party, my kids have definitely grown more and more fascinated by these prehistoric creatures.
Here are some snapshots of our night. 
Shhh… Don't tell anyone, but we partied like paleontologists a full hour past bedtime!
Since the weather right now is awful in Miami, I expect every child in South Florida will go and see this exhibit.  If your kids can't get enough dinosaurs or you don't live near an exhibit, check out these fun dinosaur activities you can do at home.