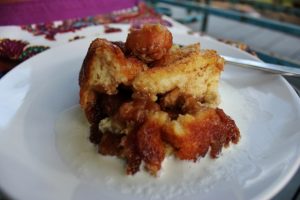 I stand behind all my recipes.  I don't publish them unless they are perfect, so I know I shouldn't play favorites.  However, every once in a while a recipe just completely bowls me over and I want to surround it with flashing lights and glitter saying,
YOU'D BE CRAZY NOT TO MAKE THIS!  YOU MUST MAKE, EAT AND ENJOY THIS RECIPE! 
Usually I restrain myself, but not today.  I created this recipe for Mardi Gras and it is simply divine.  As rich it may seem, it is also shockingly light and airy.  It's probably my best new recipe in a year.  Feel free to share it, but please give me credit. 
Serves 6 greedy people or 8 normal people.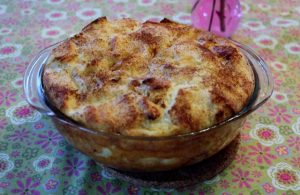 Bananas Foster Bread Pudding
1/3 c butter + 1 T butter
1/2 c light brown sugar
2 oz rum
3 bananas, sliced
7 c white bread, torn to bits
4 eggs
2 1/2 c low-fat milk (trust me)
1/2 c heavy cream
1/2 c sugar
1 T vanilla extract
pinch of sea salt
cinnamon (about 1 t, total)
nutmeg  (about 1/2 t, total)
1.  Either leave torn bread out overnight to dry or spread it on a sheet pan and put it in a 200° oven while you cook the bananas.  This dries it out so it can absorb more custard.  Let it cool for a few minutes before using.
 2.  Melt butter in a skillet over medium heat.  Add brown sugar.  Stir and cook for about 2 minutes, until sugar is dissolved.  Add rum and stir to combine.  (Fancy chefs can do a flambe, but I just stepped back a bit and kept it easy.)  Add sliced bananas.  Stir and cook for about a minute.  Sprinkle with a little cinnamon and nutmeg.  Let stand.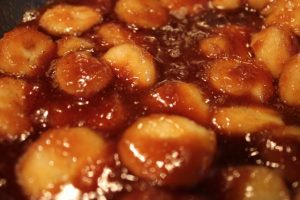 2.  Butter a 2 qt casserole dish.  In a mixing bowl combine eggs, milk, cream, vanilla, sugar, sea salt, cinnamon and nutmeg.  Whisk by hand until sugar is dissolved.  
4.  Preheat your oven to 375°.   Put about half of the bread in your prepared dish.  Pour banana mixture on top. Gently combine the two.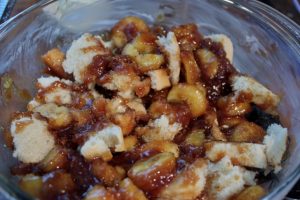 Put the remaining bread on top. Pour custard over the entire dish.  Let stand for 15 minutes.  You can dust with cinnamon if you'd like.  Dot with the remaining tablespoon of butter.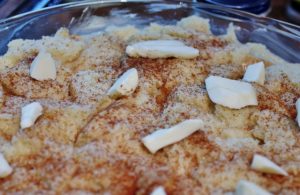 5.  Bake for about 50-60 minutes, until the top is toasty.  Serve warm with a light drizzle of heavy cream.  Savor and enjoy!
You're welcome!