Tired of the same old-same old when it comes to dessert?  Here's a fun, tropical recipe that's sneaks a little nutrition in to boot: banana wontons!  I like to serve these when I'm make Sweet Potato Wontons and I have left-over wonton wrappers I don't want to waste. 
If you've never worked with wonton wrappers, I highly recommend you give them a try.  My family and friends always gobble up my Sweet Potato Wontons, but you can also use them as dumplings in soup or a fast way to make homemade ravioli.  Most stores sell them in the produce department next to the tofu. 
This recipe is a technique, not a hard and fast rule.  Adjust your quantities as you see fit.  These are best served immediately and lose their delightful crunch as time passes.
Banana Wontons with Two Dipping Sauces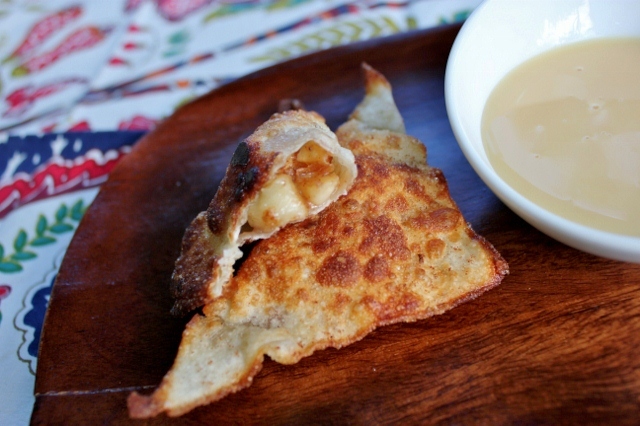 1 banana, diced
2 T chopped walnuts
1 T brown sugar
1/4 t cinnamon
1/4 t fresh nutmeg
tiny pinch of salt
about 12 wonton wrappers
frying oil (I use grapeseed, but canola is another good choice.)
sweetened condensed milk or warmed nutella for dipping
1.  Mix together the banana, nuts, spices and dash of salt.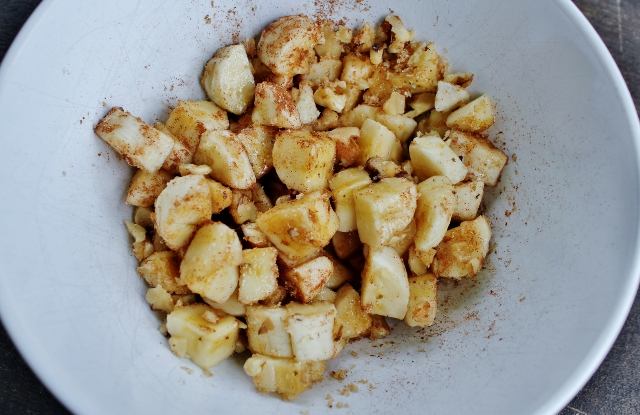 2.  Place wonton wrappers out to make an assembly line.  Get a pastry brush with a small dish of water ready.  You may also sprinkle some cornstarch on a plate so the prepared wontons won't stick before they are fried.  Place one tablespoon of the banana mixture on the center of each wonton.  Don't be tempted to overfill, you will just create a frustrating mess.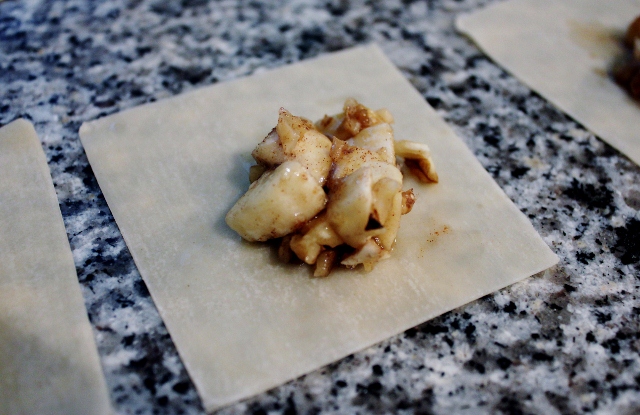 3.  Use your pastry brush to place water on the sides of the wrappers.  Fold them over into triangles and pinch to secure them.  Place them onto the cornstarched plate until ready to fry.  If not frying right away, cover with plastic wrap so wontons don't dry out.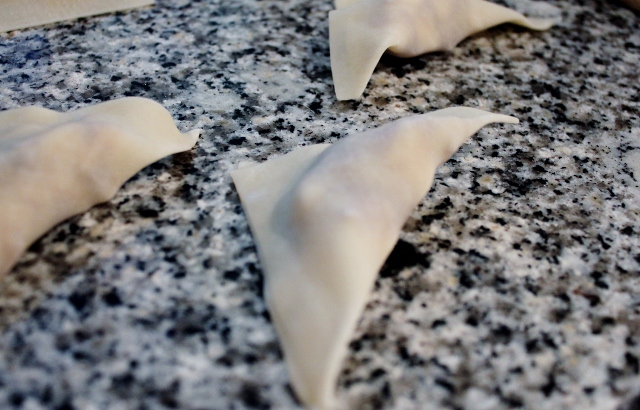 4.  Pour about a 1/4 inch of oil in a large skillet and heat until the oil is shimmering over a medium high flame.  Place the wontons in the pan in batches, turning when golden, (about 1 1/2 minutes on each side).  When done, place them on a cooling rack so excess oil can drip off. 
5.  You can dust with powdered sugar just before serving.  These are best eaten fresh, although make sure they're not too hot for little ones.  Sweetened condensed milk is a favorite dipping sauce in this Cuban household, although warmed nutella is also very nice.  Enjoy!