Here's a simple refreshing salad for babies starting around 10 months.  Choose very ripe fruit so it has a soft texture and mince it finely for the littlest people.  Grating and mincing fruits and veggies gives baby the opportunity to partake in fresh produce early in life.  Always test the texture by putting a bit on your tongue and pressing it to the roof of your mouth.  Baby will have a stronger force when gumming with the full use of his or her jaw, but you can get an idea if it's just too hard.  This recipe also is lovely for older children or adults; just chop larger pieces.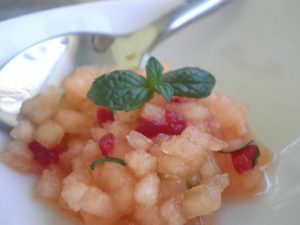 1 T cantaloupe
1 T raspberries
2 springs of fresh mint
1.  Finely mince the cantaloupe.  Gently break apart raspberries into their smaller membranes.  Cut small ribbons of mint. 
2.  Combine all ingredients together.  You can serve it right away or let it rest for 15-30 minutes so fruits can soften and flavors can meld.  Bon appetite, mon petite!
Print