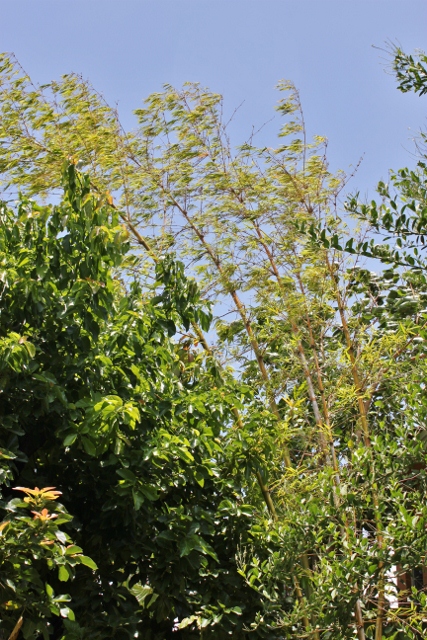 Yesterday I saw three levels of clouds: a lower haze, an upper, puffy cloud, and fast moving, speeding really, middle clouds.  It reminded me of time-lapse pictures of Earth taken from space, all that swirling.  I tried to recall terms from a distant Earth Science class: stratosphere…mesosphere…troposphere….  These levels always exist, but I've never seen them move so distinctly and independently in my entire life.
The outer bands of Tropical Storm Debby reached Miami creating wind out of heat.  A wind I could see and hear but could barely feel.  It was just a faint whisper on my skin and sometimes not even that.
I've never known wind like this.  I've known a cold wind that slices through clothing and flesh as it cuts to the bone.  I've known a cool breeze that makes summer heat almost bearable in the tropics.  I've even known the hot wind of a desert that lights your skin on fire.  But I've never known a wind I could see and hear, but not feel.
In my backyard I sat on a faded Adirondack chair and watched bamboo bend spectacularly while my children played in their sandbox.  At times the wind seemed to whip around the trees in circles, and all their leaves shimmied and roared.  Then suddenly, a hush just as surprising as the clamor.
The hairs on the surface of my skin did not stir.  The wind remained in the level of atmosphere just above my head.
Our bamboo is planted near the sandbox.  Max worried it would break when it creaked eerily and bent low.  No, I assured him, bamboo is strong precisely because it knows how to sway.  The upper part bends and looks like it could topple over, but its roots are deep so it stays put.
He accepted that and returned to his sandbox to build an imaginary playground with his new truck.
Jack inquired about his plans for steps and slides.
Because that's what children do.
I leaned my head back and sank my exhausted body deep into my chair while I continued to marvel at the bamboo, the swift moving clouds and the wind I couldn't feel.
Because that's what grown-ups do. 
Because however old I get, Earth never gets old.
Print