Having grasped the concept of continents and oceans using our Sandpaper Globe, we are now learning about landforms.  The more we look at the globe and maps, the more questions Max has about the details he sees.  Identifying landforms draws a keener eye to maps and encourages looking at details and drawing connections as well as teaches basic geography facts.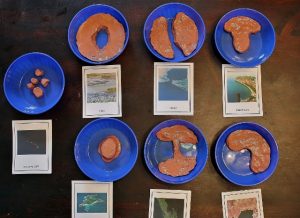 My landforms were very easy and inexpensive to make.  Because they are tactile, the kids like them.  Because they involve water, they love them.  Here's how to make your own.
To Make
1.  Download free Montessori Landform cards.  Create archipelago card on your own.  Print these out on card stock and laminate if you choose.
2.  Purchase small bowls, preferably blue.  I got mine 3 for $1 at Dollar Tree.  You could also use recylable cartons.  Color them blue if possible, because these represent water.
3.  Use Crayola Air-Dry Clay to mold the landform shapes.  Imperfections are good, as land is not perfectly smooth.  Allow a few days for them to dry, turning over when necessary. 
4.  Once dry, apply 2 coats of Mod Podge.  Once sealed, hot glue the shapes to the bowls.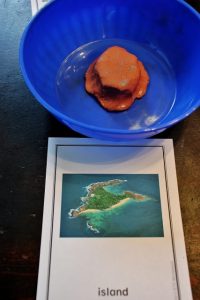 To Present
1.  Review the Sandpaper Globe.  Have your child show you the land and oceans.  Point out some obvious landforms, such as the Florida penisula and the Hawaiian archipelego.  Explain that these are landforms.  Define them.
2.  Introduce the landforms two at a time, using opposites.  (isthmus and straight, peninsula and gulf,  lake and island, with archipelego).  Show your child the card first and explain the definition.
3.  Show your child two opposite landform molds.  Let him touch and explore them.  Ask him to show you which parts are land and which parts are water.  Have him match the cards to the models.
4.  This is the really fun part: give your child a pitcher with a small amount of water and allow him to pour the water where it belongs in the landform. Let him touch and explore, but do not allow this to disintegrate into water play.  Continue to match, define and discus the landforms.  Once one set is master, add another.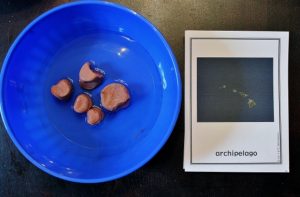 5.  Have your child identify landforms on a globe or on maps.  Incorporate this as a part of your regular discussions from here on out.