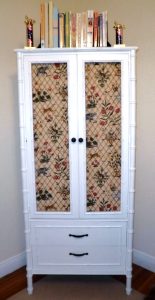 Here's a simple project to add style and storage to any space: revamp an old armoire.  Flat-screen televisions are finding themselves hung on walls rather than hidden in furniture, but what to do with the leftover armoire?  Breathe new life into the piece by simply painting, adding fabulous fabric panels and changing the hardware.  It's a simple weekend project that results in a beautiful, custom piece of furniture.
We've redone two armoires in that last two years.  We must stop because our small house has run out of space.  The first armoire is in the nursery, a much needed piece because our old bungalow only has two small closets.  Daddy had already claimed the closet in the second bedroom, so we had to find another solution for baby's accoutrements.  We bought this at a thrift store.  It was a hideous yellow with pastel wallpaper panels.  It looked like a cast off from the Golden Girls' set.  Absolutely ugly, but it's a solidly built piece of Thomasville furniture, so we knew it had good bones.  We stripped it down, painted it white, and added a vintage animal print fabric.  We changed the drawer pulls and voilà.  It stores all of the baby's linens as well as the boys' dress shirts.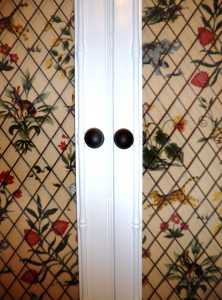 Our second armoire is a case of the chickens coming home to roost.  When I was launching mamaguru.com the need for office storage arose.  At the very same time an old friend moved into her first house.  She gave us the heads up that she was getting rid of my husband's old armoire which he had given her years ago.  Kismet!  It came back home.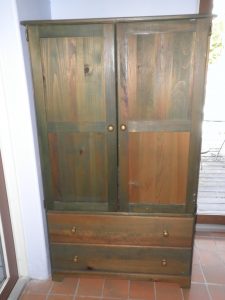 We stained the top panel and the door and drawer panels a dark chocolate brown.   The sides and insides were brightened with cream, as you can see.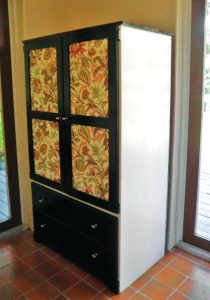 The fabric panels offer a great opportunity to add some custom style.  Upholstery fabric is the way to go because there are so many amazing options. 
Underneath the fabric panels on the inside of this armoire we added cork, so it doubles as an out of sight bulletin board.  It's inexpensive and self-adhesive, so it only took about 10 minutes to cut and apply.  A few fun organizers keep it cheerful and clean.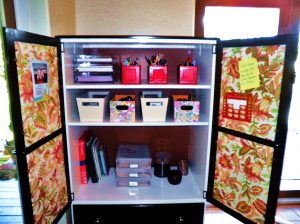 Stainless steel hardware ties the piece in with the rest of the room.
Before you throw out your TV's first home, consider a simple rehab.  Pretty, economical and green.  I like it.