Here's a fun project to do either for a special little girl in your life, or with her: renovate a dollhouse.  Years ago, in the heart of my singlehood, I happened upon a tag sale on my way to a coffee shop.  I found an amazing, but rundown, Victorian dollhouse.  For $25 I bought the dollhouse which included a complete set of amazing antique doll furniture.  It was a bit of an investment, because I correctly assumed that the furniture was collectible, so I promptly sold the furniture for several hundred dollars.   I also renovated the dollhouse just for fun.  I'm sorry to say, I don't have any "before" pictures, nor do have pictures of that amazing porcelain and cast iron furniture.  I do have pictures of the house with a few pieces of furniture and directions on how I did it.
The roof was made out of a real shingle.  I went to Home Depot and asked if I could buy just one shingle when I found they were only sold in enormous packages, since most people need to cover square footage rather than square inches.  A worker opened up a package and gave me one for free.  I needed work gloves to handle it, but I cut it using heavy-duty work sissors.  I used good old rubber cement to adhere it to the roof.
I painted the house with lots of shades of simple craft paint.  I also used craft paper from the scrap-booking aisle for wallpaper.  Lace and trimming scraps served as window treatments.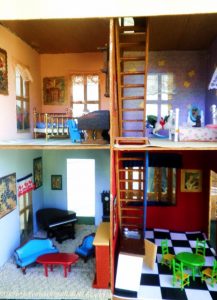 I used an old carpet remnant for the livingroom  and a black and white checkered foam board for the kitchen floor.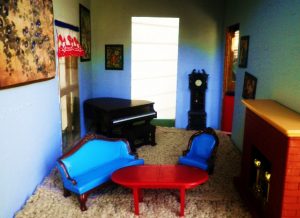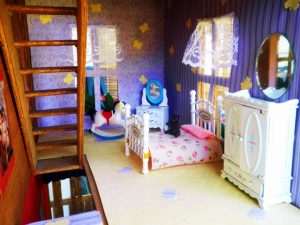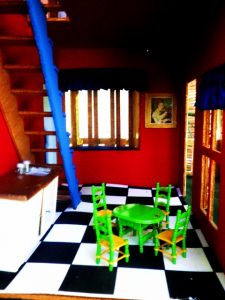 I cut small blooms from silk flowers for the window boxes.
I also bought fun Christmas decorations, including these great Christmas lights.  The complete Christmas decorations included a tree in the bay window, quilting padding for a soft layer of snow, lights and evergreens in the window boxes.  Sorry I don't have a picture of the complete look, but you get the idea.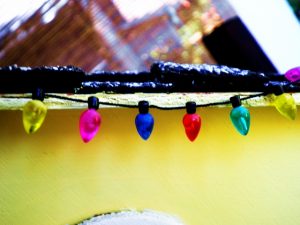 The most fabulous part of the decor was the artwork.  I cut out pictures from the Museum of Modern Art's catalog.  Using fancy craft scissors, I cut out rectangles of cardboard to look like frames.  I gilded them with silver, gold and black sharpies.  This part would be fun for the kids to participate.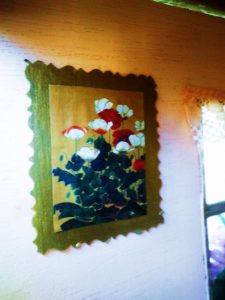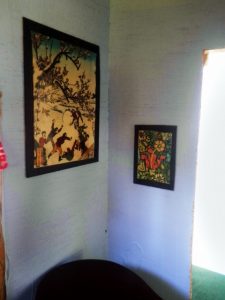 At this point in life I know I will not have a little girl of my own to whom I could give this house.  I wanted to give it to my niece, but my sister didn't have room in her car to transport it across state lines.  At some point it will end up in a tag sale.  If you stumble upon it, please enjoy.  But better yet, find your own dollhouse and get to flipping it.  I hear the housing market is getting ready to rebound.