This recipe was originally from a post on homemade lemon gifts, but it could also be a part of Making Groceries, although this is a fancier grocery than I usually make or buy.  It's nice to have a jar around.  I often chop up a bit and use it as a pizza or flatbread topping or pair it with cheeses.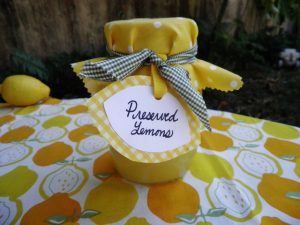 Preserved Lemons: A Moroccan Delicacy
This is a more recent discovery, initiated by my study of yoga in India. I ate meals with my teacher, Master-ji, and his family.  We ate in the kitchen and just behind the table was a shelf full of colorful pickles.  Well, I didn't know they were picked at first, because they were all sorts odd shapes and vibrant hues.  I only knew of green dill pickles.  These were hot and spicy, made of mangoes, lemons and other exotic Indian fruits.  I was too afraid to try them until just before leaving.  On my last night, Master-ji coaxed me to try one.  It was amazing!  That got me started on my hunt for (what should I call it?) global pickles.  These preserved lemons are a foodie's dream: a new, but faintly familiar ingredient that can be added to just about any recipe.
lemons
fine sea salt
lots of fresh lemon juice
1.  The ingredient list is non-specific, because the quantity really depends on the size and shape of your sterilized* jars.  For each lemon that will fit in your jar, it will take about 1 1/2 T sea salt.  You want your lemons to be tightly packed in the jar, so think of that when your shopping.  You will use a lot of lemon juice, so using the left-over peeled lemons from the limoncello is an excellent idea.
2.  Place about a tablespoon of sea salt in the bottom of the jar.  Wash and dry your lemons.  Slice them in quarters, lengthwise being careful to leave them in tact at the top.  Carefully remove seeds.
3.  Take about 1 1/2 T salt and thoroughly coat the flesh of the lemon.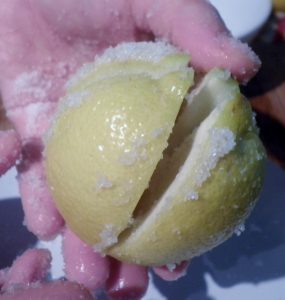 4.  Push lemon back into it's original shape and place it in the jar.  Repeat the process, filling the jar as tightly as you can.  Pour fresh lemon juice over the top until lemons are covered completely.
5.  Place jar on a sunny window sill for 21 days.  Once a day, say hello and give it a nice shake.  (If you don't have 21 days before gift giving, simply include a note instructing the recipient of this for whatever number of days is left.)
6.  After 21 days, the lemons are ready.  They'll be good for 6 months.
Serving Suggestions:
The peels and flesh can both be used in cooking.  They can be added to sauces, soups and sautes.  This is a great gift for a foodie or cook.  Tell them to explore Moroccan and Persian recipes or they can create their own.  Enjoy!
*To sterilize jars either fill a large pot with water and boil them for 5 minutes or run your dishwasher without soap.