Homemade Nutella.  What could be better?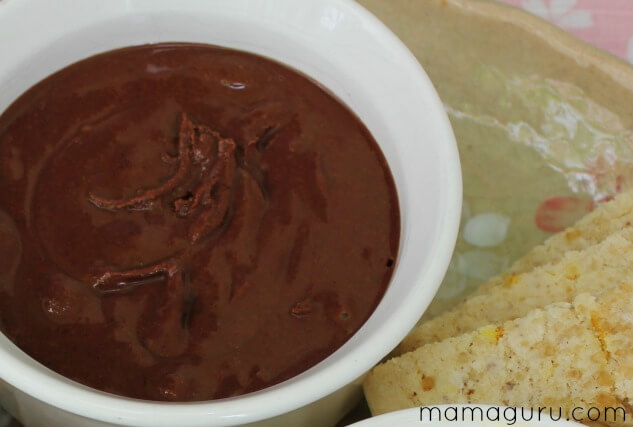 Here is a wonderful copycat recipe, so you can make your own Homemade Nutella. Yum! This chocolate hazelnut spread is a perfect accompaniment to dessert, or a lovely hostess gift. It is surprisingly easy to make.
My inspiration for making it myself came from Nutella's own commercial. The announcer lists the ingredients: hazelnuts, a hint of cocoa and a touch of skim milk as a mom spreads it on whole-grain toast for her child.
Really? I thought. I'm not so sure.
So I went to the store and checked the label. Those three ingredients are listed, along with a host of other nonsense our bodies don't need.   I decided it must be possible to simplify the recipe using natural ingredients. And it was! Here is a delicious and natural version of Homemade Nutella that you can feel good about feeding your kids.
That is, if you don't hide in the closet with a spoon hoarding it all for yourself.
 
The Bottom Line
Nutella is expensive, but you can find it on sale at Walmart a lot. If you don't mind supporting that store and you don't mind the added chemicals and GMOs and slave-harvested cocoa, go for it. It's the cheapest.
If you want something truly special and high-quality, make your own. If you find your nuts on sale, it will cost you about $6 to make this. The taste is extraordinary! It is rich, creamy, and chocolaty. You can taste each and every ingredient as you savor it.
Although I don't recommend serving chocolate for breakfast like the mom in the commercial, it can be a wonderful treat as an afternoon snack for kids or grown-ups.
Enjoy!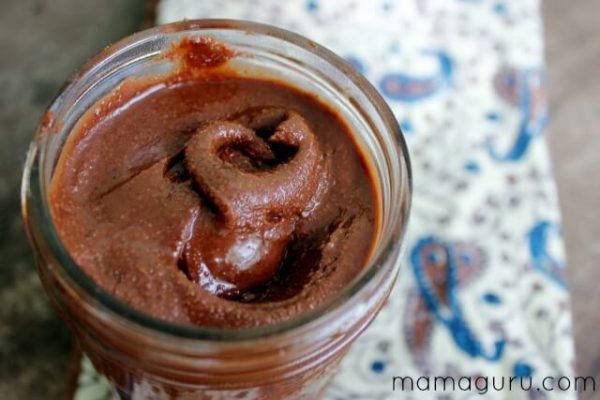 | | |
| --- | --- |
| | |
Heat oven to 350º. Place hazelnuts on a baking sheet and bake for 15 minutes. Place roasted nuts in a martini shaker (or a mason jar) in batches and shake away. After a few minutes, open the shaker. Separate the nuts from their peels and keep going until all the papery skins are eliminated.

In a food processor, blitz the nuts. Trust your machine. It will seize up and look like it needs oil, but it doesn't. This always happens when making nut butters. Just keep at it, scraping down the sides as needed, until you get a smooth consistency.

Add the powdered sugar, cocoa, vanilla and salt. Blitz until well-blended. Taste it. Right now it should taste nice and chocolaty. If that's what you want, add the coconut oil. If you want to highlight the hazelnut flavor, add hazelnut oil.
To Serve and Store Your Homemade Nutella
Spread on toast, biscotti, crepes, ice-cream, or just spoon it into your mouth.
If you plan on keeping it around for a long time, store it in the fridge to prevent the nuts from going rancid. Honestly, if it will be gone in a week, you can keep it at room temperature for ease of spreading. This recipe doesn't have milk or another easily spoiled ingredient that requires chilling.
Rebecca Cofiño for Mamaguru.