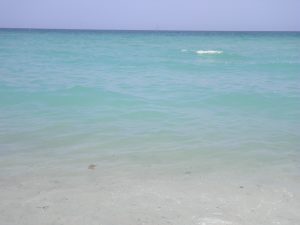 Mother, mother ocean.  I have heard you call. -Jimmy Buffet
The vast seas of our planet are mother to all life.  Even though we have grown two feet and walk on land, mother ocean still nurtures us with the power to heal.  These days most people pop a pill for every ache and pain, but for millenia human beings have flocked to salty water for its natural healing powers.  Think of the miraculous healing of the Dead Sea, the bathes of England, the Roman bathes, Japanese onsens.  All of these places have been revered for their curative power.  The ocean gets its salty flavor from the minerals dissolved in her waters.  Those minerals are what provide excellent pain relief.
I became interested in the healing power of salt water during my pregnancies.  My massive weight tethered me strongly to the earth.  I found that if I dragged myself to the ocean, I could relax in the bliss of weightlessness.  Swimming in a pool was also lovely, but the ocean water actually eliminated my body aches.  During my third trimester, much to the horror of the lifeguards, I would lug my babyfull body to the beach for a dip every week.  For days, I would feel much better.
Ocean water isn't accessible to everyone all the times, but there is another time-honored way to garner some of the ocean's benefits: Epsom salts.  These salts are available in every grocery and drug store for just a few dollars.   Epsom salts are made of magnesium sulfate.  They can be uses as a laxative or fertilizer, but my favorite use if for pain relief.  This can be incredibly effective and is always my go-to solution for aches and pains.  Next time you have a tough workout, a bad night's rest or a general ache, hop in the ocean or give yourself a healing soak at home.  We may just put Tylenol out of business.
Post-workout or Pain Relieving Soak 
Dissolve 2 cups of Epsom salts into a bathtub of warm water.  
Add 5 drops of lavender essential oil (optional)
Soak for 10-20 minutes.  Relax and enjoy.
To Relieve and  In-grown Toenail  (from Dr. Harowitz, podiatrist) 
Dissolve 3 T Epsom salts in 4 c of warm water.
Soak feet for 10 minutes in the morning and at night until relieved.
For a Minor Sprain
Dissolve 2 cups of Epsom salts in 1 gallon of warm water. 
Soak bandage or towel in solution.
Apply bandages for 30 minutes to effected area, three times a day.
Of course this advice is not a replacement for getting proper medical care.  The information in this article should be considered supplementary for minor pain relief.  Always consult with your doctor before taking health-related advice.