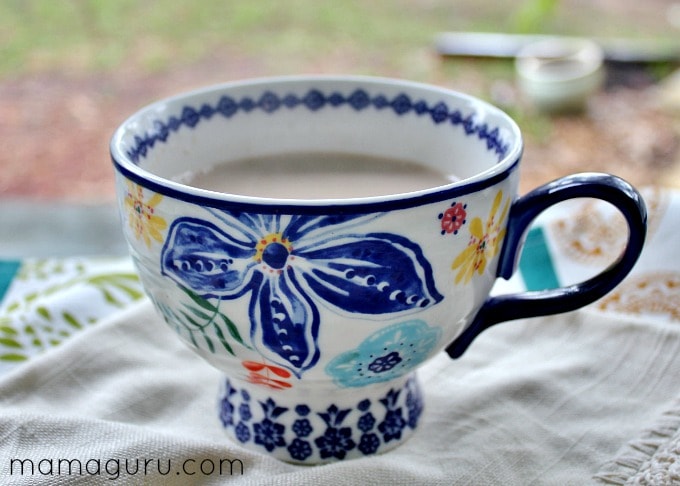 Authentic Indian chai is not that hard to make, and the payoff is amazing. Throw out those teabags in your cupboard that promise to bring exotic spices to your cup. They lack authenticity and the favor punch of real chai. Most of the ingredients you probably already have on hand. You might need to get some cardamon, but that is a fine addition to any spice rack. You can use it in place of cinnamon, nutmeg or vanilla in recipes.
I will never forget my first cup of real chai.
I drank it standing up against a counter at the Chennai-Madras Airport. It was hour 34 of my 36 hour trek from Spokane, Washington to Bangalore, India where I would live for three months to study yoga. A crazy flight schedule was the price I had to pay for the cheapest ticket I could find to India. It included a long layover in Kuala Lumpur and an overnight camp out at the Chennai Madras Airport.
I was exhausted, yes. But nearing the end of my journey sparked me with energy. After spending the night slumped over my bags in a nearly empty airport, finally people were arriving at my gate. My destination was on the horizon. I met a woman named Geeta, who upon realizing I had just arrived in her home country immediately offered me a dose of hospitality in a cup of chai.
I'd had chai before. Back in the Pacific Northwest, Oregon Chai lattes were all the rage, but this one was different. It was sweet and spicy just like the ones back home, but more so. The flavors danced and tickled my tongue. It was deeply comforting and fully invigorating all at once.
Here is a recipe for your very own authentic Indian Chai.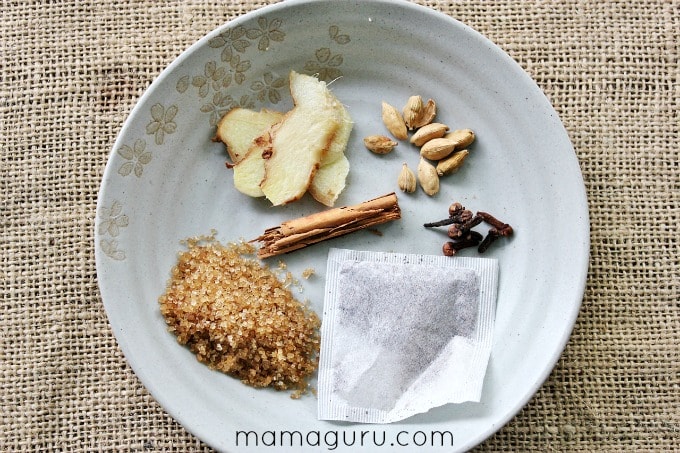 Authentic Indian Chai
Author:
Rebecca Cofiño for Mamaguru
Ingredients
½ c water
¾ c milk*
1 black tea bag
3 slices of ginger
1 break from a cinnamon stick
1 generous pinch of freshly ground cardamom
3 t turbinado or brown sugar
Instructions
Place all ingredients in a saucepan. Stir until sugar is dissolved. Simmer for 5 minutes, careful not to let the milk scald.
Turn off the heat and allow the chai to steep for an additional 5 minutes. Strain into a beautiful cup. Enjoy.
Notes
A Note About Milk

In India cows are revered as sacred and their milk is a blessing. Cows are freshly milked every day and people drink that milk without processing it. Use whole milk for the most authentic flavor. To cut calories, you can adjust the water to milk ratio to your liking.

I normally drink almond milk, but chai is my exception. You can use soy, almond, rice or coconut milk if you want, but the flavors will not be the same. You may find it delicious, but it will lack the authenticity.

You decide.