Have you already had Thanksgiving this year?
No, I'm not just talking to our northern neighbors, but Americans too.  Long ago (during my childhood) Thanksgiving was reserved for family and the fourth Thursday of November, but that is no longer the case.  These days offices, schools, clubs, and all sorts of groups like to partake in their own Thanksgiving feasts, which can leave one feeling rather stuffed before the real holiday.
In the spirit of lightening up, I developed an absolutely delectable recipe for Thanksgiving Salad.  It brings together all of the delicious flavors of Thanksgiving in the context of a nice, healthy salad.  This recipe is perfect for alternative feasts, a vegan option on Thanksgiving, or even a wonderful way to make use of Thanksgiving leftovers.  The fabulous Pear-Sage Vinaigrette unites the whole salad and you will be surprised to taste all the notes of a typically heavy feast.  See if you can detect the stuffing, cranberries, pumpkin pie, pecan pie and apple crisp.
This is an assembly-style recipe.  Feel free to edit the salad contents to your pallet.  The most important part of this recipe is the concept and, of course, the stunning vinaigrette that ties it all together.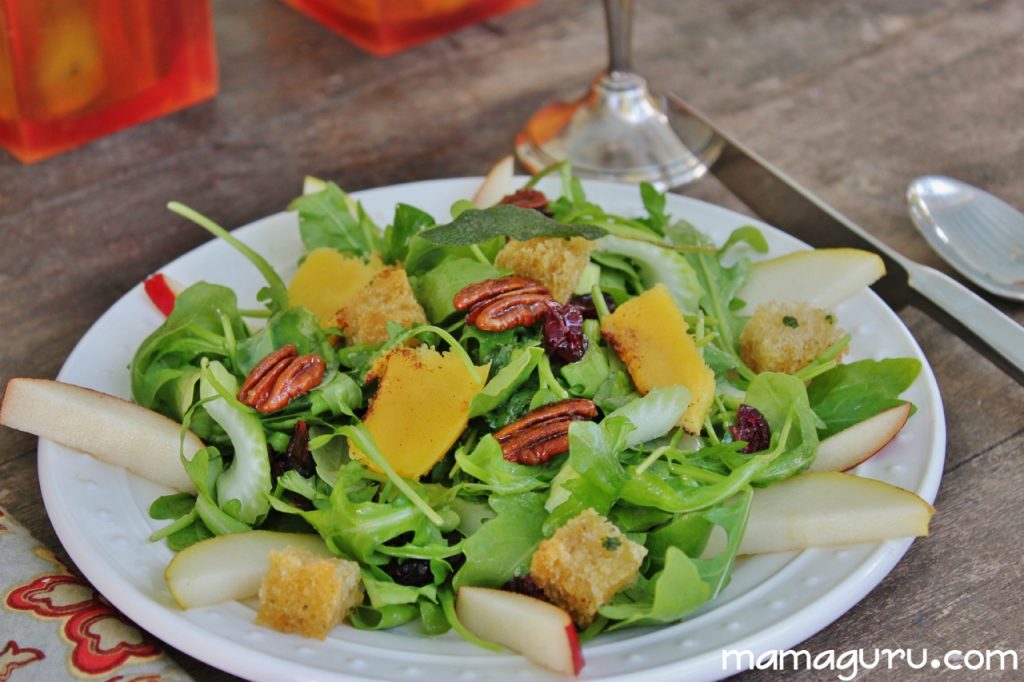 Thanksgiving Salad
roasted squash
dried cranberries
celery, sliced thinly on the diagonal
arugula (or butter lettuce)
pear slices (or apple)
maple candied pecans
sage croutons
sage and pear vinaigrette
1.  Roast an acorn squash, a butternut squash, or a sugar pumpkin.
Slice it in half and scoop out the seeds.  Generously coat with olive oil or softened butter.  Generously rub cinnamon, nutmeg and allspice (or pumpkin pie spice) all over the orange flesh.  Sprinkle with sea salt and black pepper.  (You can also sprinkle with a little brown sugar if your want.)  Roast at 400º for about 35 minutes, until the flesh is nice and soft and a fork slips through easily.  Allow it to cool to room temperature.
2.  If you want, you can plump dried cranberries in a few tablespoons of orange liquor for 20 minutes prior to assembly.  Don't do this if you are serving it to children or non-drinkers.
3.  Calculate about 1/2 a celery stalk, 2 handfuls of greens, and 1/2 a pear per person if this is an entrée.
4.  Maple Candied Pecans
Spread 1 1/2 c pecan halves on a baking sheet.  Roast in a 350° oven for 10 minutes.  Heat a saucepan with 1/3 c pure maple syrup and add hot nuts.  Bring to a boil and sir constantly for 3 minutes.  Pecans will coat nicely.
Place pecans on a piece of parchment paper and try to separate them as much as possible.  Dust with a light coating of sea salt.  Allow to cool and dry.  Then gently peel them off of the parchment paper and enjoy.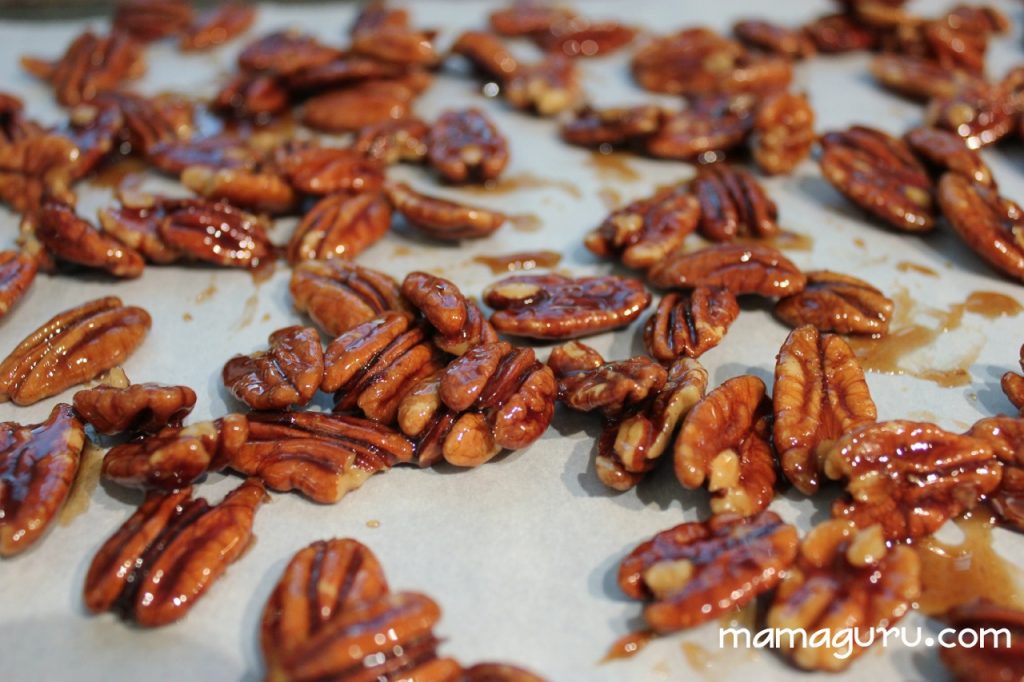 5.  Sage Croutons 
1/2 c olive oil
about 10 fresh sage leaves
Heat oil in a medium sauté pan until it shimmers.  Add sage.  Fry each leaf for about 45 seconds, turning once.  As soon as a leaf is firm (it doesn't flop when picked up with tongs), it is done.  Place it on either paper towels or a cooling rack placed over a baking sheet to allow excess oil to drain.  Sprinkle fried sage leaves with sea salt.  Mind the oil and make sure it doesn't overheat and that no small bits are left behind to burn.  Set oil aside to cool.
2 c dried bread cubes
Cut a good quality bread into 1 inch cubes.  Leave it out overnight to dry.  If you don't have that time, toast the cubes in your oven at 300 for about 10-15 minutes.
Reserve 3 T sage oil for salad dressing.  Heat the rest of the oil until shimmering.  Place dried bread cubes in it.  Sauté, turning to coat and cook all over.  Once oil is absorbed and bread is toasted, crumble a few fried sage leaves on top of the croutons.  Sprinkle with sea salt and black pepper.  Set aside to cool.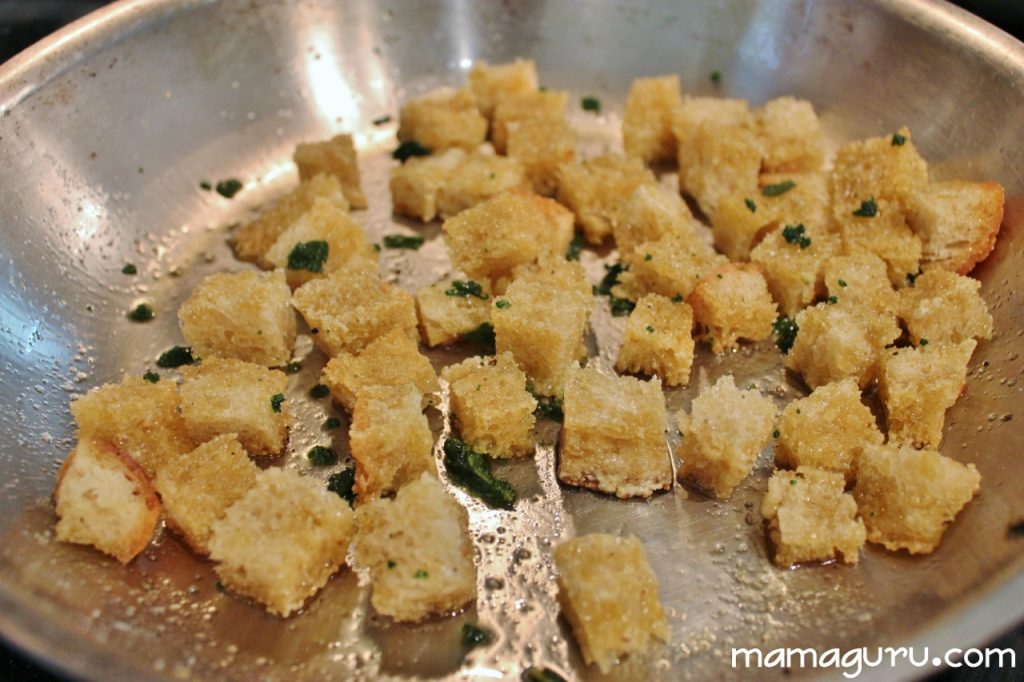 6.  Sage-Pear Vinaigrette
3T sage oil
3 T pear nectar
2 T champagne vinegar
2 t Dijon mustard
sea salt and black pepper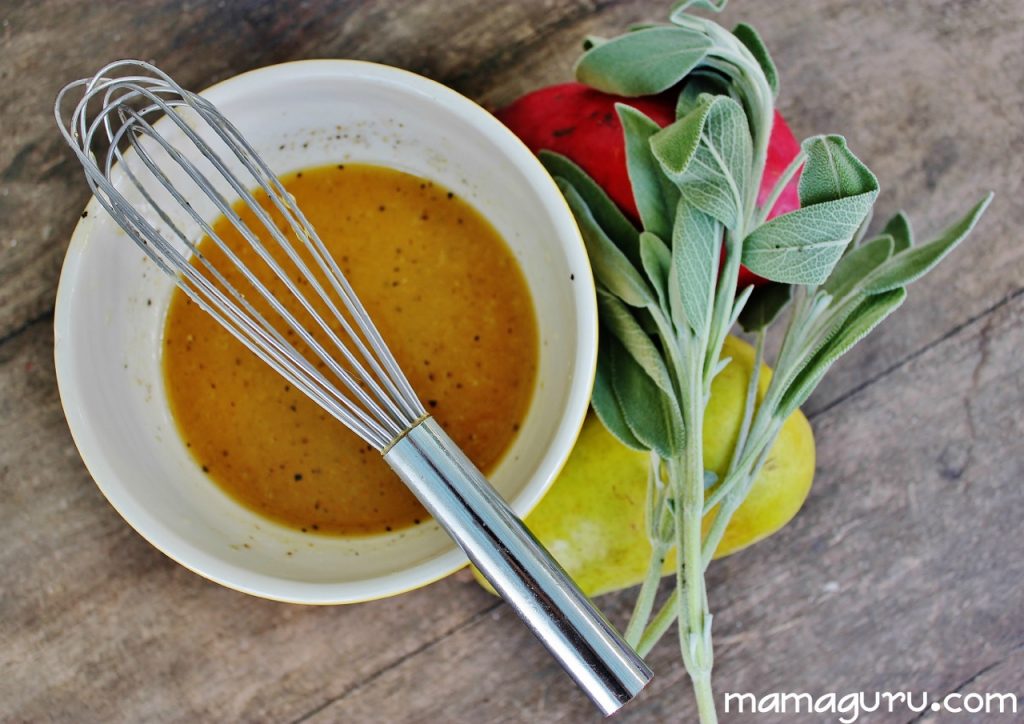 1.  Whisk all ingredients together and adjust seasonings to taste.
* Apple option:
You can substitute apple cider for the pear nectar and apple cider vinegar for the champagne vinegar.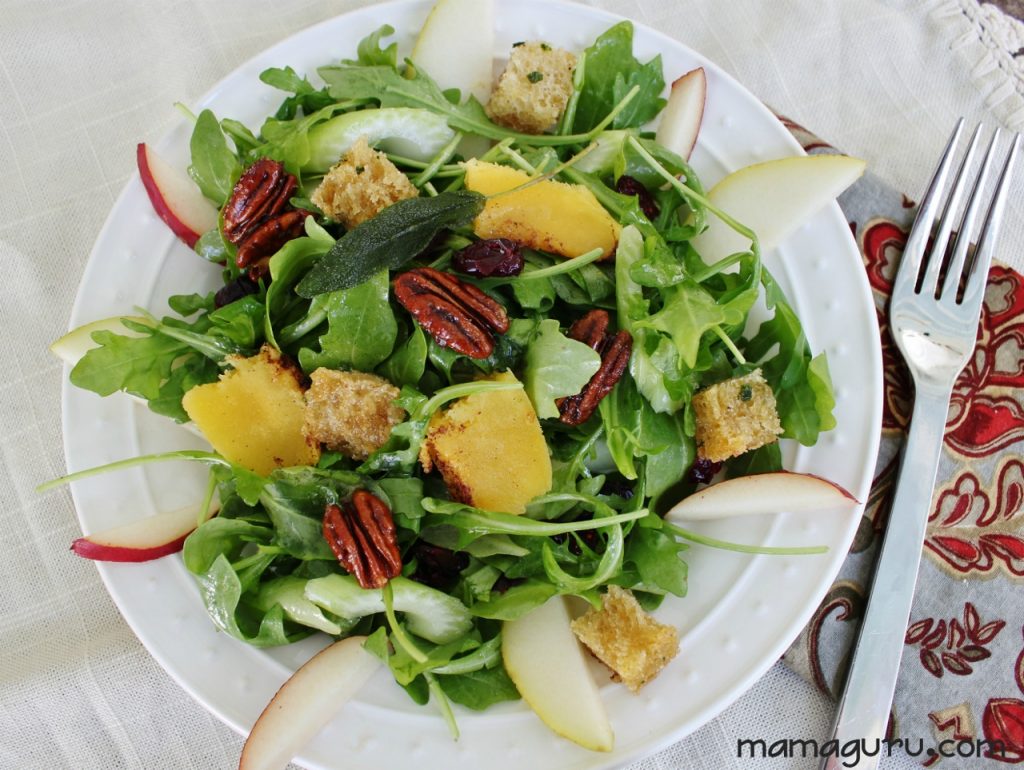 To Assemble Salad
1.  Put greens, celery, cranberries, and croutons in a big bowl.  Add a few tablespoons of vinaigrette and toss.  Season with sea salt and black pepper.  Taste and add more dressing or adjust the seasonings if you need to.  When salads are properly tossed, they always use less dressing that you would expect, so go light at first.
2  Place salad on a plate.  Arrange pear slices around the edge.  Add a few scoops of roasted squash and top with candied pecans.  Garnish with a fried sage leaf.  You can also put all the ingredients on a big serving platter if you want, but if it needs to sit a bit, reserve the croutons and pecans on the side so they don't soften. Enjoy with gratitude!