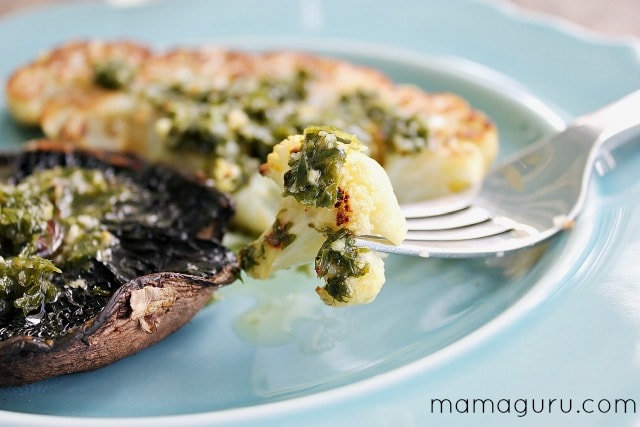 Roasted Cauliflower Steaks and Portobello Mushrooms with Chimichurri is a vegan recipe even meat eaters will love! It's is equally delicious and healthy. Chimichurri is the famed Argentine herb condiment traditionally served on top of steak. It is fresh, spicy, bright, and vegetarian. I've never liked feeling locked out of one of the world's greatest condiments, so I decided to find some hearty vegetables that could stand up to it just like a real steak, but with greater kindness.
Portobello mushrooms were a no-brainer. TV chefs always love to call them meaty, and I guess they are. They hold a substantial presence on a plate, both visually and flavor wise. Cauliflower steaks are a new way to serve and old favorite. Rather than breaking cauliflower into individual florets, you can slice them like a boule of bread to reveal a stunning botanical shape. Cauliflower tastes scrumptious when roasted, and it also packs and incredibly high vitamin and anti-carcinogen punch too.
You can switch this recipe up and grill the portobello mushrooms and cauliflower steaks when the weather is nice. Pair this dish with a gorgeous wine from Argentina, of course.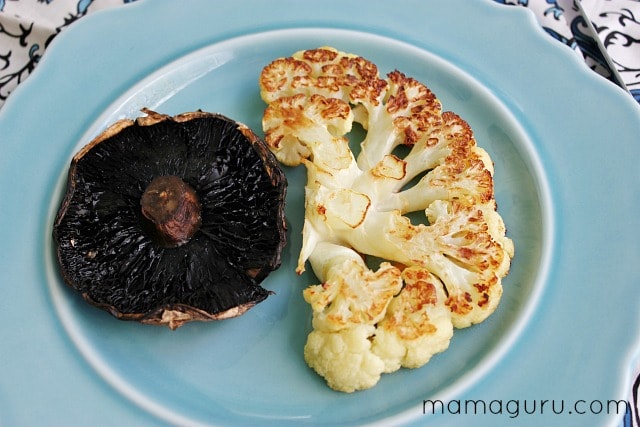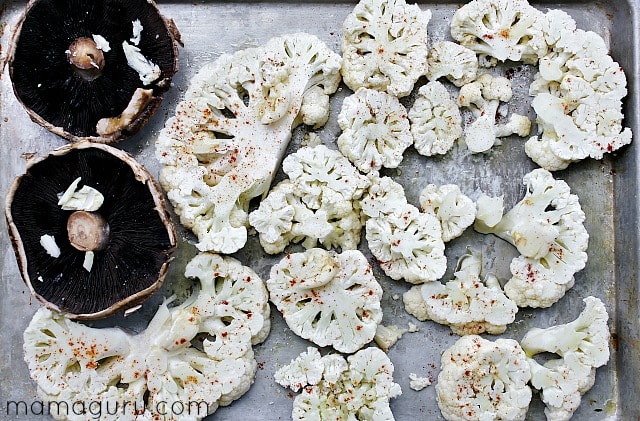 Chimichurri Recipe
I took a few liberties with the traditional recipe here. First of all, this is usually made with a knife, not an appliance, using a blender made quick work of it. Secondly, I prefer lemon juice to the traditional red wine vinegar, so I changed the acid. You can decide for yourself.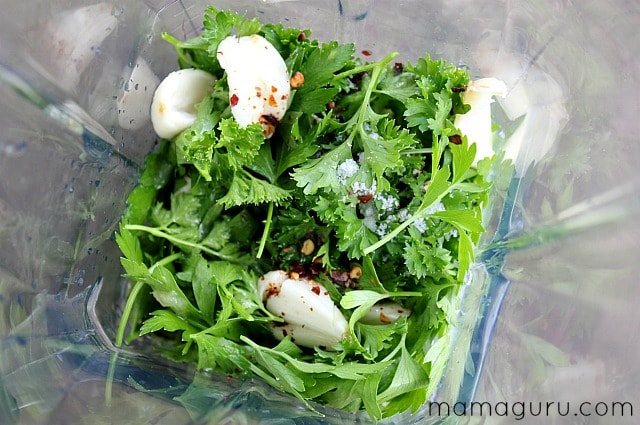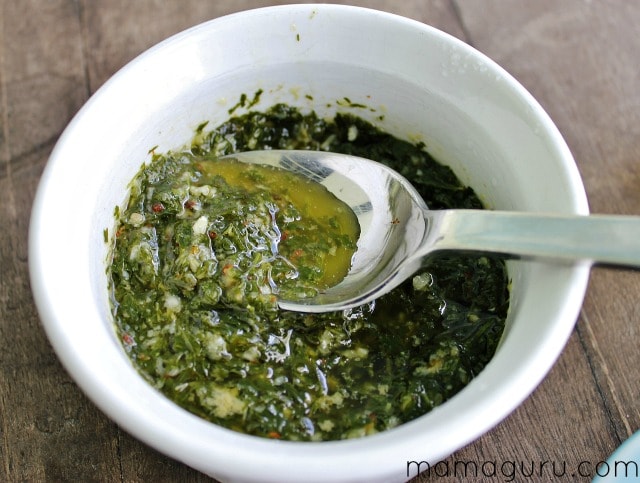 Roasted Cauliflower Steaks and Portobellos with Chimichurri
Ingredients
Roasted Cauliflower Steaks and Portobello Mushrooms
1 head of cauliflower
2 portobello mushrooms
4 cloves of garlic, smashed and peeled
olive oil
sea salt
white pepper
smoked paprika (optional)
Chimichurri
2 c chopped Italian parsley
2 T fresh oregano (or 1 t dried)
4 cloves of garlic, smashed
3 T fresh lemon juice (or red wine vinegar)
½ t red pepper flakes
½ t sea salt
¾ c good quality extra virgin olive oil
Instructions
Roasted Cauliflower Steaks and Portobello Mushrooms
Preheat your oven to 425°. Lightly coat a baking sheet with olive oil. Trim the mushroom stems and place them, bottom side up on the sheet.
Remove the outer leaves of the cauliflower gently. Place it on a cutting board and slice it in half-inch slices with a long sharp knife. These steaks are fragile, so delicately place them on the baking sheet. Scatter the garlic over the veggies. Drizzle with olive oil. Generously season with sea salt. Sprinkle a few small pinches of white pepper over the veggies. If you want, sprinkle a few pinches of smoked paprika over the cauliflower only.
Bake for 40 minutes or until cauliflower is golden and mushrooms have wilted a bit. Remove the mushrooms. Gently flip the cauliflower over and bake for another 5-10 minutes to get more color. Remove from the oven and discard the garlic. Serve topped with a generous spoonful of chimichurri.
Chimichurri
Place all ingredients, except the oil, into a blender or food processor.  Pulse until mixture is chopped and combined, but do not allow a puree. Stream in the olive oil, continuing to preserve the texture by pulsing. Cover and refrigerate. It is best to make it a day in advance for flavors to meld, but you can use it after 2 hours or resting time. Spoon onto roasted or grilled veggies and enjoy!