Have you ever had one of the enormous diner breakfasts, the kind with every breakfast food on one plate?
Inevitably the syrup from pancakes runs amok and oozes into the home fries.  This recipe was inspired by the delightful discovery of how delectable maple syrup is with potatoes.  Just a touch of sweetness combined with potatoes best friend, rosemary, makes this side dish absolutely delicious.  Serve it for dinner or brunch.  It's simplicity is perfection.  It takes about 20 minutes total, but requires little attention until the very end.  Serves 4-6
Maple-Rosemary Glazed Potatoes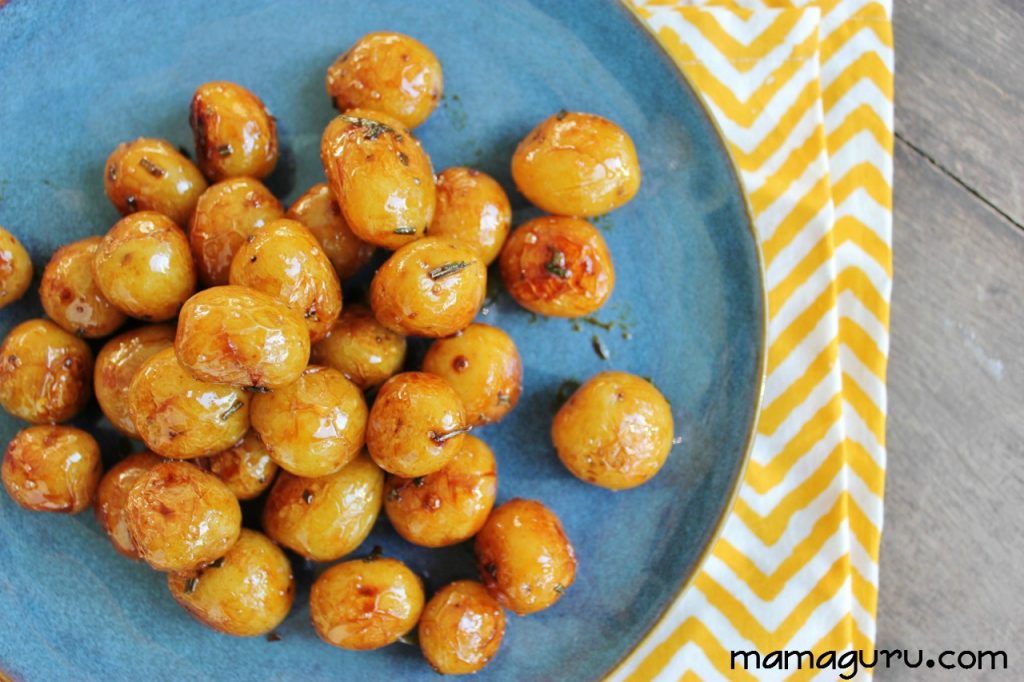 24 oz (4 c) honey gold potatoes (Any baby potato will do.)
1 1/2 T butter
2 T pure maple syrup
2 T chopped fresh rosemary
sea salt, preferably fleur de sel
1.  Scrub potatoes.  Put them in a large sauté pan with a lid.  (If you don't have a lid, you can use a cookie sheet to cover it, but be careful not to burn yourself when lifting.)  Fill sauté pan with about 1/2 an inch of water, so the bottoms of the potatoes are almost halfway covered.  Add a big pinch of sea salt.  Put a lid on it and heat the pan over a medium high flame, boiling and steaming for about 10 minutes.
2.  Poke the potatoes with a knife.  As soon as they are tender, remove the lid and let the steam cook off.  Once you have only a few tablespoons of water left (about 5 min.), add the butter and syrup.  Cook and stir to glaze potatoes.  First they will glisten, and then they will begin to caramelize.  Once they start to caramelize, stir frequently to prevent burning.  When the potatoes have a nice caramel color, add the rosemary.  Cook for another minute.  Taste and season with sea salt and black pepper.  A nice coarse fleur de sel is the best salt if you have it on hand.  Enjoy!