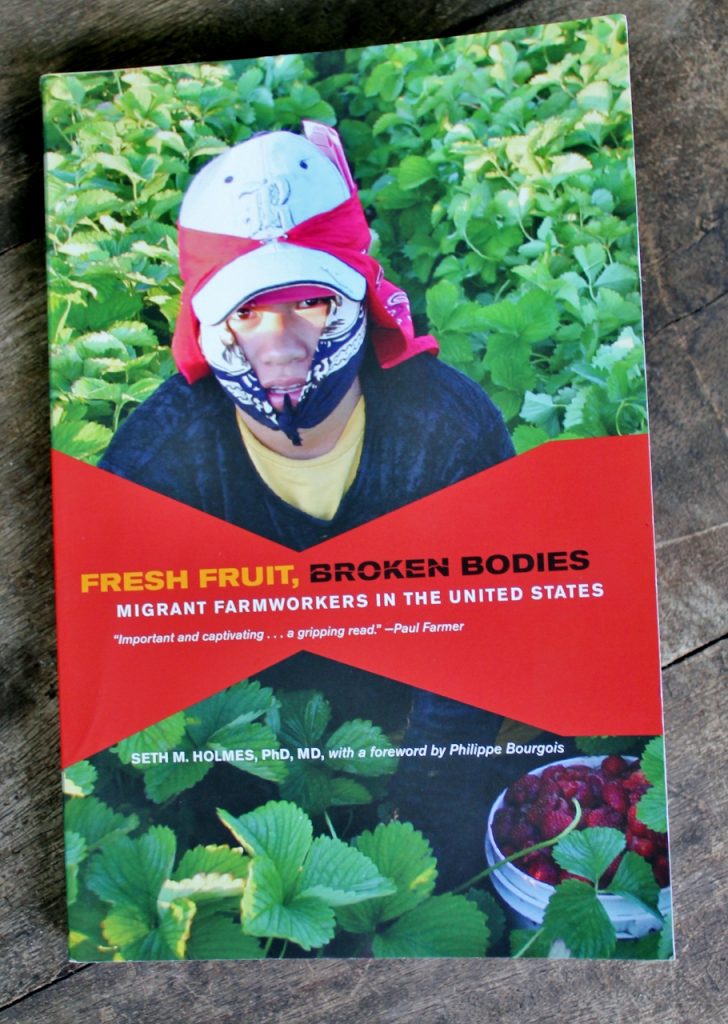 What we choose to feed ourselves either adds nourishment or toxicity to our bodies.  Simply put, food has the power to make us well or make us ill.
Beyond that, our food choices impact the wellness of our planet.  When we choose to eat GMO-laden, pesticide-ridden, laboratory-engineered food, our planet takes a hit.  Chemicals seep into our land and water, toxic waste piles high, fossil fuels are burnt at an alarming rate, and fertile soil is stripped of its nutrients.  When we choose to eat whole, organic, local, food, little waste is created, and it composts into future nutrients. The use of fossil fuels for processing and transport is limited.  We act as one with the planet, as a part of the circle of life.
But you know all that already.
We often cover food politics on mamaguru.com.  That is why I am so excited to share with you a book about yet another layer to the complicated ethics of eating well: Fresh Fruit and Broken Bodies: Migrant Farmworkers in the United States by Seth M. Holmes.*
This book covers the often unseen human cost in harvesting the food we eat.
Illegal immigration remains a hot-button issue, but regardless of where you stand, it is a fact that American agriculture relies upon Mexican migrant workers to harvest our crops.  Holmes, who holds a PhD in Anthropology and is an MD, spent a year living as a migrant worker with the indigenous families from the Oaxaca mountains of Mexico.
During that time he breathlessly dashed across the border, was jailed by immigration, spent months picking strawberries in Washington state, lived in slum housing, traveled in illegal caravans, celebrated baptisms and birthdays, and visited inadequate medical clinics with the Oaxacan people. In this book he shares with us his experiences and insights into the plight of these people who have a real hand in putting food on our tables.
Although at times this books drifts into an academic tone, much of it reads with exciting urgency.  Holmes is best when relating his personal experiences and describing the particular racism inflicted upon the people from Oaxaca.  These people pick for pennies while inhaling toxic pesticides.  Many good-hearted attempts to help them don't pan out, because few people truly understand the myriad of complex factors in their lives.  Holmes' work certainly provides critical information to understanding these people, which will enable us to find better ways of alleviating their pain.
This book raises more questions than answers, which is its purpose.  As more and more of us are becoming enlightened about the realities of our food source, it is critical that the human cost is a part of that discussion.
Part of what we learn from yoga is the idea of prana, a universal life force, or energy.  It is similar to the Chinese notion of chi.  Prana is in us and all around us.  It is in the food we eat.  From this perspective, we ingest the mistreatment of the migrant workers when we eat the food they picked.  It becomes a part of us, a part of who we are.  There is no such thing as their problem.  All energy is shared.
It's true; ignorance is bliss.
But it can also make you and others irreparably sick. 
*Full Disclosure:
Seth Holmes and I went to both middle and high school together.  Although I have a vague memory of him being a kind-hearted boy, we were never particular friends, nor did we ever keep in touch after graduation.  My review is impartial, but on a personal note, I am proud to have known someone who is doing such important work.