I have a passion for risottos and make one at least once a week.  Inspired by my love of coconut, I created my first dessert risotto.  Coconut flavor is added 4 times during this recipe!  There isn't much sugar, because the milks add their own sweetness.  As much as I love coconut, if too much sugar is added, I find it cloying.  This is an easy recipe, though it is so fabulous I almost want to reserve it for entertaining or celebrating.  Enjoy!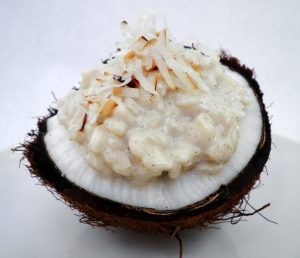 2 cans coconut milk
3/4 c milk
1 vanilla bean
1/2 t sea salt
1/4 c raw sugar
1 T coconut oil
1 c arborio rice
1/4 c coconut rum
1/2 c grated coconut
1.  Cut vanilla bean in half, lengthwise.  Scrape out tiny black flecks with the edge of your knife.  Be greedy and get them all.
2.  Mix coconut milk, milk, sugar, vanilla flecks, sea salt and sugar together in a saucepan.  Heat mixture, stirring occasionally to dissolve sugar.  Do not boil.
3.  In a separate pan, heat coconut oil over a medium high flame.  Add unrinsed rice.  Stir and toast for about 1/2 minutes.
4.  Add rum and stir until dissolved.  Turn down flame slightly.
5.  Ladle by ladle add coconut milk mixture to the rice.  Stir often and add more milk as rice absorbs it.  This should take 20 minutes.  Adjust your heat to accomplish the task in that amount of time, if necessary.
6.  Meanwhile in a dry frying pan toast the coconut flakes until golden.  Set aside for garnish when done so they don't burn in the pan.
7.  After 20 minutes most of the milk should be absorbed, but you want to retain a creamy texture.  Sprinkle with toasted coconut flakes and serve warm.