Here's a repost from 2010. My babies are kiddos now, but if you've got a little one, here's a great Thanksgiving treat for the toothless crowd.
Baby needs to get into all the harvest food celebrations!  Here's a simple recipe for babies from about 9 months, as soon as baby is eating a little dairy and citrus.  It's not a traditional mouse, but it's texture is light and airy.  It's one of those yummy baby foods, where mom can't help but lick the spoon.  It's popular with finicky toddlers as well.  Enjoy!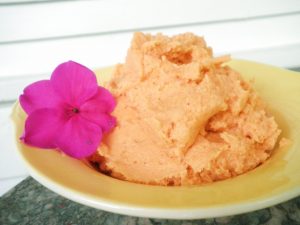 1/4 c pureed sweet potato
1/4 c whole milk ricotta cheese
1 T orange juice (fresh squeezed is best)
1/4 t pumpkin pie spice
1.  Whisk all ingredients together.  Either use a strong arm or an electric mixer.  You want the texture to be light and fluffy.
2.  Left-overs can be refrigerated for up to 3 days.  Recipe can easily be doubled.  Bon appetite, mon petite!