I've lived in Miami for almost ten years and been to the Everglades often, but all I saw were miles of sawgrass, endless alligators, and the most amazing fauna.  It's funny, my husband and I would look at brochures of the Everglades and always think, I want to see that, but never managed to find it.
Until last weekend.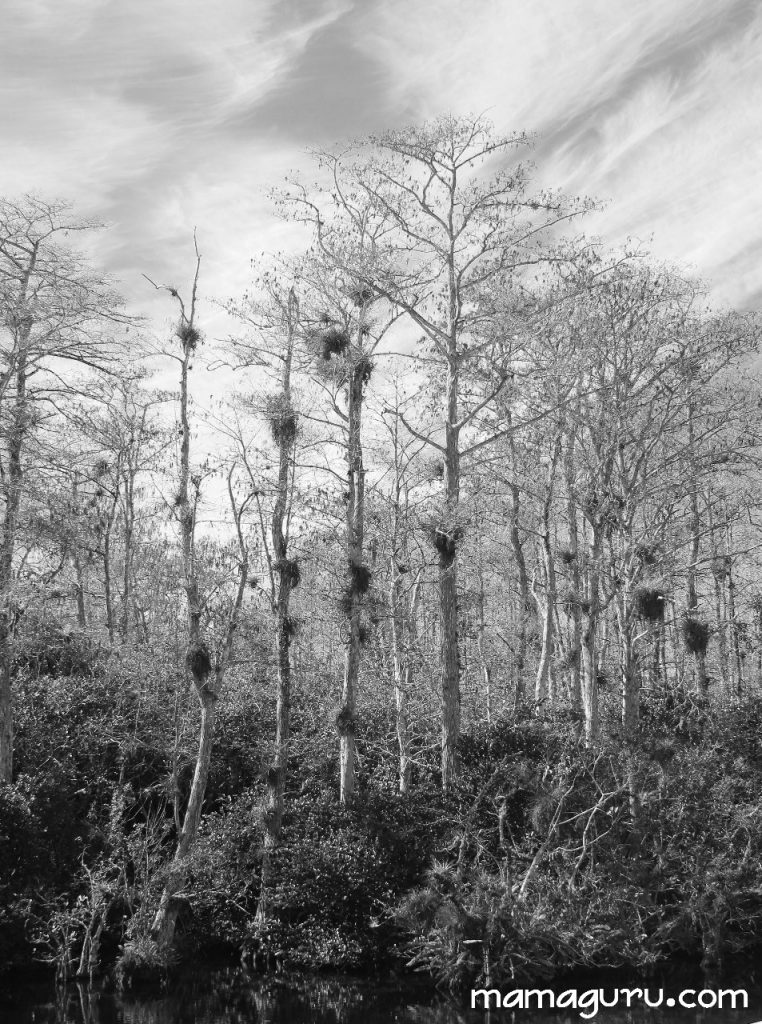 We eschewed our normal treks through Shark Valley and Alligator Alley and opted for Loop Road off of Tamiami Trail and Big Cypress Preserve.  It was entirely free, utterly amazing, and done in honor of my husband's birthday.
The Everglades is a unique ecosystem, unlike anywhere in the world.  It's home to many rare and endangered species, as well as us.  An hour away, it's practically our backyard.  This year we definitely plan on exploring more and more.  January is a lovely time to visit because migratory birds are also visiting, while the mosquitos seemed to have left for a short time.
As our journey began, we stopped at the side of the road for fresh coconut water and guarapo, literally sugar cane juice.  It's a treat my husband has enjoyed ever since he was a tiny tot living in the Cuban countryside.  I took a half gallon of coconut water for me, while the boys slurped sugar water, which is sweet, herbaceous, and refreshing.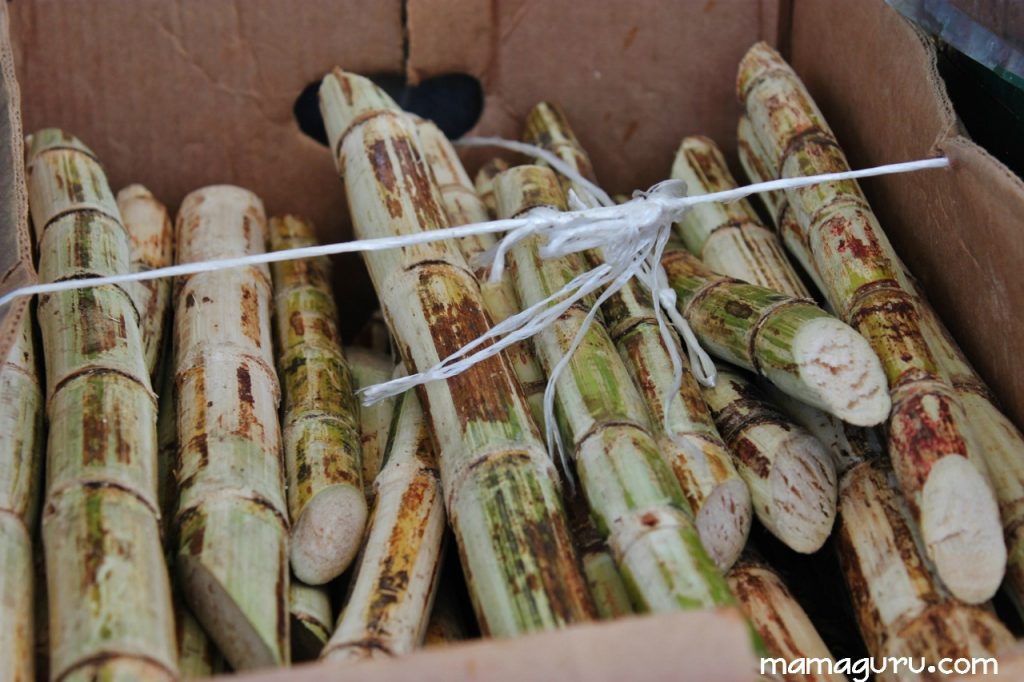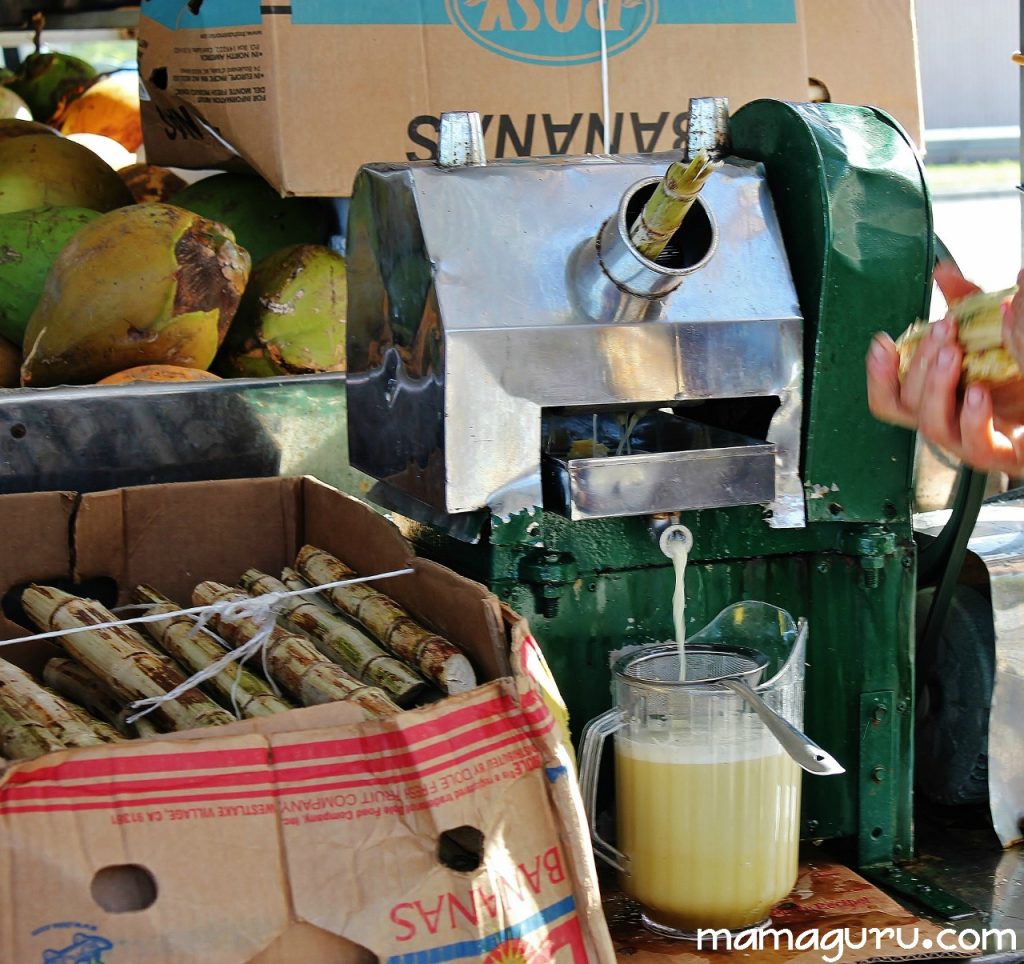 Forty minutes later we veered off the main road onto Loop Road to begin our adventure.  Our path took us through the Miccosukee Indian Reservation where families lived, to a small paved path, to a dirt road.  We stopped and pulled over along the way to see the birds, alligators, and incredible scenery.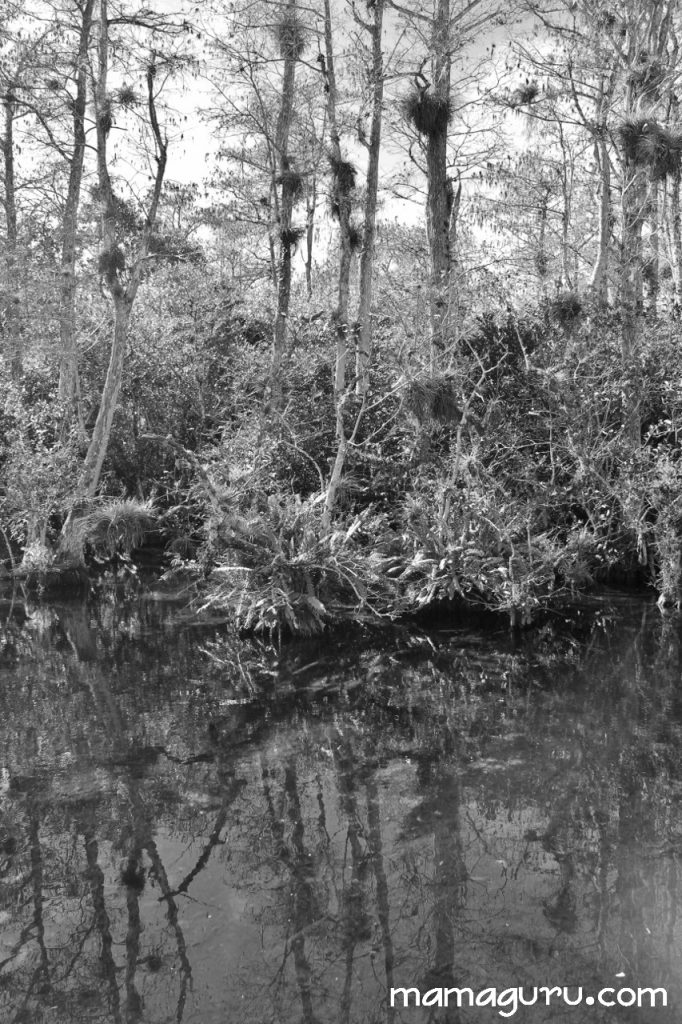 Many of my pictures are in black and white.  The bright sunlight, blue sky, and lush greenery are just so overwhelming in a photograph.  Oddly, taking out the color brings the beauty into focus more.
See the air plants, which look like nests in the trees.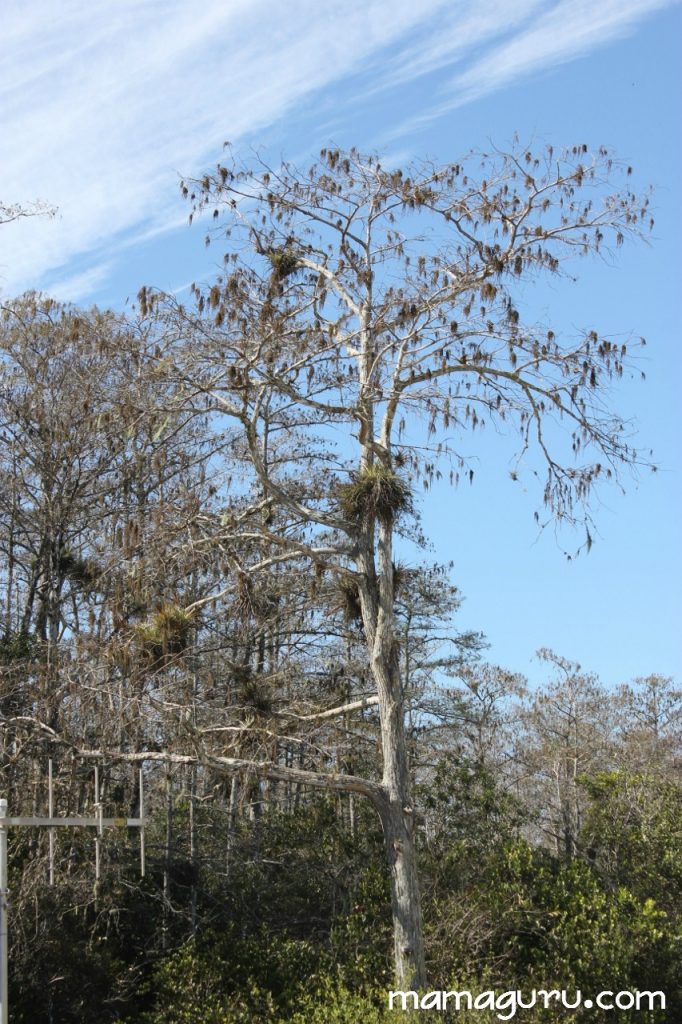 Hello, Granddaddy Alligator!  He was the first we saw, just across a small strip of water.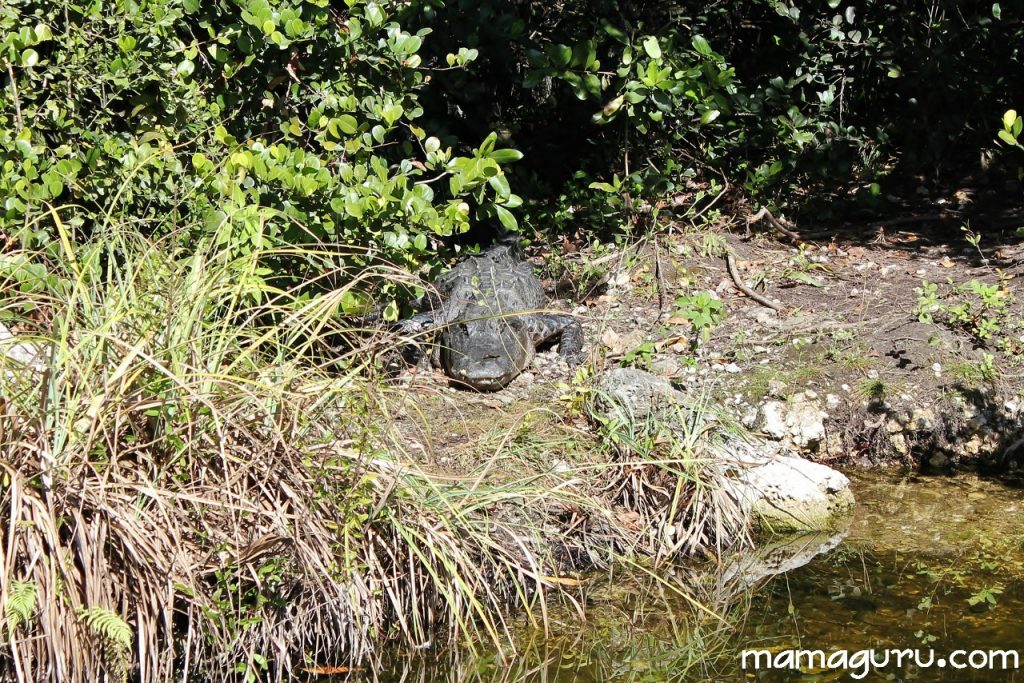 Quickly followed by our second sighting.  Jack spotted this guy above a little bridge I had just stood on and completely missed.  We kept a close watch on our little ones, but it is great for kids to spot animals in the wild.
The fauna alone is worth a trip to these swamp waters.  We saw hundreds of breathtaking birds.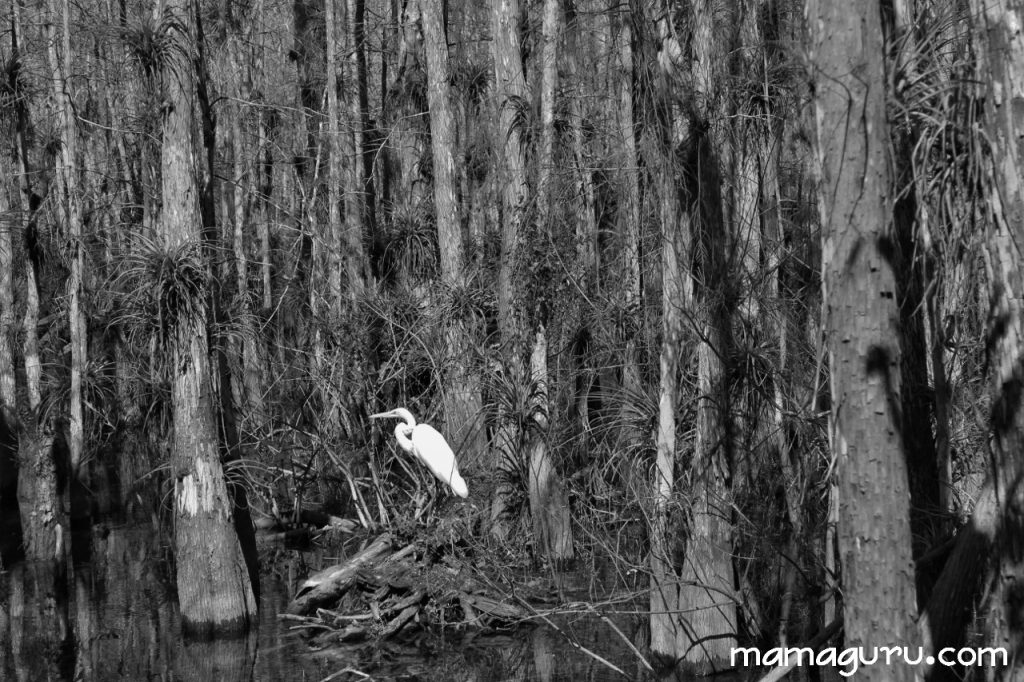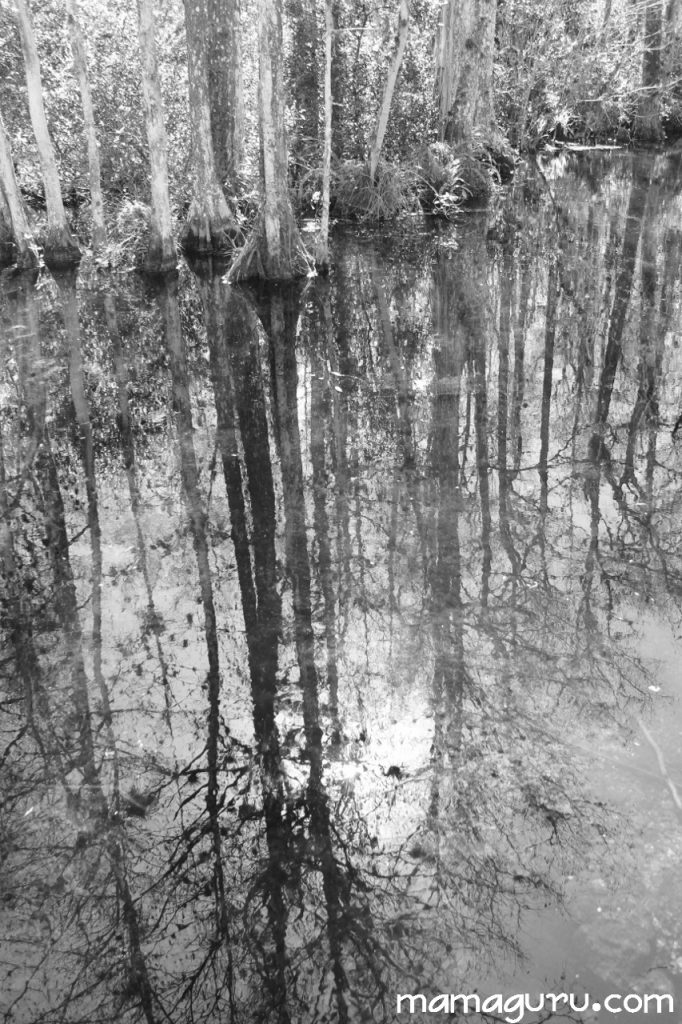 Here's an example of black and white vs. color.  My husband loves this in b&w.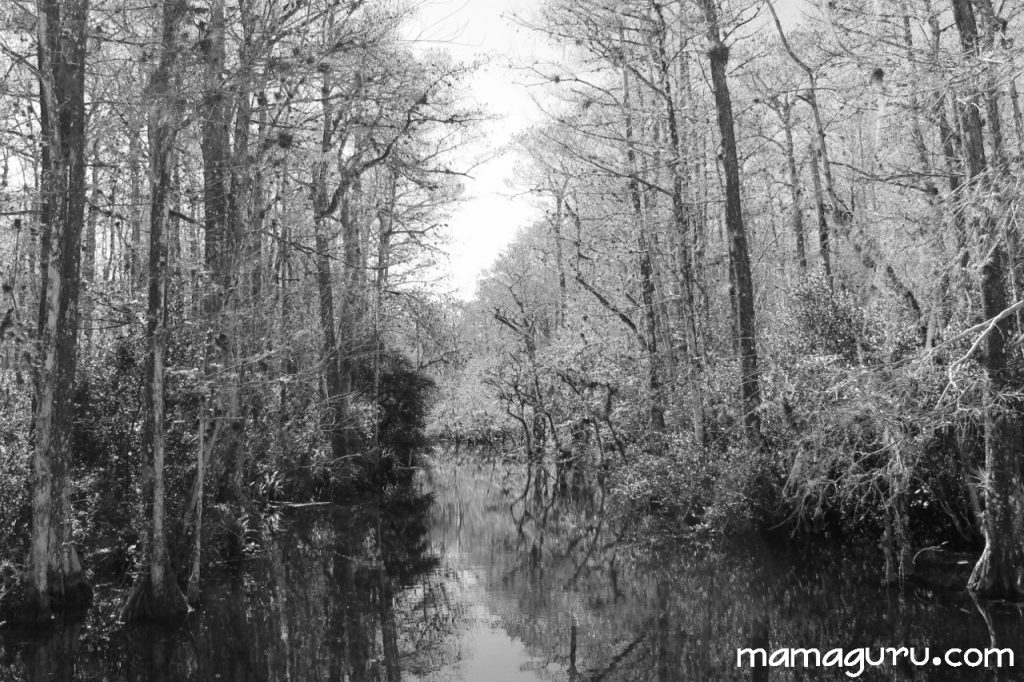 But my good friend swears by the color.  Which do you prefer?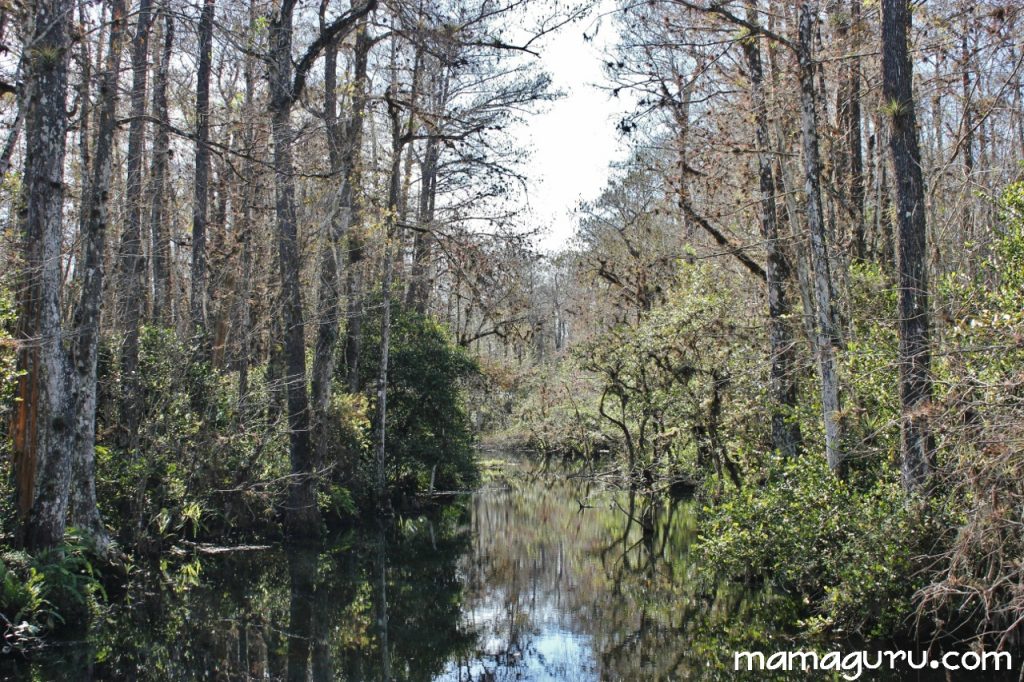 This one is my favorite.  In so many ways Max is his father's son, but he's mine too.  I love that he is already framing his perspective on the world.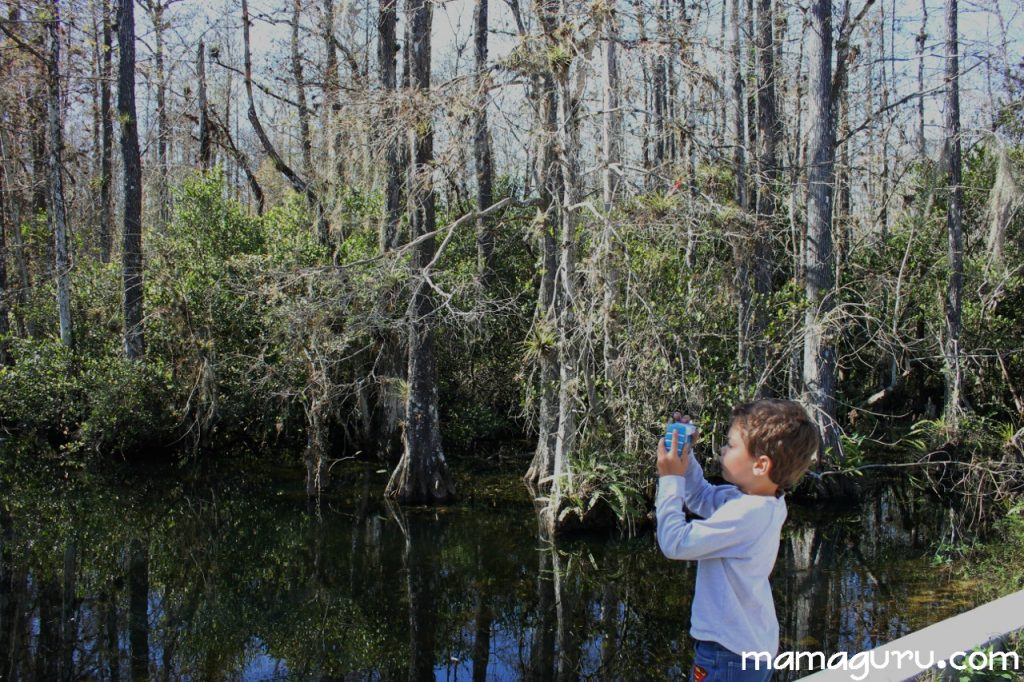 After Loop Road ended, we pulled over and had our picnic (paninis, grapes, and snickerdoodles).  Then we walked through Big Cypress Preserve.  It had a raised wooden boardwalk which took us over the swamp.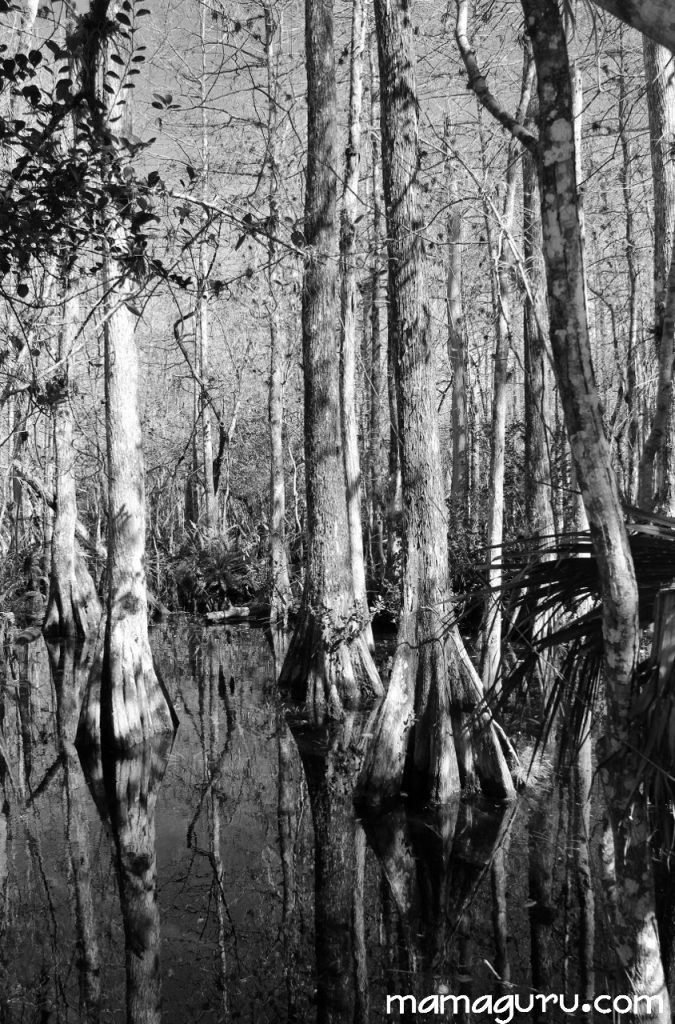 I swear this is Florida, but doesn't it look just like the bayous of Louisiana?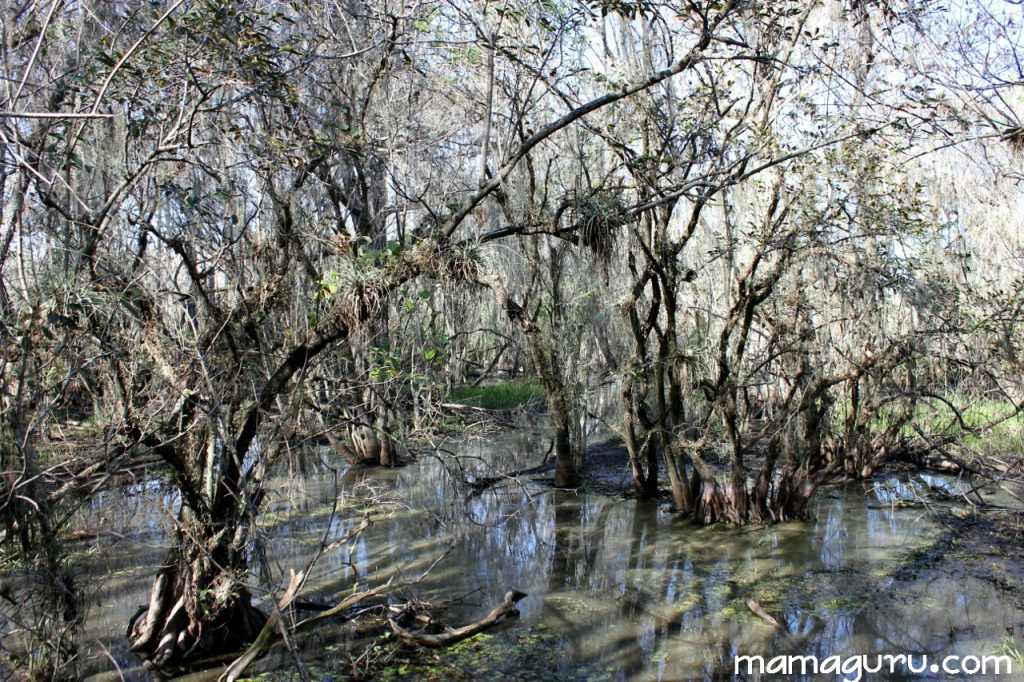 Here's a sweet little bird I spotted on a log.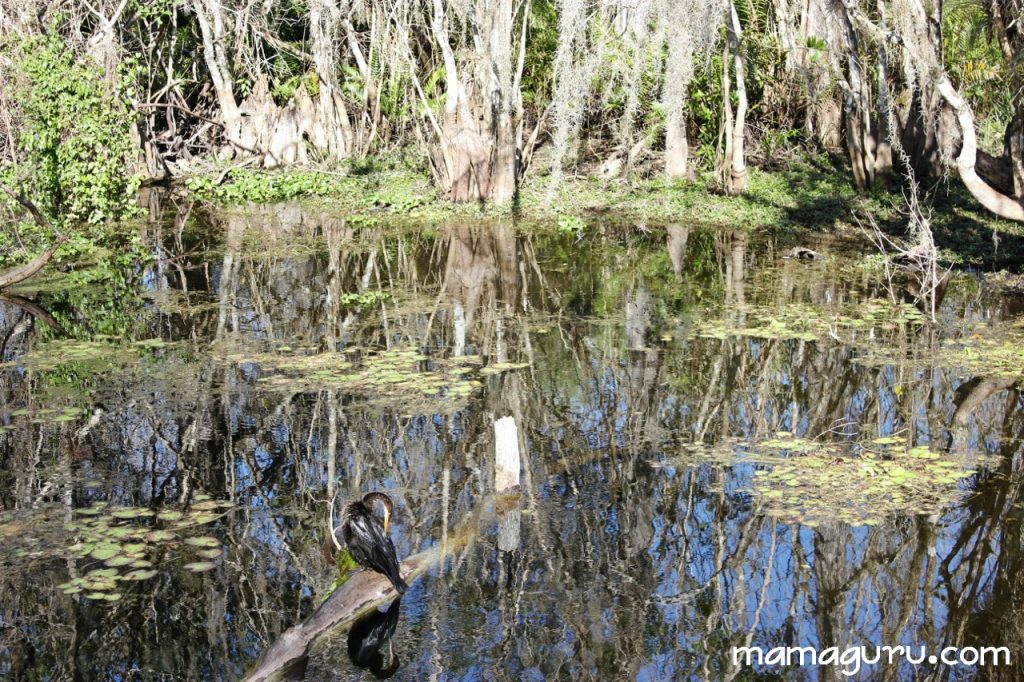 After a minute, she slipped in the water and swam about 20 feet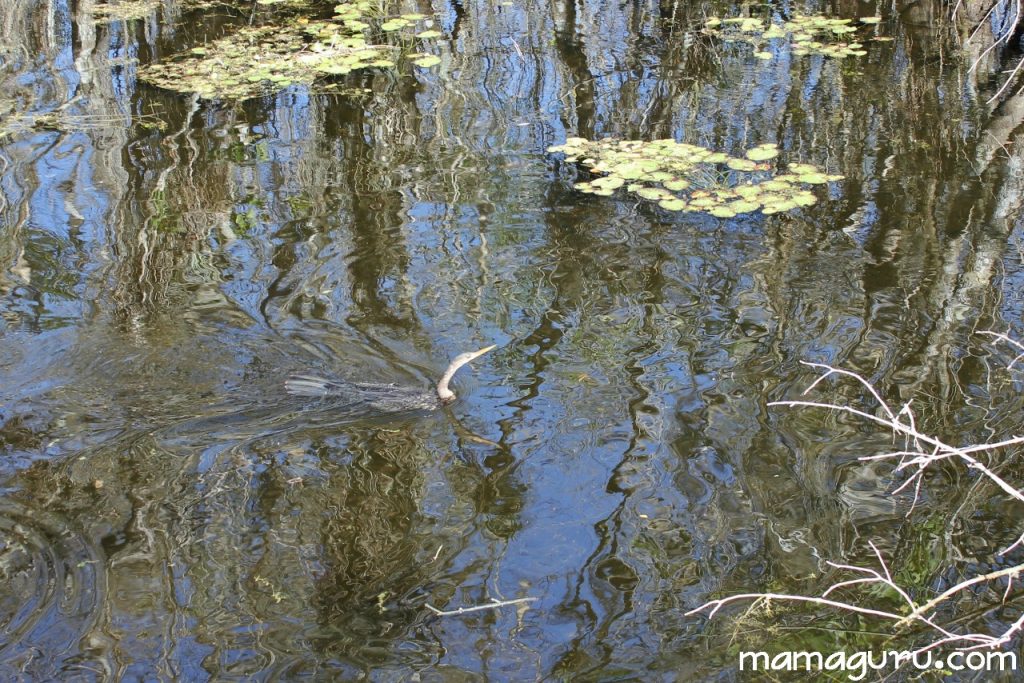 to this branch.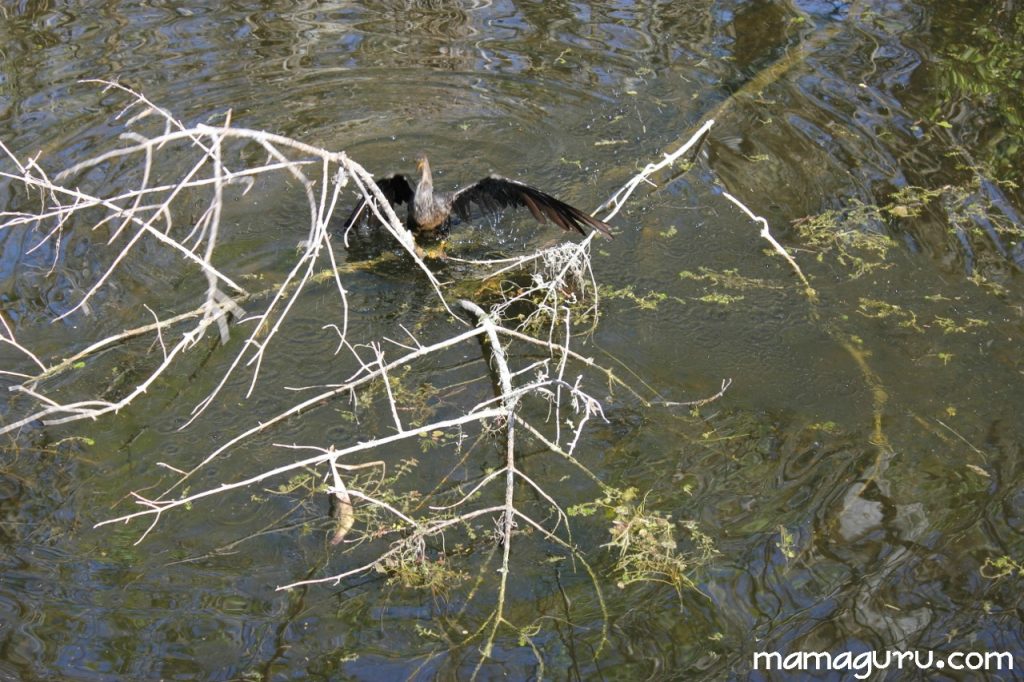 And then, she sundried her spectacular wings for 10 minutes!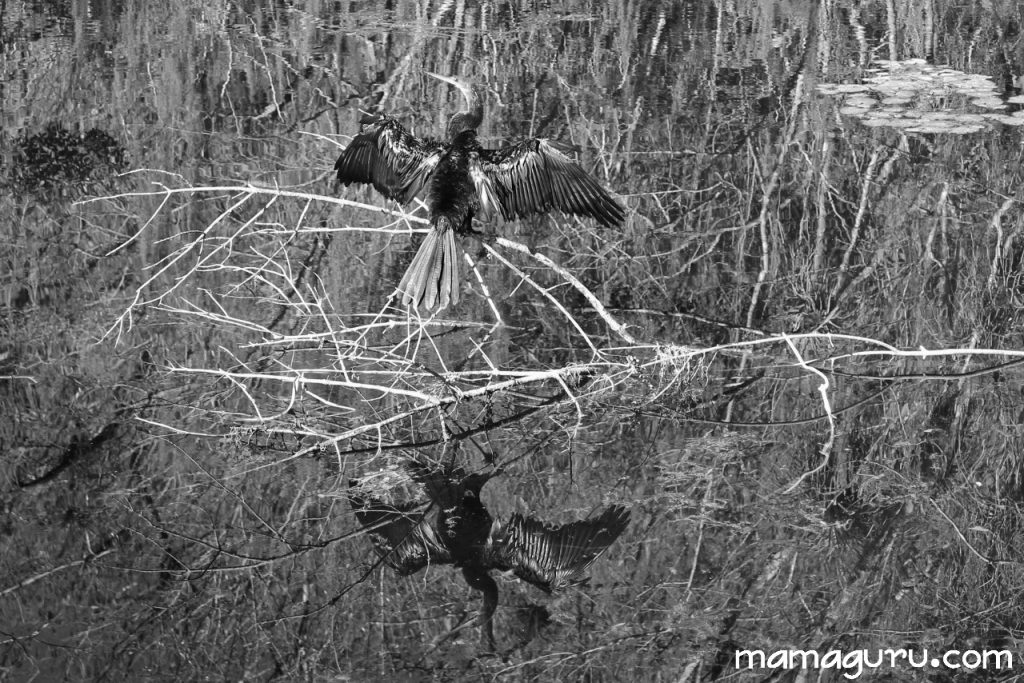 Some kind people pointed out this baby turtle to our boys.  Looks just like a lily pad to me.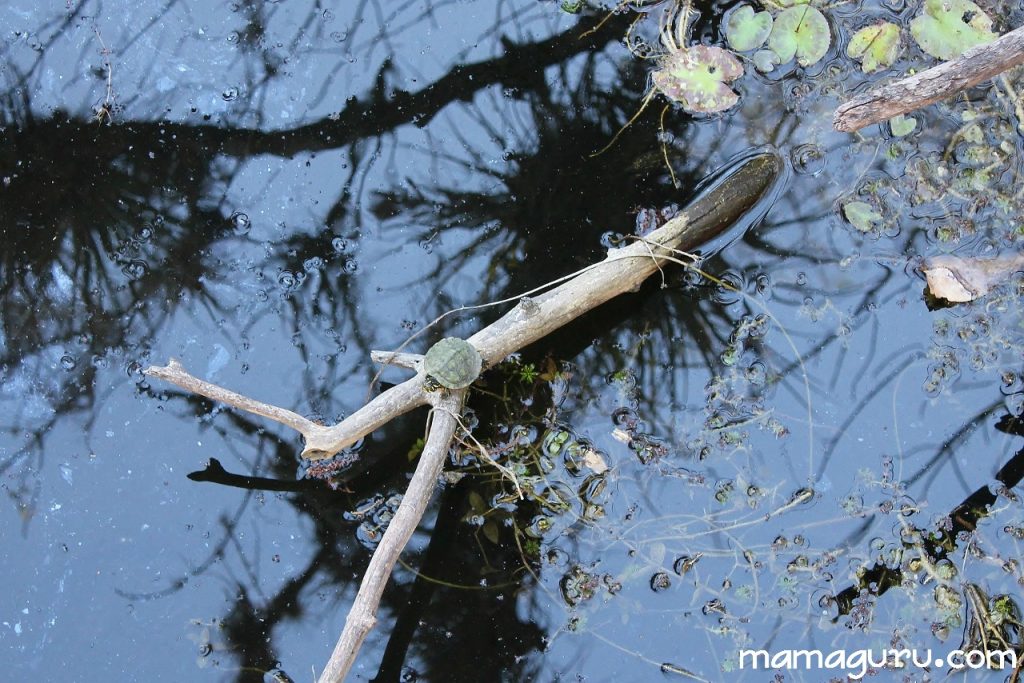 And I'll leave you with more indecision about color.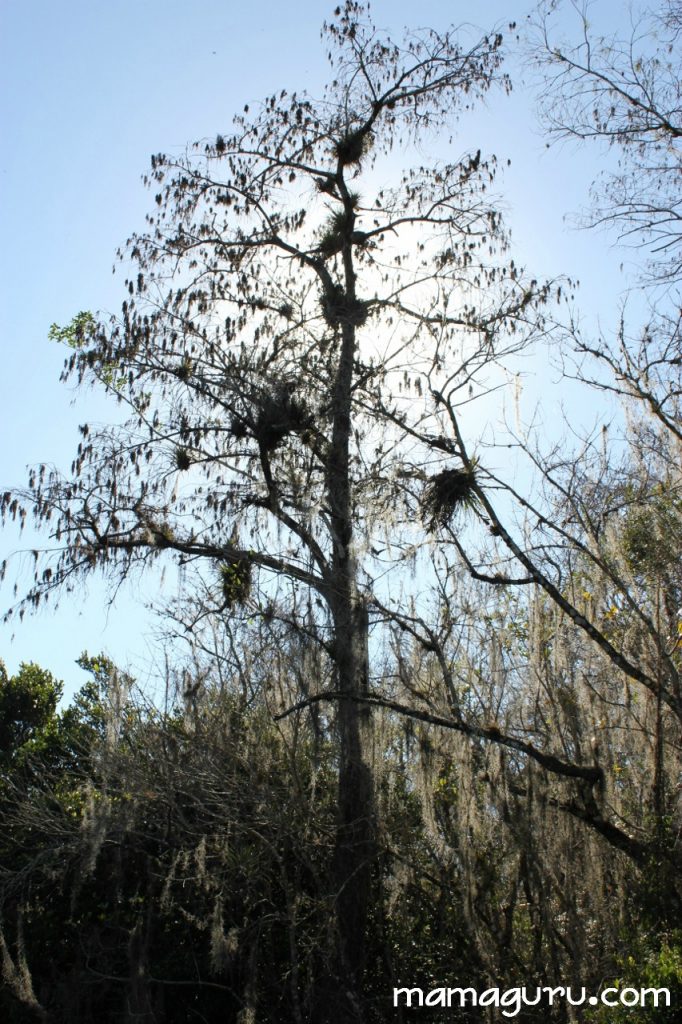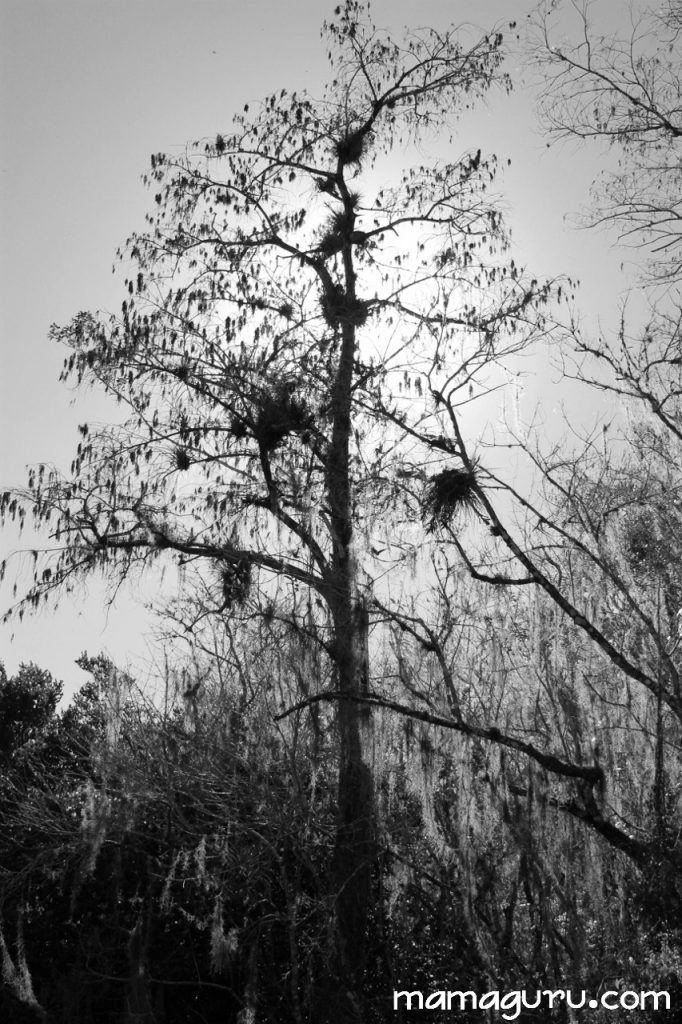 One thing I am certain of is that we made a great choice by celebrating my husband's life in the Everglades, a place teeming with bizarre, ancient, new, and utterly stunning life.  I'm truly grateful to live near such a unique corner of our planet.  I encourage you to make the trip when you can.  You know what the song says, This land is your land.  This land is my land.
But until then, explore your little corner of earth.  Celebrate it everyday.
Namaste, y'all!
Love,
Rebecca