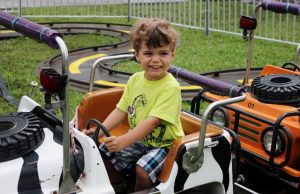 There's no way this isn't rude.  Max's birthday is coming up and I've compiled a wish list for him.  I did this because a number of people have asked me for ideas and this is the easiest way to disseminate information.  Max has more than enough toys (Please no more trucks!), and these suggestions will support his growing mind and imagination. 
Right now he's really interested in classical music, nature and maps.  He graduated from all baby books and enjoys stories with plot and/or rhyme.   He is intrigued by "bad" characters, but is still tender-hearted and needs quick happy endings.  He loves dinosaurs, but not the carnivores.  He just gained control over his coloring to create pictures rather than scribbles.  This excites and frustrates him.  His knowledge of phonics and numbers is good but uneven, but I'm sure he'll start reading in this next year.  He is happiest and most alive when he's in the process of learning something new and has a purposeful activity. 
I looked through some catalogs for ideas I had already highlighted.  Anything from these sites would be ideal and greatly appreciated, but this is what caught my eye.   
glass juice pitcher
scrub board and clothesline
blunt tip serrated knife
bamboo cutting board
peg loom
woodworking set
Woodshop for Kids book
sacred places of the world cards
Child-Size Masterpieces
Close Up Art Cards
Continent Book Set
Landform Book Set
Let's Experiment
One World, One Day
Brass Bell From India
From ForSmallHands.com
EZ Read Rain Gauge
How Things Work in the Yard
The Barefoot Book of Classic Poems
Planet Earth Flip the Flaps
Global Community Books

Found elsewhere
Zoo in the Sky A Book of Animal Constellations
Moon Sand
Lite Brite
tinker toys
Globe, a basic no frills model
Safari Toobs (land down under, arctic, desert, north american wildlife)
worm or ant farm
Any and all Montessori math bead supplies
space toys and books (He's just become fascinated with planets and we don't have any books or toys yet.)
art supplies
great books
tennis racket
violin
He just started wearing 4T and has a preppy style.
Print