With Independence Day just around the corner, we've been learning about America.  Here are two wonderful resources for teaching children about the fifty nifty United States.
1.  Melissa and Doug Deluxe Wooden USA Map Puzzle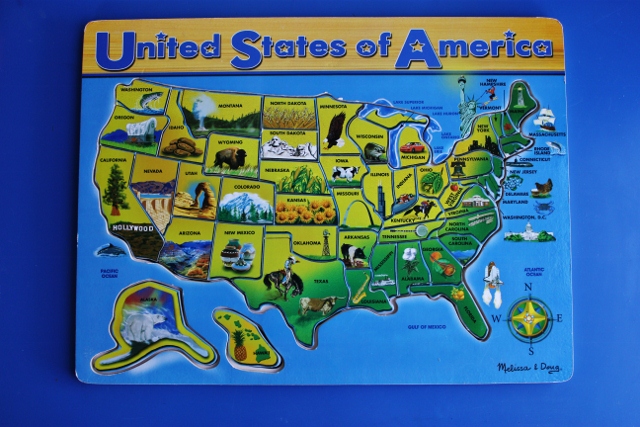 I didn't know how much both boys would love this puzzle.  It's their all-time favorite!  Each state has a different picture which attracts their interest and enables them to get a sense of the diversity of our country.  I love that each state is cut to its own dimensions, so they can feel the different shapes and sense their scale.  (Note: there are a few pieces that cover multiple states in the Northeast.) 
I happen to recall all the states in alphabetical order from a song I learned in first grade, so after we complete the puzzle I always sing it and point to each state.  It's been a delight to hear them talk about far-flung states with expertise.  I love Michigan.  They build cars there.  They have also started to pick up when different states are mentioned on the news.  Hey, that lady is talking about Colorado!  We've only had this puzzle a month, but it's been a very effective teaching tool.  Best yet, they are loving geography!
2.  Great States Junior Board Game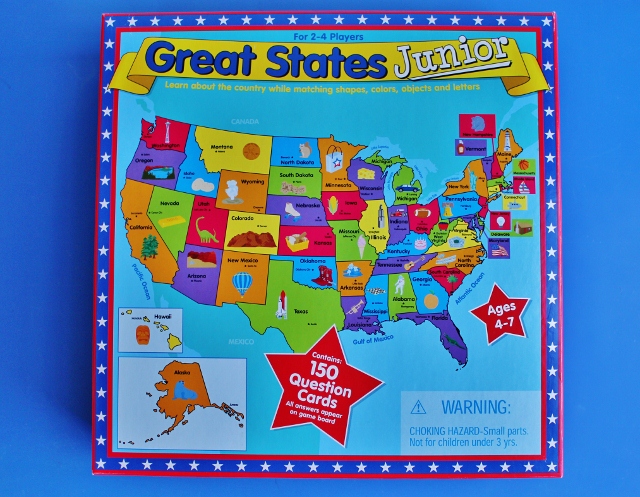 This is our very first board game.  Max and I play it almost every afternoon before Jack wakes up from his nap.  There are multiple directions for playing this game at different levels.  We started on the easiest level and don't use the timer yet.  I also edited out a few of the toughest cards and have slowly been adding them as Max gets better at playing.
The gist of this game is that game pieces travel around a map of the USA.  They land on red, blue or white spots which correspond to colored cards.  Red cards challenge players to find a state that begins with a specific letter.  Blue cards challenge players to find a state with a specific shape (States are multiple colors, so it's not too hard.)  White cards ask a trivia question about a specific state which you can find by looking at the pictures on the map (Which state was the birthplace of jazz?  The trumpet on the card is the same as the trumpet on Louisiana.)
Working on letter recognition, distinguishing shapes and searching for pictures has improved Max's concentration tremendously.  It's tuning the importance of searching for details at the same time he is learning about his country.  He is also learning about how to play a game, following rules, using good sportsmanship and taking turns.  I couldn't be happier.
Note: If you are inspired to purchase one of these items, please follow the link I provided.  This enables me to get a small commission.  I only recommend products I feel personally motivated to share and no company asks me to do this.  I decided to participate in an affiliate program because I think it's only fair for me to get a small reward for promoting a certain product, but this is an uncommissioned review.
Print