An Easter repost from 2012.
Got eggs?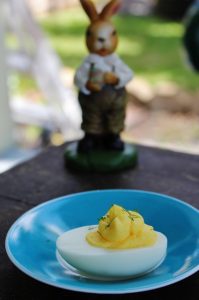 Most fridges contain a dozen left-over Easter eggs, so here's my promised recipe for the definitive devilled egg. 
Nana taught me how to make make them as a child.  From elementray school onward, it was my contribution to Easter dinner.  Her recipe is simply perfect.  She once took a tray of them to a catered graduation party for my cousin's shi-shi foo-foo friends in Malibu.  Much to my nana's pride, they were gobbled up before any of the chef's food.  Yesterday I made what I thought was more than enough for Easter brunch and parents still ended up stealing from their children's plates. 
Really.  It was brutal. 
This is more of a technique than recipe, as amounts can vary.  I recommend not gussying them up.  People really love a great egg as is.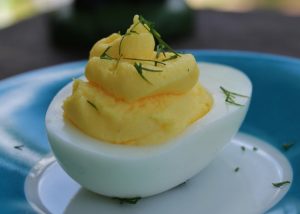 Perfectly cooked hard-boiled eggs
mayonnaise ( about 1 1/2 T for 4 egg)
sea salt
either freshly chopped dill or chives
1.  Slice eggs in half and mash the yolks with a fork.  Add about half as much mayo as you think you should.  Mix well.  Too much mayo overwhelms the egg flavor, and it needs to mix in thoroughly before tasting.  
2.  Add a generous pinch of salt.  Mix and taste.  If you want to add more mayo, do it a sparse spoonful at a time.  Don't be afraid of salt, eggs really come alive with it.
3.  To make eggs super creamy, use a hand held mixer for a minute.  You can spoon yolks into the egg whites or put them in a piping bag. (A baggie with a cut corner works well.)  If you want to make eggs in advance, use the bag technique so you can fill the eggs at the last possible moment and keep everything fresh.  Garnish with dill or chives.
4.  If you have left-overs, you probably did it wrong. (Ha-ha!)  Actually, you can just mince the whites, mix and smear on bread for a delicious egg salad sandwich.  Add onions if it's for my husband.  Enjoy!